Alfaholics Race Front Anti-roll Bar Kit
£310.00 GBP (ex vat)
SUS304
29mm S4 type front anti-roll bar with blade fitment at the ends. This allows usage of S4 Spider ball-joint drop links which are far more durable than standard rubber bush drop links. Kit comes complete with conversion mounts for wishbone to accept ball-joint drop links and polyurethane mounting rubbers.
cat_race_parts_105: 105/115
filter_book_mechanical_front_suspension: Front Suspension
cat_race_parts_montreal: Montreal
cat_race_parts: Race Parts
cat_suspension: Suspension
filter_roll_bar: Suspension Roll bar
Related Products
£2,695.00 GBP (ex vat)
RCE5001T
Alfaholics production, complete assembly of adjustable top arm and castor arm fabricated completely from titanium to form a single wishbone. The complete kit saves an incredible 3KG over standard adjustable top arm & castor arm assemblies – an impressive reduction of unsprung weight! As fitted to the Alfaholics GTA-R 290! The top arm inner bush and top ball joint are both converted to race quality spherical bearings for improved tolerance and further weight reduction. We also took the opportunity to design in a pair of unequal spacers for the top arm inner fixing point to allow an offset that lets you add more castor than is possible with the standard top arm before the arm hits the chassis leg.The kit is supplied as a complete set for both sides of the car, complete with titanium top arm inner bolt & nut, titanium top ball joint bolt & nut and titanium castor tube bolt & nut. You simply screw your castor arm ball joint on to fix the front mounting point to the chassis.
£225.00 GBP (ex vat)
RCE5013
Alfaholics production using the very latest manufacturing methods. Fabricated from premium quality EN8 medium carbon steel. Exquisite jig used to ensure accuracy of bend. Finished in premium quality black powder coating.These steering arms increase the ratio of your steering to GTA spec, requiring smaller steering inputs.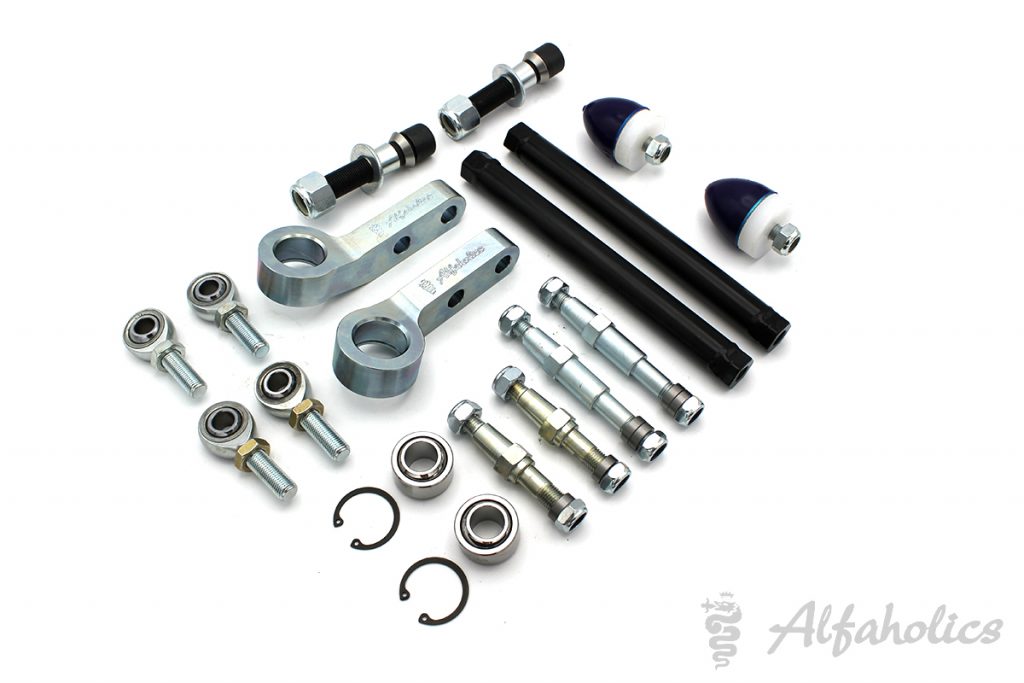 £695.00 GBP (ex vat)
ALF/GEO
This beautifully CNC machined kit replaces the original bottom ball joints fitted to your 105 series Alfa Romeo, to optimise the front suspension geometry of all 105/115 series cars. These geometry improvements make the car far easier and more predictable to drive on the limit, as well as being faster. The retention of original wishbones allows the kit to be used in more tightly regulated race series (such as SVRA) where original suspension arms must be retained, but it also makes this kit perfect for both fast road and trackday 105 Series cars. This kit is fully compatible with both our FIA 2 ¼" kit which retains springs pans and our full race adjustable ride height kit which removes them. The kit increases castor by being offset forwards and also corrects the front rollcentre back above ground level, in so doing increasing the roll-on camber at the same time. These significant problems of all 105 series Alfas with standard geometry make lowered cars far harder and slower to drive than they should be. A typical method of reducing the camber and castor problems with standard geometry is to start with more static camber, but this itself has 2 major problems; reduced footprint for braking but more significantly, increased nervousness, particularly on uneven and cambered surfaces. The increased roll-on camber and castor provided by this kit allow a reduced level of static camber to be set, vastly improving the drivability of dual-purpose road and track cars. This Alfaholics kit is supplied with rose jointed outer track rods with specially pre-machined pins that remove bumpsteer completely. No special setup equipment it required! The complete eradication of bumpsteer makes the car far easier and more enjoyable to drive, as the steering wheel no longer kicks around in your hands, when the suspension moves up and down over bumps and under braking. Also included are a pair of 'shock extender pins' (for use with Koni or Bilstein shocks) which reset the travel of the shock absorber back into the middle of its travel, just as our 'Shock Turret Extenders' do for the rear suspension. Our aluminium adjustable front dampers do not need these extender pins. All parts are CNC machined to the very highest standards and then plated. All rose joints and bearings are premium quality PTFE lined self lubricating items, whilst the outer trackrods are finished in premium black powder coating.
£385.00 GBP (ex vat)
RCE5006
Full race 2 1/4″ small spring kit designed to be used on all models of 105 series Alfas. Designed using CAD & CAM this spring kit does not require the use of a spring pan or a heavy full size Alfa style spring. This constitutes a massive weight saving (4.2KG per corner!). It bolts directly to the outer spring pan holes on the standard wishbone. It features a fully adjustable threaded spring platform allowing the front ride height to be altered quickly and easily, without removing the spring. This also allows a much finer and more accurate control when corner weighting the car, essential for shaving the last few tenths off lap times and for improving driveability. This gives all the benefits of a coil over unit without any of the structural problems of mounting a coil-over unit to the inner wing. The pivot pin design has recently been updated to include the front anti-roll bar fixing; thus our rose jointed anti-roll bar drop link directly fits this pivot pin; this results in further weight saving and improved simplicity of design. The mounts come finished in hard anodizing. Notes – Priced per kit but supplied without springs although we can supply these if required. Please call to discuss the optimum spring rate and length. You also have the option to upgrade to titanium pivot pins which results in a further weight saving of 1KG.
cat_race_parts_105 filter_book_mechanical_front_suspension cat_race_parts_gta_r cat_race_parts filter_front_suspension filter_members_hardware cat_race_parts_gta cat_std_parts_105_all cat_steering filter_steering_arms filter_book_mechanical_steering_system cat_suspension filter_suspension_geometry filter_spring_kits