Transmission Parts for 101 Series Alfa Romeo
£3650.00 GBP (ex vat)
RCE6008/7
As per above kit but put through a final REM Superfinish process. This process polishes the surfaces of the components at a particle level resulting in a super smooth chrome appearance finish. This finish results in the oil getting worked less hard inside the box resulting in reduced frictional losses - the result of this is a nett gain of BHP at the rear wheels.
£640.00 GBP (ex vat)
ALF/QUICK
We have designed and developed this quick shift gear change kit to speed up the actuation ratio of the gear lever and thus improve gearshift times. Rather than manufacture an unsightly remote style gear lever which makes cars look heavily modified, we have CNC machined from billet a new set of gear linkage operating components to fit your gearbox so that the shifter rods themselves are moved at an increased rate for a given movement of the factory style gear lever. This means that your interior keeps its original appearance and the classic renowned Alfa gear lever is retained. We have designed the gear lever stub with a specific 2 degree offset for the gear lever angle to position it slightly towards the driver, the part is reversible so that in 1 orientation it is aligned for LHD and when spun around 180 degrees it aligns for RHD cars. This new system is far superior to the elongated adjustable angle that Alfa used, as that allowed the gear lever to work loose and rotate on its own under heavy use making the car undrivable. We have also uprated the pinch bolt to M8 sizing to ensure a firm and positive tightening [more]
£1200.00 - £1320.00 GBP (ex vat)
PACK005/EAR
Full set of components required to rebuild all moly-synchro type 105 series gearboxes. The kit comprises our ultimate quality Alfaholics synchro rings & Alfaholics sleeves as well as our best quality gearbox bearings, oil seal and heavy duty rear mount. Please specify if you need a layshaft front bearing of 20mm or 25mm internal diameter. Please note that the synchros are not compatible with the first series of mechanical gearboxes (1963-1966) which featured non-moly synchros.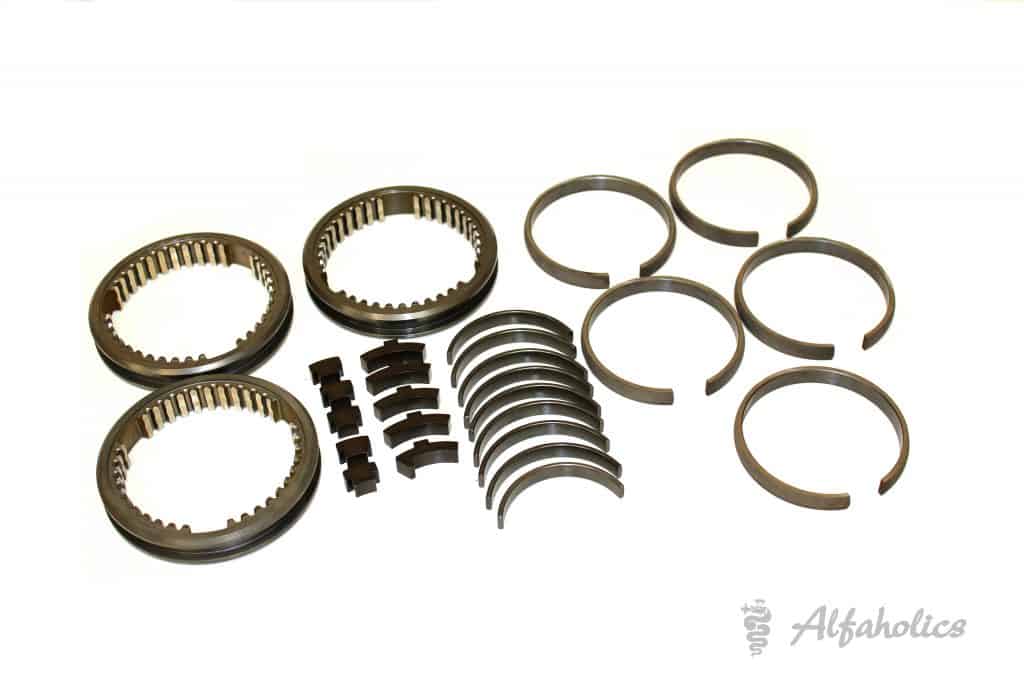 £1525.00 GBP (ex vat)
GRB/LCON
Full kit of parts to convert an early (101 & early 105) non-molybdenum synchromesh "yellow label" gearbox to later improved molybdenum coated synchros as per late "red label" gearboxes. Full set of all Alfaholics produced premium quality components, including synchro rings, synchro sleeves, brake straps, reference sectors and brake sectors for all 5 gears. A great upgrade when rebuilding any early gearbox with grooved synchos.
£395.00 GBP (ex vat)
SPRINTPROP
Exclusively manufactured for Alfaholics to exacting tolerances. Most rear propshafts have had many UJ changes in their life and as a result can often have damaged UJ housings, this means that even with new UJs vibrations can still occur due to end float in the UJ housings which is beyond shimming out. The sliding joint is also another area for wear on an original unit that of course cannot ever be repaired. As a result of these 2 major factors we no longer use rebuilt rear propshafts in our workshop, fitting only our brand new unit for 100% perfect results at virtually no extra cost to the customer. We manufacture these units from race quality thin wall 2" tube, not only does this mean that the tube is stiffer which results in far smoother running at high speeds, but it is also much lighter than an original unit. We have also increased the size of the UJs on each end which makes them much less prone to wear and much more able to handle the load from engines with increased performance. Each prop is dynamically balanced to 8,000rpm meaning that this item is perfect for use on both road and competition cars.
£895.00 GBP (ex vat)
RCE6012
Many different ratios available from stock
cat_race_parts cat_race_parts_750 cat_race_parts_gta cat_transmission filter_book_mechanical_rear_axle_internals filter_transmission_gears_selectors cat_race_parts_105 cat_race_parts_gta_r filter_book_mechanical_gearbox_external filter_transmission_gearbox cat_standard_parts cat_std_parts_105_all filter_book_mechanical_main filter_book_mechanical_gearbox_internal filter_transmission_synchromesh filter_transmission_gearbox_bearings cat_std_parts_105_spider cat_std_parts_giulietta filter_book_mechanical_propshaft filter_transmission_propshaft filter_transmission_crownwheel_pinions_lsd