Race Cross Drilled Transmission Fill & Drain Plug
£22.00 GBP (ex vat)
ALF-105-LWS
Alfaholics production lightweight stainless steel transmission fill and drain sump plug. We have made the plug with a cross drilled head making it simple to lock wire. The plug comes complete with a sump plug washer.
filter_book_mechanical_gearbox_external: Gearbox External
mechanical-by-the-book: Mechanical (By The Book)
filter_book_mechanical_rear_axle_external: Rear Axle External
Related Products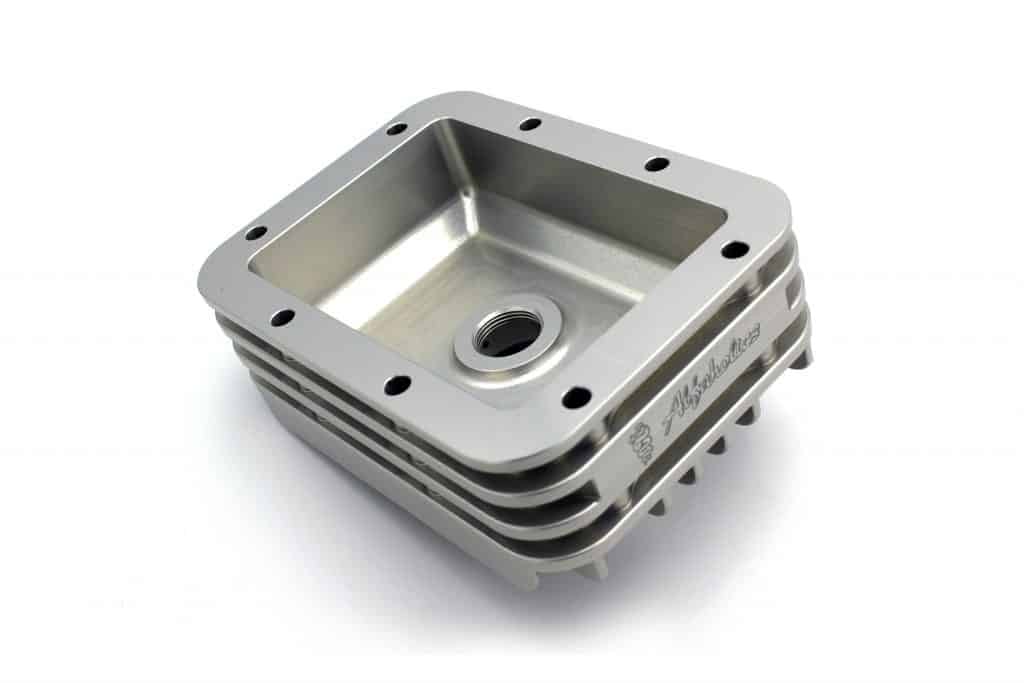 £495.00 GBP (ex vat)
ALF-105-EDS | ALF-105-EDL
CNC machined billet aluminium increased capacity diff sump for 105/115 axle cases. Available in 1300/1600/1750 version & 2000/Montreal version with extra 'tongue' at the front. High horsepower 105s start to suffer from excessively high diff oil temperatures under hard use, excessively high diff oil temperatures cause premature CWP wear. The diff sump size & design was originally specced for the early 1300cc 101 Giuliettas, it was run through to the later 105 models unchanged and certainly never intended for the type of BHP or load that so many of us put through the cars today. Excessive whine and backlash noise at the end of long hard drives that go away when the car has rested are classic signs of overly hot diff oil. We have designed the diff sump to carry 23% additional oil capacity and redesigned it with a combination of both larger & additional lateral cooling fins (in a similar design to a GTA engine lower sump) to dramatically increase the surface area for airflow and therefore significantly increase cooling efficiency of the sump. Additionally the fins are drilled ready for lockwiring the sump plug, as fitted to all our latest GTA-R builds. The diff is anodized to protect the aluminium and comes complete with a lightweight race 'lockwire drilled' sump plug, stainless cap head bolts and a sump gasket.
£995.00 GBP (ex vat)
RCE6009/1 | RCE6009/3 | RCE6009/4
Superb new production manufactured exclusively in the UK for Alfaholics by a state of the art limited slip diff manufacturer. These new diffs represent a huge leap forward in design over our old Gripper units. The old Gripper units used a basic uncoated steel friction plate design and, as a result, necessitated a very high preload setting in order to achieve the levels of friction required in a race diff. The new Alfaholics racing diff uses the same copper sintered friction plate design as developed by leading World Rally Car teams – M-Sport Ford and Prodrive Subaru. This high-friction coating allows the static preload pressure to be set lower, resulting in a more progressive diff lock-up that not only provides superior traction but also makes the diff far easier to drive on the limit; the tail of the car slides more slowly and provides greater driver feedback to control the slide. The copper sintered coating is more durable and eliminates the overheating issues associated with untreated plates under hard competition use. The diameter of the ramp cross pins has been increased in order to reduce internal wear and add significant strength to the diff. We have carried out extensive testing in order to optimise the new diff on both road and track, which has led us to develop two different ramp settings depending on your application. One setting is for race, extreme track day and higher BHP use whereas the other setting is optimised for road/rally application and for less powerful cars. Each diff is manufactured with both sets of ramps on each cup, so you can choose which setting you want, especially useful if your type of use changes! A simple internal swap turns a race diff into a road/rally spec diff and vice-versa. The results of the diff development are stunning – both settings offer a dramatic transformation over the old Gripper unit. The race setting provides amazing traction under power (allowing the driver to apply the throttle much harder and earlier) whilst also providing improved adjustability of the car under hard braking and turn in. The road/rally setting provides improved progression under power and further stability under braking than our old road Gripper making the car easier to drive under road & rally conditions. With each setting, the car is more stable during turn in and holds its line much more accurately allowing the driver to place the car with greater precision. When the tail does slide, it is progressive and easy to balance! The new Alfaholics diff is also 7% lighter than the Gripper unit – a useful reduction in unsprung and rotational weight at the rear of the car. This diff is available in both small non-LSD and larger 2000 ZF casing sizes, and with 3 different side gear designs to suit small non-LSD halfshafts, bigger 2000 LSD halfshafts and 1300GTA/TZ coarse spline halfshafts. All these parts are interchangeable to allow you a complete choice of fitment options both now and in the future if your application changes. As fitted to all Alfaholics GTA-R build and race cars. Also available, complete bearing and seal set, if you're fitting a new differential, fit new all bearings and seals too! Includes, diff bearings and seals, wheel bearings, shrink rings (for 2000) and halfshaft oil seals- Full Rebuilt Kit for non-LSD type 'Small' Axle Full Rebuild Kit for LSD type 'Large' Axle
£495.95 GBP (ex vat)
RCE9025 | RCE9025-1
New design, premium quality and ultra strong. Available in both 25 spline 'GT Junior' and 27 spline 'GTV' sizes. These halfshafts feature a built in lock ring for the wheel bearing, making wheel bearing changes far simpler than ever possible with standard Alfa shafts. The end flange is scalloped and the shaft is rifle drilled, reducing weight by 0.8KG per shaft – 1.6KG total reducing in unsprung and rotational weight per axle! Available in 25 spline 'GT Junior' and 27 spline 'GTV' sizes. Priced individually.
£3,750.00 GBP (ex vat)
RCE6008/7
As per above kit but put through a final REM Superfinish process. This process polishes the surfaces of the components at a particle level resulting in a super smooth chrome appearance finish. This finish results in the oil getting worked less hard inside the box resulting in reduced frictional losses – the result of this is a nett gain of BHP at the rear wheels.
gta-r filter_gta_r_mechanical mechanical-by-the-book filter_book_mechanical_rear_axle_external cat_race_parts_105 cat_race_parts_gta_r cat_race_parts filter_book_mechanical_rear_axle_internals cat_transmission filter_transmission_axle filter_transmission_halfshaft_wheel_bearings cat_race_parts_gta cat_race_parts_750 filter_transmission_gears_selectors