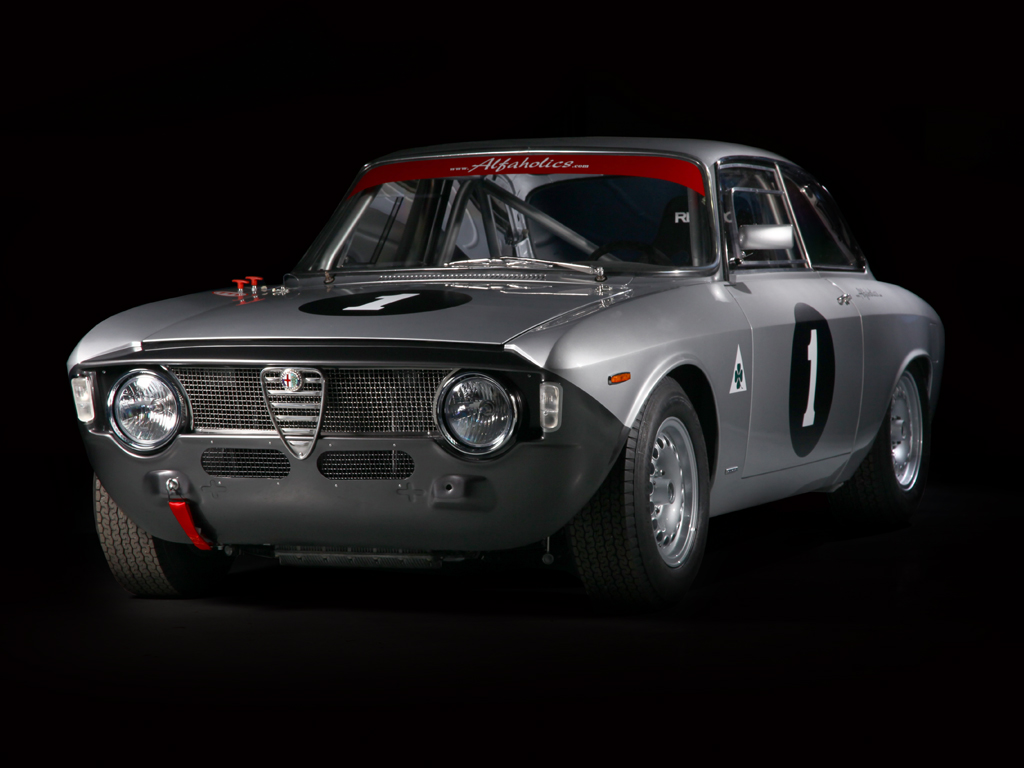 Completed Photoshoot
Build Stage 1
Main installations completed; front and rear suspension, axle, FIA fuel cell, lights, bespoke race wiring loom made from scratch, dash installed, control box installed. Next major step will be engine and box.
Painted Shell Returns for Assembly
Our customer who we are restoring this GTA for, loved the colour combination of his trackday Sprint GTV we built him last year so much that he asked for us to paint his GTA in the same colour combination! It looks superb, very sharp, bringing out the best int he body lines and details and really will stand out from the crowd of red, white & yellow GTAs in the European FIA scene! Being a full race car, no under seal is applied to keep weight to an absolute minimum, the underside is painted in the same clear over base silver as the topside and also wet flatted, resulting in a paint finish every bit as good as on the top of the car! Chassis fully seam welded everywhere.
Aluminium Panelwork
We managed to reuse the original roof skin, base of rear screen section and rear panel inner support section; all other panels used were new Alfaholics production 1600 GTA panels.
Original roof skin straightened out and fettled.
Front wings and front panel mocked up. GTA keeping good company with factory Bentley Continental GT Zagato and Daytona Cobra behind!
Rear panel and rear wings final fixed
Front wings and front panel final fixed and side light fitment checked
The finished article, immaculate panel fit & door gaps, perfection!
Chassis Repair
As a result of its life on race circuits away from salted roads, the car was very rust free. Thus the usually time intensive rust repairs usually required on these cars was, in this case, replaced by extensive time on the Alfaholics Celette jig.
With the aluminium panels removed, the chassis was put on our jig and, as expected, was found to be out of line. The right hand sill structures were too bad to use again so were cut out and replaced, along with the damaged right hand floor pans. The left side fortunately was in good condition and generally undamaged.
The roof had been squashed, so a new roof frame was fitted but the roof skin itself was looking good to strighten and refit. Once off the jig, the chassis was sent for media blasting in order to remove the old paint and underseal and was then epoxy primed prior to returning to Alfaholics. We then cleaned up the chassis, welded up all the old holes which had been drilled in the inner wings and firewalls from previous race preparations during its long racing life.
Prior to delivery to our aluminium specialists we fitted up the suspension, mocking up the ride height so they could see how the car would sit.
The Car as Found
Badly accident damaged 1600 GTA race car as found and delivered to Alfaholics. The car had been raced all its life and although it had lived a hard life and ultimately been badly damaged in an accident, its life on tracks and in workshops meant it was absolutely 100% rust free.