Alfaholics Spare Wheel Clamp
£75.00 GBP (ex vat)
WHL-105-SWC
Billet aluminium knured spare wheel hold down clamp to suit our 15″ GTA wheel. The factory clamp designed for a steel wheel (without centre hub nose) is too short to use with GTA wheels, therefore, we have designed this new clamp with billet aluminium knurled knob, extended threaded rod and plastic fitment cone to locate in the GTA wheel hub nose.
Related Products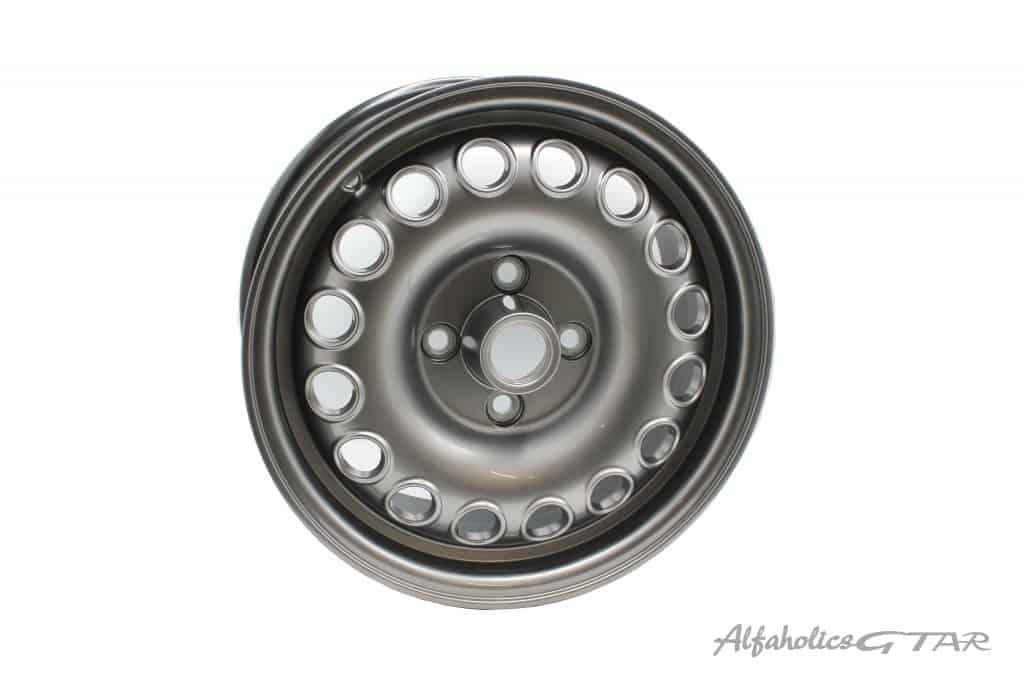 £195.00 GBP (ex vat)
WHL-GTAR-29 | WHL-GTAR-35
A new uprated version of our 7×15" GTA Veloce wheel featuring steel racing stud inserts and painted in our unique smoke grey finish. As fitted to our renowned GTA-R builds. Our GTA-R  7×15″ inch wheels allow the fitment of modern high performance tyres such as the fantastic Yokohama AD08RS and Michelin Primacy.The wheel is very light at just 7.0kgs. This has been achieved in part by incorporating small ribs into the back of the wheel, very much like the original sixties Campagnolo design, which allow the wheel to be made thinner in cross-section. The beauty of this thin cross section is that it has also enhanced the aesthetics of the wheel, by making the holes appear finer and more elegant. All variants of the wheels are now heat-treated for maximum strength and weight saving.The wheel is supplied with a GTA centre cap and circlip.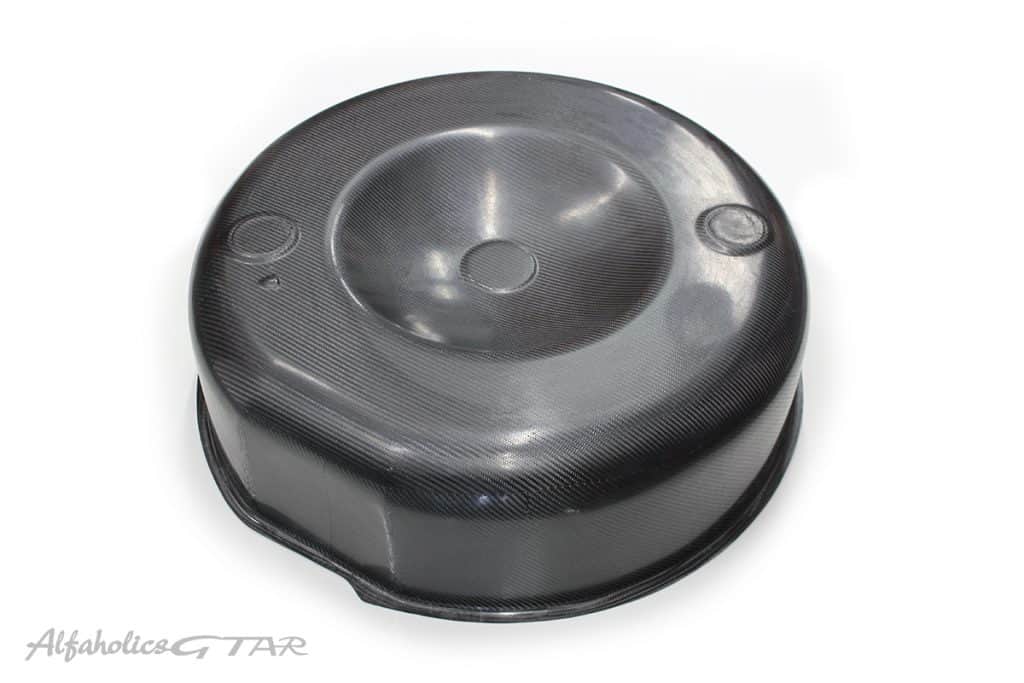 £895.00 GBP (ex vat)
RCE102-C
Carbon fibre spare wheel well, 2.8kg weight saving over steel, as fitted to our latest GTA-R buildsWeight4KG – Steel2.1KG – Fibreglass1.2KG – Carbon Fibre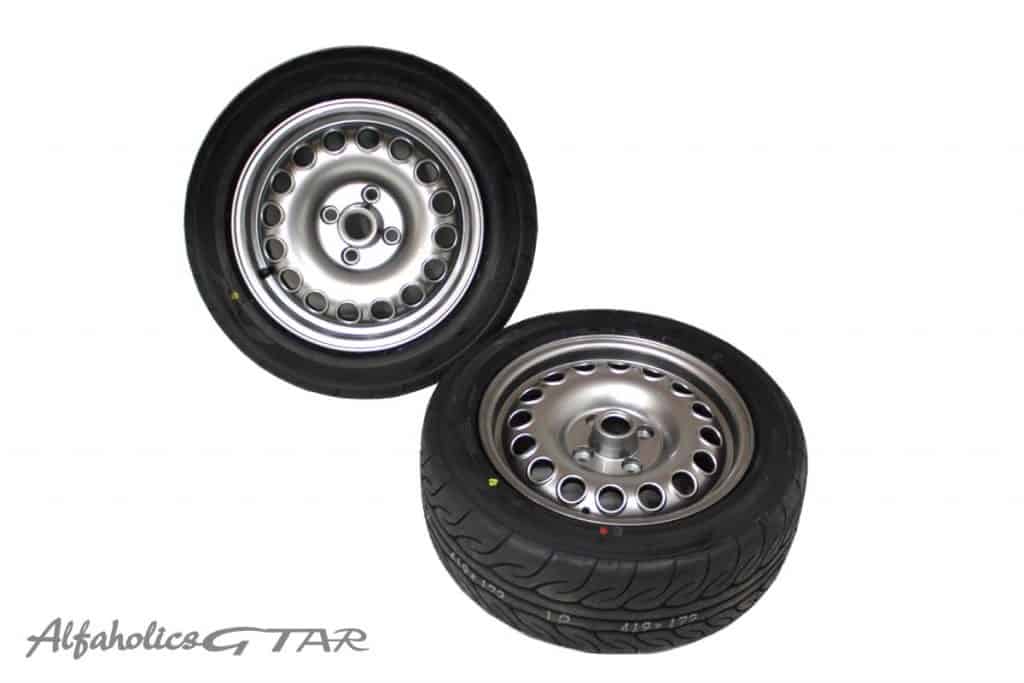 £1,170.00 – £1,335.00 GBP (ex vat)
WHPKGTA-R1 | WHPKGTA-R2
As fitted to our renowned GTA-Rs, choice of Michelin 195/60 tyres for main road used high-performance cars, and with Yokohama 195/55 for mainly trackday used cars and ultra high performance cars. Come balanced, ready to install along with centre caps & circlips.
£160.00 GBP (ex vat)
WHL002/1
Our best selling wheel, now improved and even lighter! The ultimate GTA style aluminium wheel, made exclusively for Alfaholics.The last few years have seen the withdrawal of performance 14 inch road tyres from the market, with the result that there is little point spending good money upgrading your suspension, engine and brakes if you cannot transmit this improved performance properly to the road! Our GTA Veloce 7×15 inch wheels allow the fitment of modern high performance tyres such as the fantastic Yokohama AD08RS and Michelin Primacy 4, as fitted to Alfaholics works GTA-R builds.The wheel is very light at just 7.0kgs. This has been achieved in part by incorporating small ribs into the back of the wheel, very much like the original sixties Campagnolo design, which allow the wheel to be made thinner in cross-section. The beauty of this thin cross section is that it has also enhanced the aesthetics of the wheel, by making the holes appear finer and more elegant. All variants of the wheels are now heat-treated for maximum strength and weight saving. By being 15" diameter, there is adequate clearance for the steering ball joints (even without the use of GTA steering arms), so we have been able to produce the wheel to Alfa's original design offset of ET29. We have also made an ET35 offset variant of the wheel, in order to clear the tighter rear arches on pre-1968 coupes (with the deeper rear arch) and all Giulia saloons. This means that we can offer a beautiful, lightweight 15 inch GTA style wheel to fit any 105 series Alfa Romeo.The wheel is supplied with a GTA centre cap and circlip.Suggested tyre sizes are 185/60, 185/65 or 195/60 for fast road use, 195/55 for high performance road and track day use. "Thank you for the shipment of the wheels.  I got them today on Saturday.  My wife and I could not believe how beautiful those GTA Veloce Supperleggera wheels look.  We were both blown away.  These wheels looks awesome!  I got the other items you sent inside the wheels.  Your service to the U.S. is extremely fast.  It is the fastest service I have ever gotten from anyone.  I order items from all over the U.S. and even my own state, and it is never this fast.Thank you.  I will be ordering more things from you in the near future.  I am extremely please with all the items in my order.  Thank you for all the advice you and Max provided with the decision of getting these wheels.  Take care."Carlos Rodriguez
cat_race_parts_105 filter_wheels_15_inch cat_std_parts_105_all cat_standard_parts cat_wheels filter_book_mechanical_wheels filter_wheels_wheels