Alfa Romeo Montreal Race Parts
£615.00 - £1395.00 GBP (ex vat)
EXH043
Full 304 marine grade stainless steel sports system. Features 2 straight-through silencers per bank for maximum performance increase without being too loud. Has a superb burbly presence at idle and wonderfully distinctive cross plane crank V8 note under hard acceleration. Available as a full system to use with standard manifolds, or as a full system including sports tubular stainless steel manifolds with optimised bore and lengths!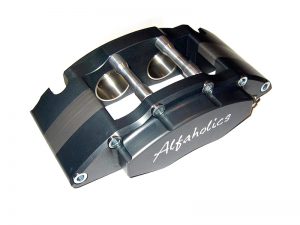 £1095.00 GBP (ex vat)
RCE2002M
Our superb 4-pot brake kit, complete with special mounting bells and brakes for direct Montreal fitment. Designed and manufactured by Alfaholics, this kit represents the ultimate big brake upgrade for Montreals! The kit fits perfectly within standard Montreal 14" wheels and offers huge braking power with no fade due to the large vented discs and large pad area. The kit is compatible with the standard Alfa Romeo master cylinder & servo system, as well as aftermarket master cylinder systems. Kit includes vented discs, aluminium mounting bells, 4-pot calipers, brackets and a full bolt pack.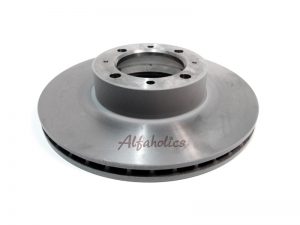 £150.00 GBP (ex vat)
MON009
Excellent quality vented brake disc for Montreal.
£115.00 - £128.00 GBP (ex vat)
RCE2004
Ultimate fast-road pad to fit the Alfaholics Montreal 4-pot brake kit.
£699.00 GBP (ex vat)
SUS418
Alfaholics production, CNC machined from billet aerospace grade aluminium. Montreal LHD steering box cases are renowned for cracking. This is mainly due to the original items being manufactured as a casting, resulting in imperfections and therefore weaknesses being introduced into the material. Now that these castings are getting old, the forces exerted on the cases make them very prone to cracking, in some cases leading to complete steering failure. Of the last 5 Montreal steering boxes we have been asked to rebuild, all of them have had cracked cases and are therefore unserviceable. As a result of this problem, we have CAD designed and manufactured this superb replacement...
£1950.00 GBP (ex vat)
GTA-R 9
Building on the fantastic success of our Fast Road Suspension Kits, we can now offer this complete package of all the parts you'll need to rebuild your suspension and up-rate it at the same time. Ideal if you are rebuilding a car. The package consists of- Alfaholics Montreal Fast Road Suspension Kit Four Koni Sport Dampers Alfaholics aluminium rear T-bar with poly centre bushes New front spring pans GTA-type adjustable top suspension arms Complete set of bushes and ball joints including a set of high quality Lemforder track rod ends New front and rear bump stops, spring rubber and metal...
£395.00 GBP (ex vat)
MON018
Exclusively manufactured for Alfaholics to exacting tolerances. Most rear propshafts have had many UJ changes in their life and as a result can often have damaged UJ housings, this means that even with new UJs vibrations can still occur due to end float in the UJ housings which is beyond shimming out. The sliding joint is also another area for wear on an original unit that of course cannot ever be repaired..
cat_standard_parts cat_race_parts cat_race_parts_montreal filter_book_mechanical_main filter_book_mechanical_exhaust_system filter_exhaust_sports_exhausts cat_std_parts_motreal cat_brakes filter_book_mechanical_break_hydraulics filter_book_mechanical_front_brakes filter_brake_kits filter_brake_hydraulics filter_brake_discs_pads cat_steering filter_book_mechanical_steering_system filter_steering_steering_box cat_suspension filter_book_mechanical_front_suspension filter_book_mechanical_rear_suspension filter_front_suspension filter_package filter_suspension_rear cat_transmission filter_book_mechanical_propshaft filter_transmission_propshaft