£2,395.00 GBP (ex vat)
MON/4C
Alfaholics Montreal performance camshaft set. Manufactured from billet and rifle drilled to reduce weight. Available as a special order.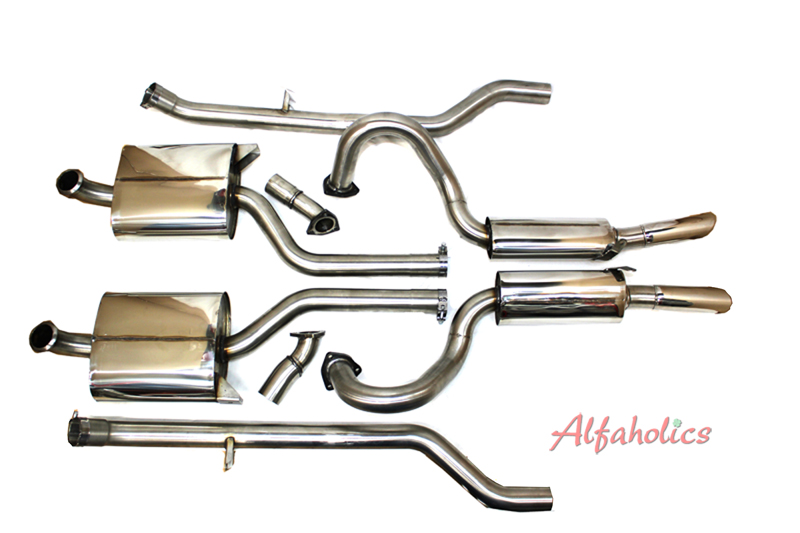 £795.00 – £1,965.00 GBP (ex vat)
EXH044 | EXH043 | EXH043/M
Full 304 marine grade stainless steel sports system. Features 2 straight-through silencers per bank for maximum performance increase without being too loud. Has a superb burbly presence at idle and wonderfully distinctive cross plane crank V8 note under hard acceleration. Available as a full system to use with standard manifolds, or as a full system including sports tubular stainless steel manifolds with optimised bore and lengths!
£1,195.00 GBP (ex vat)
RCE2002M
Our superb 4-pot brake kit, complete with special mounting bells and brakes for direct Montreal fitment. Designed and manufactured by Alfaholics, this kit represents the ultimate big brake upgrade for Montreals! The kit fits perfectly within standard Montreal 14″ wheels and offers huge braking power with no fade due to the large vented discs and large pad area.
The kit is compatible with the standard Alfa Romeo master cylinder & servo system, as well as aftermarket master cylinder systems.
Kit includes vented discs, aluminium mounting bells, 4-pot calipers, brackets and a full bolt pack.
£150.00 GBP (ex vat)
MON009
Excellent quality vented brake disc for Montreal.
£140.00 – £150.00 GBP (ex vat)
RCE2004 | RCE2005
Ferodo performance brake pads to be used in combination with our Alfaholics 4-Pot Kit.
DS2500 is our recommended compound for all fast road and trackday cars running with brake servos. It has a friction coefficient of 0.42 over working temperature range of 20°-500°C
DS3000 is our recommended compound for all race/hillclimb cars.  The makeup of this DS3000 pad material makes this compound also the correct choice for all fast road and trackday applications where cars are not running brake servos. Excellent braking power even from cold temperatures. It has a friction coefficient 0.48 over working temperature range of 200°-650°C
£775.00 GBP (ex vat)
SUS418
Alfaholics production, CNC machined from billet aerospace grade aluminium. Montreal LHD steering box cases are renowned for cracking. This is mainly due to the original items being manufactured as a casting, resulting in imperfections and therefore weaknesses being introduced into the material. Now that these castings are getting old, the forces exerted on the cases make them very prone to cracking, in some cases leading to complete steering failure. Of the last 5 Montreal steering boxes we have been asked to rebuild, all of them have had cracked cases and are therefore unserviceable.
As a result of this problem, we have CAD designed and manufactured this superb replacement case, machined from a very high strength aerospace grade aluminium. This quality of material makes the case extremely strong and durable.
£1,950.00 GBP (ex vat)
GTA-R 9
Building on the fantastic success of our Fast Road Suspension Kits, we can now offer this complete package of all the parts you'll need to rebuild your suspension and uprate it at the same time. Ideal if you are rebuilding a car.
The package consists of:-
Alfaholics Montreal Fast Road Suspension Kit
Four Koni Sport Dampers (or swap for Bilstein at no extra cost)
Alfaholics aluminium rear T-bar with poly centre bushes
New front spring pans
GTA-type adjustable top suspension arms
Complete set of bushes and ball joints including a set of high quality Lemforder track rod ends
New front and rear bump stops, spring rubber and metal seats and new axle straps.
£475.00 GBP (ex vat)
SUS301/D
Superb Alfaholics developed kit radically transforms your Montreal to handle beautifully with fantastic body control, whilst retaining excellent ride quality.
We corner-weighted a Montreal to find surprisingly favourable weight distribution figures, dispelling the 'nose heavy' myths! From these figures we were able to use our considerable 105 Series setup knowledge to calculate the optimum spring rates in order to achieve neutral handling characteristics, whilst retaining the renowned good ride quality of all our handling kits. Montreals have chassis legs further apart than normal 105 Alfas to accommodate the V8 engine and, as a result, we have developed a special 30mm front antiroll bar (mounted in the standard position) to ensure the optimum front roll stiffness. During development, we found that the 29mm roll bar which we use on the normal, lighter 105 Series cars (GT, saloon and spider) and which others choose to use on Montreals, was simply inadequate to control the body roll in cornering. We also found that the standard rubber drop link bushes were unable to cope with increased forces generated due to the extra weight of the Montreal and were liable to tear out of their housings. As a result, we have designed our Montreal roll bar with special fittings to convert to the ball joint drop links that we use on trackday 105 coupes; these are far more durable than rubber bushes. The kit is designed to be used with the standard rear roll bar, which results in beautiful steering feel and poise in corners. The result is that we have made the Montreal handle just as well and corner just as fast as our trackday 105 coupe/spiders!
The kit comprises 4 springs, front roll bar, ball joint drop links & adaptors and polyurethane mounting rubbers.
£495.00 GBP (ex vat)
MON018
Exclusively manufactured for Alfaholics to exacting tolerances. Most rear propshafts have had many UJ changes in their life and as a result can often have damaged UJ housings, this means that even with new UJs vibrations can still occur due to end float in the UJ housings which is beyond shimming out.
The sliding joint is also another area for wear on an original unit that of course cannot ever be repaired. As a result of these 2 major factors we no longer use rebuilt rear propshafts in our workshop, fitting only our brand new unit for 100% perfect results at virtually no extra cost to the customer.
We manufacture these units from race quality thin wall 2″ tube, not only does this mean that the tube is stiffer which results in far smoother running at high speeds, but it is also much lighter than an original unit. We have also increased the size of the UJs on each end which makes them much less prone to wear and much more able to handle the load from engines with increased performance.
Each prop is dynamically balanced to 8,000rpm meaning that this item is perfect for use on both road and competition cars.