Ignition race parts for 105 Series Alfa Romeo
£429.95 GBP (ex vat)
SIP/SK1 | SIP/LK1
Full kit of parts to replace and upgrade your ignition system to our preferred specification for fast road and competition use. Kit includes an electronic programmable 123 distributor with our pre-set performance ignition curve, Lumenition HT leads, Bosch sports coil and a set of NGK '8' heat range plugs.
Please select long coil lead for cars with coil on the bulkhead or short coil lead for cars with coil on chassis leg next to distributor. Kit comes with USB connection distributor as standard, please click add on to upgrade to a Bluetooth connecting unit.
£325.00 GBP (ex vat)
IGN019/1
Excellent unit with fully programmeable ignition advance curve. This distributor has the ability to store 2 separate curves which the user can switch between by applying a 12v supply to one of the distributor wires. This could for example be configured through a switch on the dashboard to allow the driver to switch between curves instantly.
We supply this unit with an Alfaholics fast road curve pre-installed. You can run this curve with all standard and mildly tuned engines, or use it as a basis to fine tune the ignition advance to match your particular modified engine's characteristics. We recommend curve tuning is performed by an expert, ideally with rolling road facilities. Doing so will not only optimise power, but also ensure that the curve is 'safe' and that the engine does not suffer from detonation. It is important to note that performance Alfa engines which have been built well with efficient combustion chambers do not produce maximum power at maximum ignition advance prior to detonation – it is often produced 2-3 degrees lower.  This is why rolling road tuning is so important in order to ensure the ignition settings are correct for a particular engine. The curve is modified using a simple programme downloaded to your computer which is connected to the distributor via a USB cable.
The second curve is perhaps best used as a more conservative map with less ignition advance across the board, in case you are forced to fill up with lower octane fuel than you would normally use.
£335.00 GBP (ex vat)
IGN019/3
Based on the huge success of our fully programmable 123 distributor, we can now offer the same unit but with Bluetooth 4.0 connectivity. This allows the ignition timing to be adjusted from a smartphone, which is particularly useful for garages and tuners to allow adjustments to be made more simply and faster. It features all the same high quality features as the USB connectivity version (such as spark balancing, dwell control and rev limiter).
£1,995.00 GBP (ex vat)
RCE9040
Exclusive Alfaholics production, CNC machined housing mounted with 2x USB programmable 123 ignition modules to drive 2 coils. Supplied complete with 8 point cap & rotor. This unit can be used on 75/164 based twinspark conversions to give an authentic GTA look to the ignition system, or can be used on genuine GTAs looking for an improved ignition system but will require the GTA oil pump being converted to a normal peg drive shaft from spline shaft, or GTA oilpump replaced with a Nord oil pump. The distributor is loaded with a base-map to get the engine running, but will require optimisation on a rolling road to get the correct ignition setting for individual engines.
£2,150.00 GBP (ex vat)
GTA20
Alfaholics production, stunning quality. All components are fully 3D CAD drawn & CNC machined from billet, providing outstanding accuracy of components and quality control. The external body design follows the nicer early Marelli S119 1600 GTA distributor with vertical mounted condensors, while featuring the internal design and shaft dimensions of the later and improved spec Marelli S132 from the 1300 GTA. We bought a large stock of original Alfa Romeo new GTA points which we are fitting to all these units. Each distributor is supplied fully assembled and dyno tested to set the advance curve which has been optimised for modern fuels. These curves have been developed on both our full race 1600 GTA and our road 1600 GTA so we are able to offer either a race or road curve – please specify when ordering.
£250.00 GBP (ex vat)
GTA020/2
Alfaholics production. Exact replica of original plate used to mount GTA distributor onto any 105 Series front cover.
£105.00 GBP (ex vat)
RCE9015M
Alfaholics production. Fits to base of distributor, can be used with any original GTA distributor as well as the Alfaholics GTA distributor.
£37.50 GBP (ex vat)
RCE010
Premium quality competition condenser unit for all engines running with conventional ignition points. Mounted remotely on the chassis of the car from distributor to remove the usual heat and vibration related issues from the unit. 2 required per GTA distributor.
£120.00 GBP (ex vat)
GTA13
Race quality GTA points set, 4 spring version.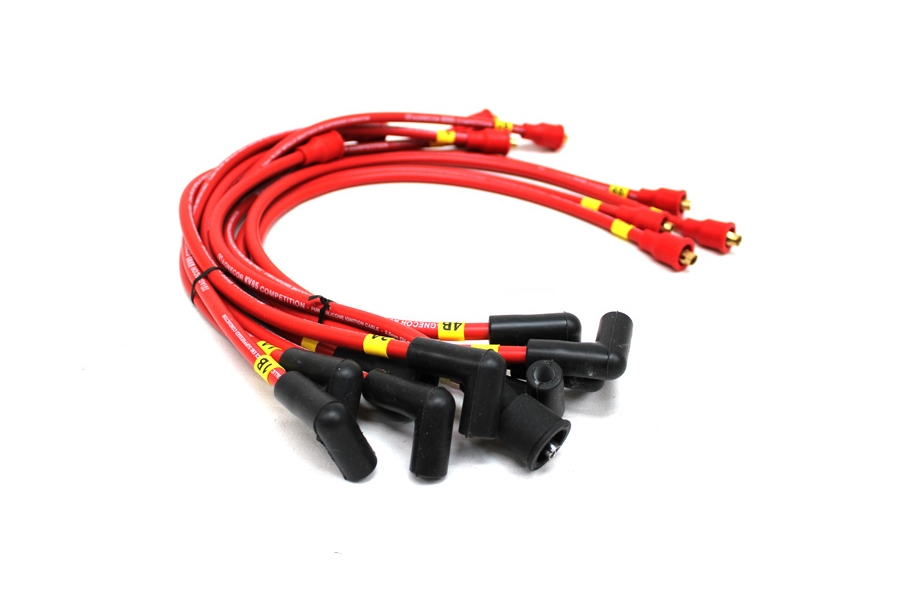 £195.00 GBP (ex vat)
GTA010/1
Manufactured exclusively by the UKs leading HT Lead manufacturer to our bespoke specification using their very highest quality lead material.
Includes 8 spark plug leads and 2 coil leads.
£55.00 GBP (ex vat)
IGN004/1 | IGN004-S
Competition quality silicone leads. These leads are made with a stainless steel wound core offering an excellent spark.
Available with either long coil lead (for bulkhead mounted coil) or short coil lead (for chassis leg-mounted coil). Please select.
£14.95 GBP (ex vat)
IGN002/4
Our recommended plug for use with our 10mm race plug inserts. Iridium tipped with highest specifications.
£4.95 GBP (ex vat)
IGN002/2
Performance spark plug to suit Twinspark engines.
£4.95 GBP (ex vat)
IGN002/1
Performance spark plug to suit Nord engines.
£45.00 GBP (ex vat)
IGN002/5
Alfaholics production, CNC machined aluminium insert to screw into cylinder head to use small diameter race plugs. This is required when running 46mm valves or larger.