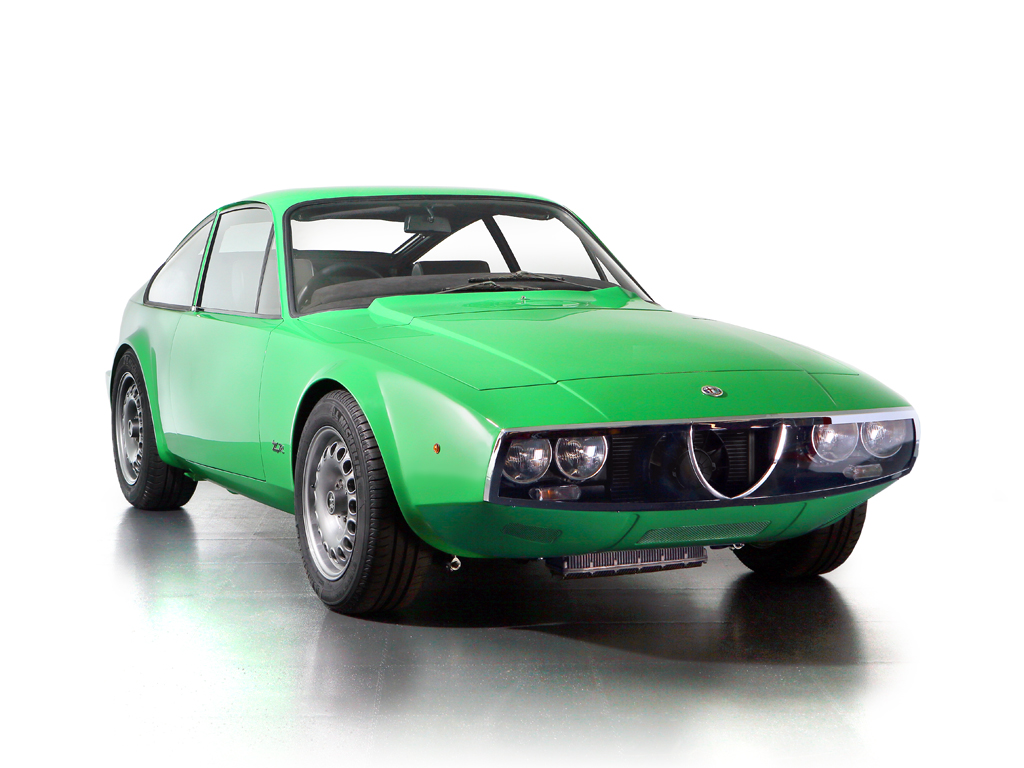 Completed
Our first Zagato-R build is completed and ready to hand over to Gordon Murray! We are very proud to have built one of our R-types for Gordon – not only does he have the most exacting standards, but he is also a true enthusiast & petrolhead and has been keen to push the boundaries with this build. The finished car is truly wonderful, both in its looks and the way it drives. The goal was to create a grown-up Grand Touring car with the highest level of performance combined with superb ride quality, a full suite of creature comforts and trimmed to the very highest standards to make the car practical and easy to live with. The list of jobs and specs is endless, but here is a list of the main details:-
Body/Chassis
Full rotisserie body restoration to our usual concours standards & entire chassis seam welded
Floors and rear bulkhead modified significantly to fit 6ft 5in driver
RHD conversion
Boot floor completely redesigned to central mount increased capacity fuel tank and injection pump assembly
Air inlets redesigned to flow 230+BHP engine, cold air feed and oil cooler inlets incorporated into front valance
New front grille assembly made with increased centre heart surface area to increase airflow to radiator and new perspexes bespoke manufactured
New aluminium door skins manufactured to incorporate Ferrari Dino door openers
Rear tailgate redesigned to stiffen c-pillar design, improve rigidity of shell & incorporate modern electric release tail gate with gas struts
Re-design of rear bumper assembly to improve air flow under car and neaten the appearance of the rear of car
Paint to sample colour chosen by Gordon
Mechanical
230BHP 2100cc Twin Spark engine
Billet ITB system run on Motec ECU
GTA-R suspension package with titanium top wishbones, billet uprights and double adjustable dampers
GTA-R Superleggera 6-pot brake package, 300mm vented discs, dual circuit bias adjustable pedal box
Speed sensitive EPAS built into billet aluminium steering box casing
Mass damper flywheel & clutch pack
Close ratio GTA-R gearbox build with billet quickshift kit
Alfaholics competition high-torque propshaft
Alfaholics LSD built axle with 4.1 long ratio to reduce motorway cruising revs
Full tubular stainless steel exhaust system with bespoke silencer chamber volumes to match Gordon's preference.
Custom fabricated aluminium radiator, oil cooler, header tank, catch tank & airbox
Custom fabricated aluminium foam filled fuel tank with built in anti-surge valves and GTA-R injection fuel pump assembly
Electrics
GTA-R PCB and wiring loom
LED headlights
Remote central locking
Remote boot release
Heated seats
Heated windscreen
Electric windows
Motec EFI
Trim
Carbonfibre dashboard trimmed in alcantara & leather
Custom seats, rear luggage area
Custom leatherwork design throughout
Customer headlining and alcantara roof cappings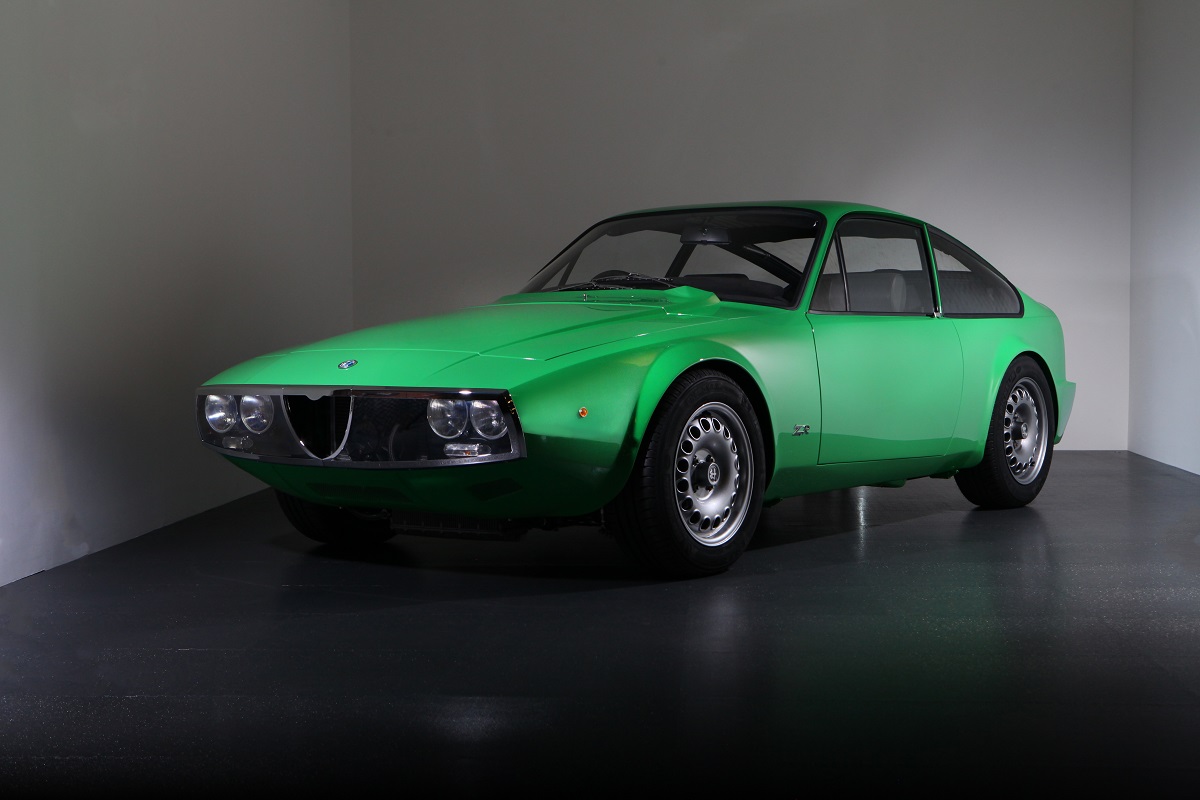 Build – Stage 3
Build – Stage 2
New Alfaholics billet GTA-R 'big-spindle' uprights installed
RHD dashboard manufactured from scratch and installed in car for pre-fitting purposes prior to trim
Stage 1 trim work completed, neither us nor the customer liked the original headining system that Zagato used, it looked cheap, made the interior too dark and also effected head room inside the car. We have completely redesigned the headlining system in the car and moved it more into line with how coachbuilt Italian cars of the 1970's were trimmed. This allowed us to have alcantara edges and piller sections and a light coloured ribbed centre section to keep the interior looking and feeling 'light'.
Boot boards manufactured to close the boot in properly and all trimmed in alcantara.
Build – Stage 1
Shell Painted & Ready to Assemble
List of major bodyshell mods include:-
Additional air vents in front panel for radiator, oil cooler and cold air feed
Modified radiator mounting/ducting for increased radiator size
Modifed inner wing for cold air box
RHD conversion including our electric PAS with adjustable steering column
Dino door handle conversion
Floor pans dropped
Rear bulkhead moved back
Boot floor converted for new fuel tank location and design
Fuel filler relocated
Rear bumper system complete re-design
Complete re-design of tailgate including electric release
Trim Fabrication & Paint Prep
Witt the fit and finish of the reproduction Zagato front mask trim and perspexes quite as poor as it is, we had no option but to manufacture a new mask from scratch to ensure an excellent fit to the front body and matching the style lines and manufacture tools to mould new perspex covers. In the process of doing this we were able to tweak the dimensions of the heart a little to get a better air flow to the cooling system. With the engine's cold air feed now supplied from the front valance, we also deleted the factory slots in the perspex, now redundant with our widened radiator and chassis ducting panels.
With the final prep work completed we now move to the paint prep stages, with full seam sealing of all joints prior to a complete coat of spray sealer for the underside of the car. A huge number of modifications have been done to the shell to not only customise the car to the desires of the new owner, but also to fit his tall frame in the car at all.
These photos show the extent to which we have dropped the floors and moved the rear seat bulkhead panel back to accommodate a suitable driving position, as well as the completely bespoke boot floor arrangement and of course the RHD conversion of the shell! The grille mask has been double copper coated and gets its final trial fitted before final polish prior to chroming.
Once the shell is painted, it will be possible to see all the modifications we have made to the outside of the shell as part of the customisation process of this very special car.
Body Restoration & Modifications
Shell converted to RHD, new dash face made for RHD, rear floor bulkhead moved back 4″ and floors dropped 3″ to allow for tall driver.
Engine dummied up to allow fabrication of bespoke radiator & a/c condenser assembly, cold air inlet plenum fed via high pressure area under front valance on RH side, oil cooler which is fed via high pressure area under front valance on LH side
Clunky standard door handles deleted, new door skins made and Ferrari Dino door handles engineered in.
Fitted on Celette Chassis Jig
With the shell sensitively media blasted bare and etch primed, it is fitted to our Celette jig to ensure the chassis is square and then carry out the required chassis repair works.
Stripped Bare
With the shell stripped bare and ready to media blast we can see that the car is a nice accident free car with minimal corrosion, a great basis for an R-build!
Donor
Donor car for this Junior Zagato-R build is an early 1300 model with the shorter rear body and prettier resulting dimensions.