Completed
Assembly completed, road tested and ready to deliver. The car drove wonderfully, lovely torquey power delivery with a glorious 24v V6 sound track – the perfect continental cruiser!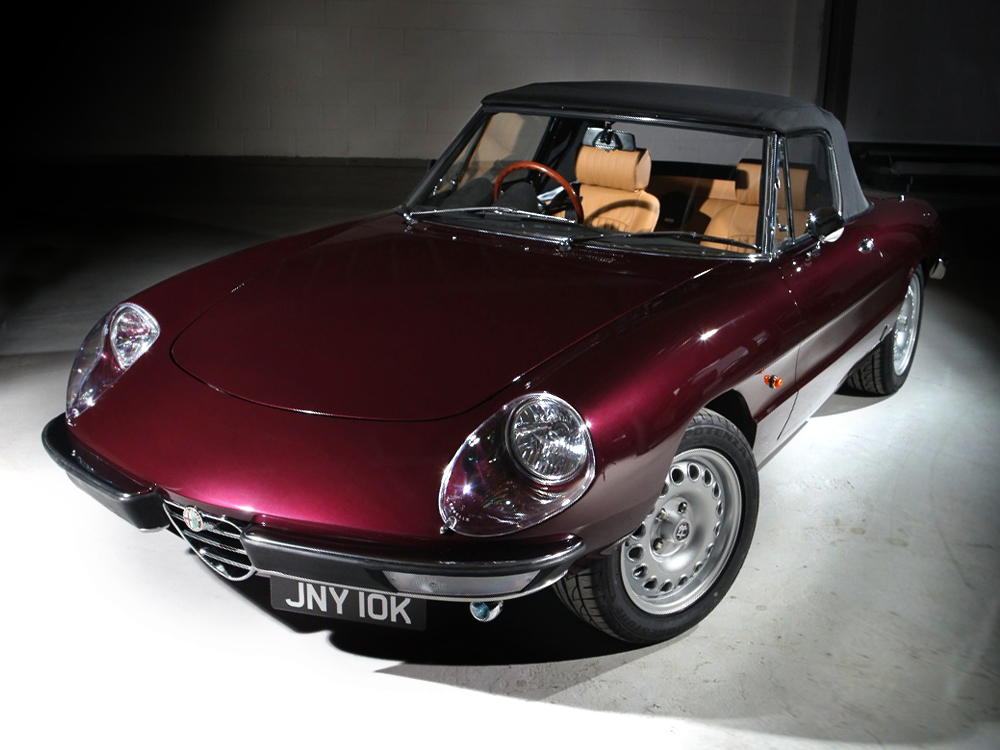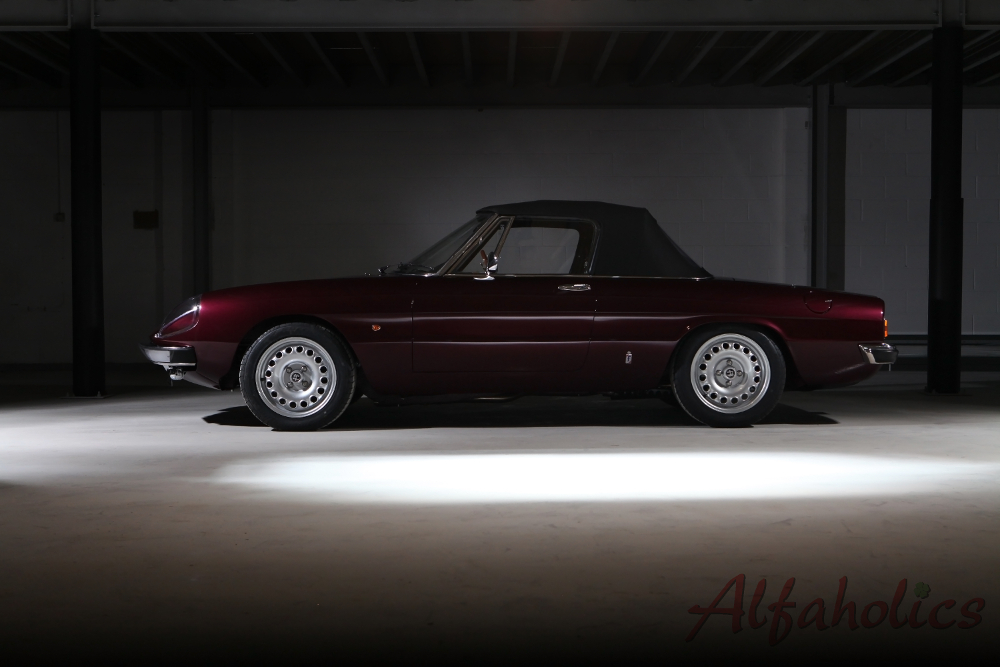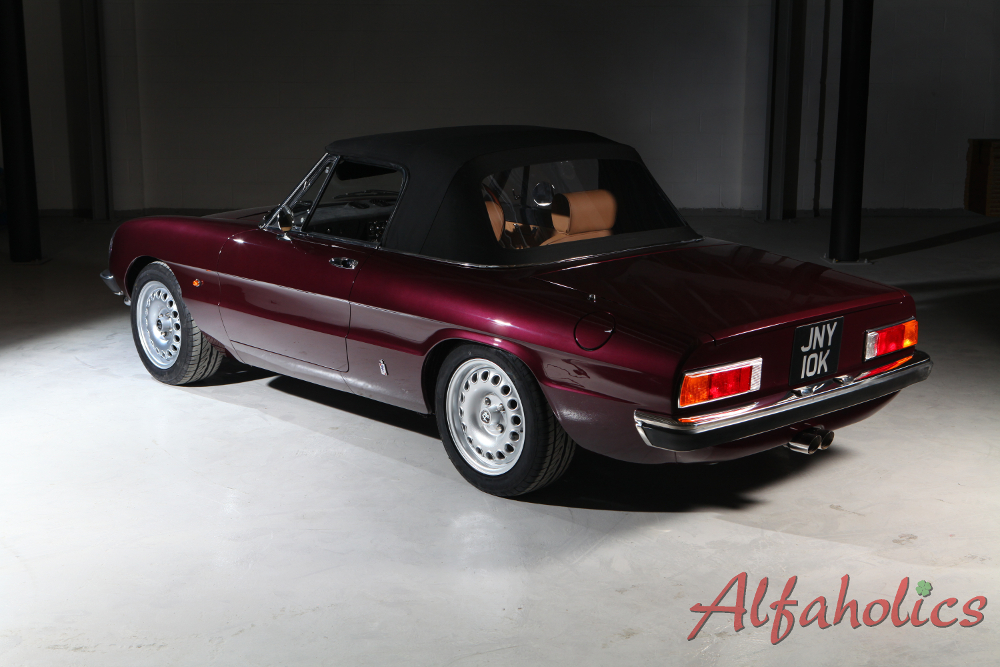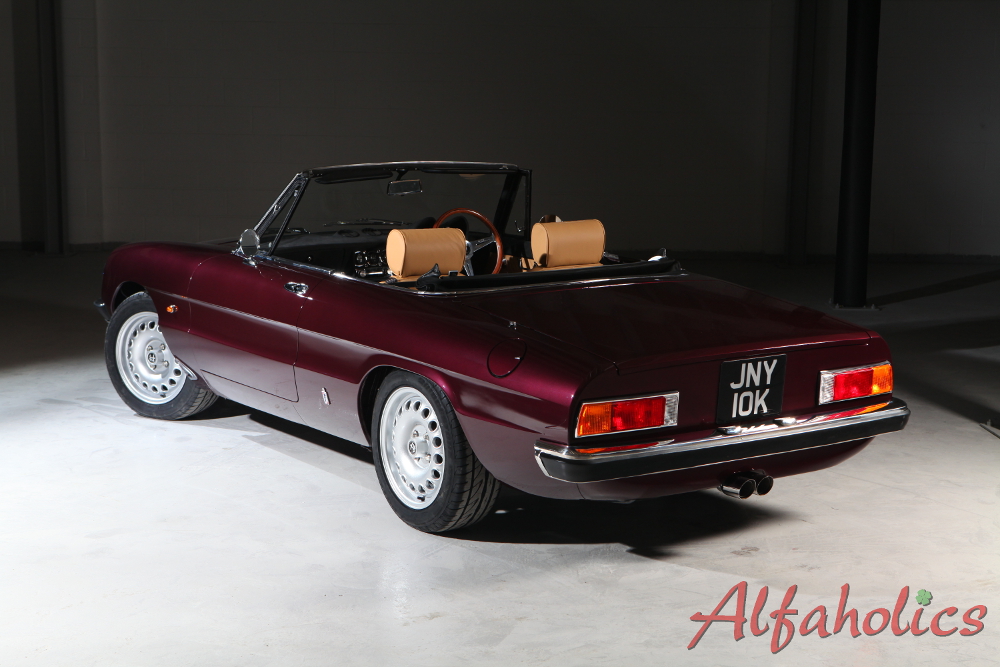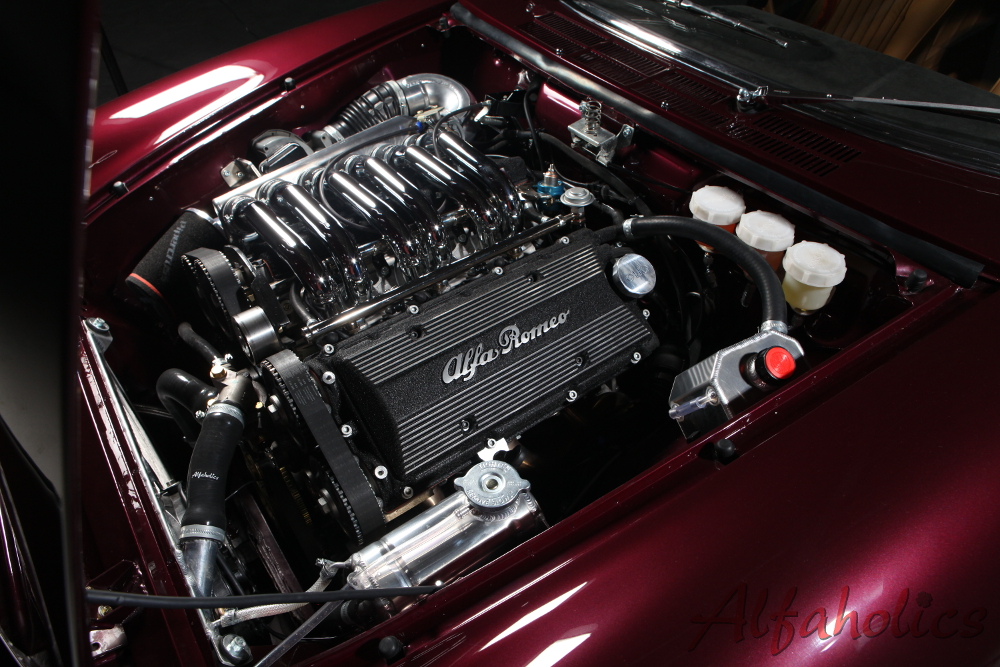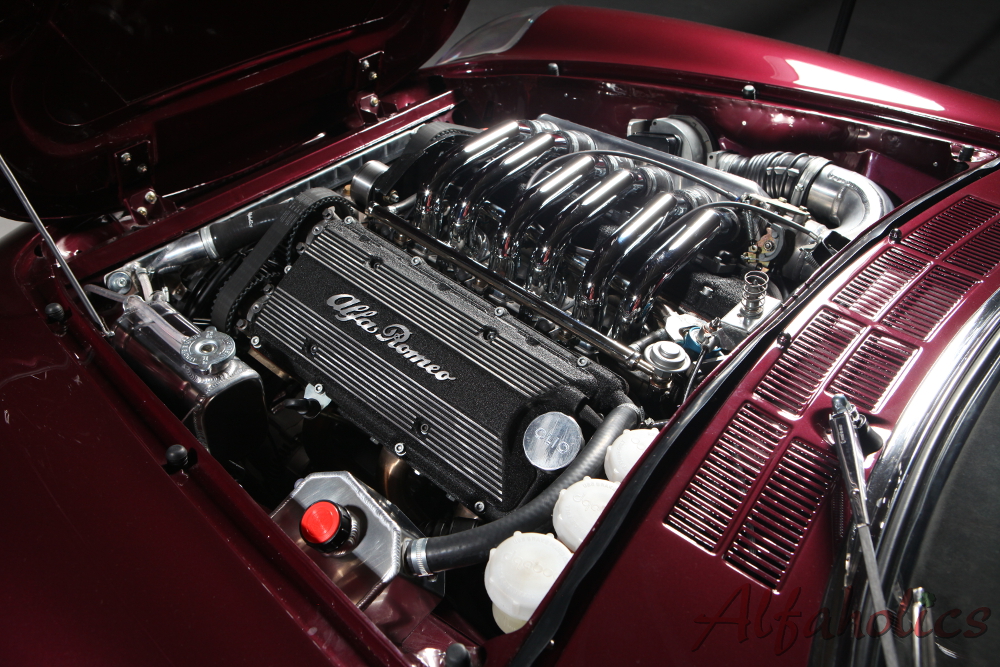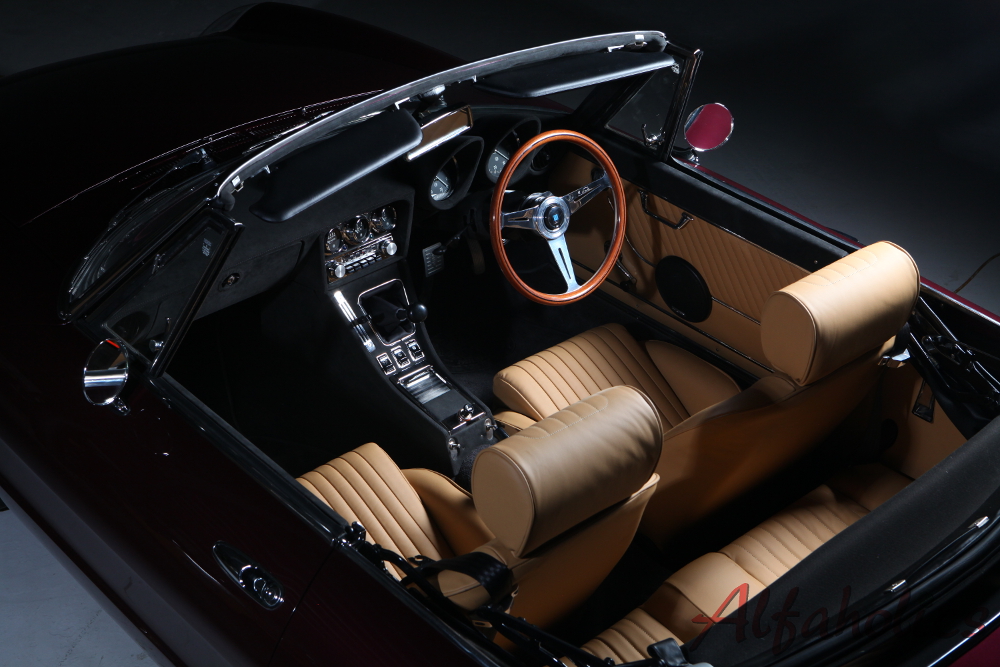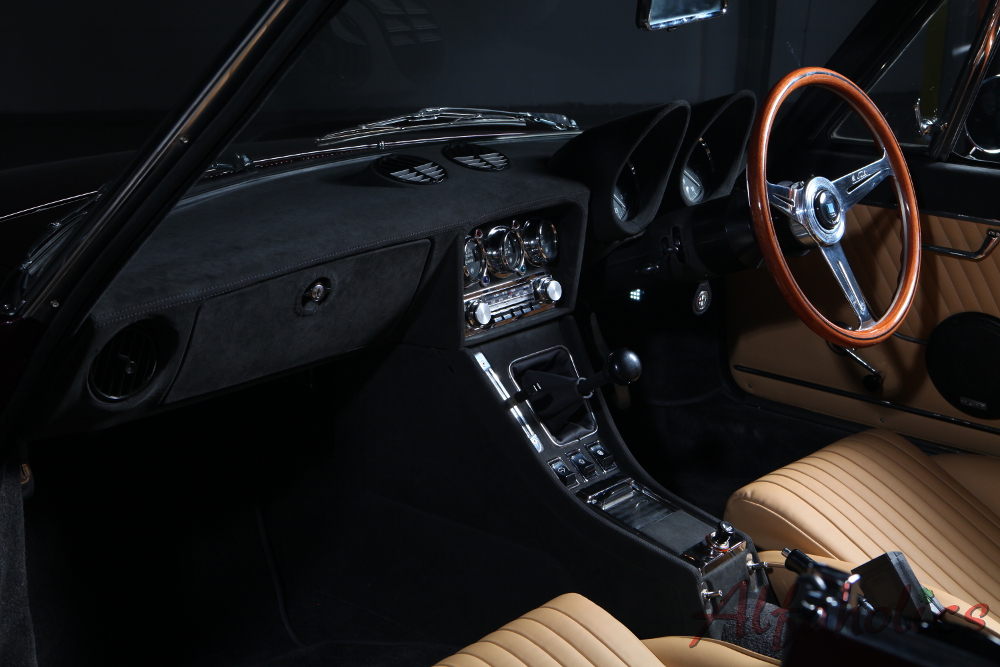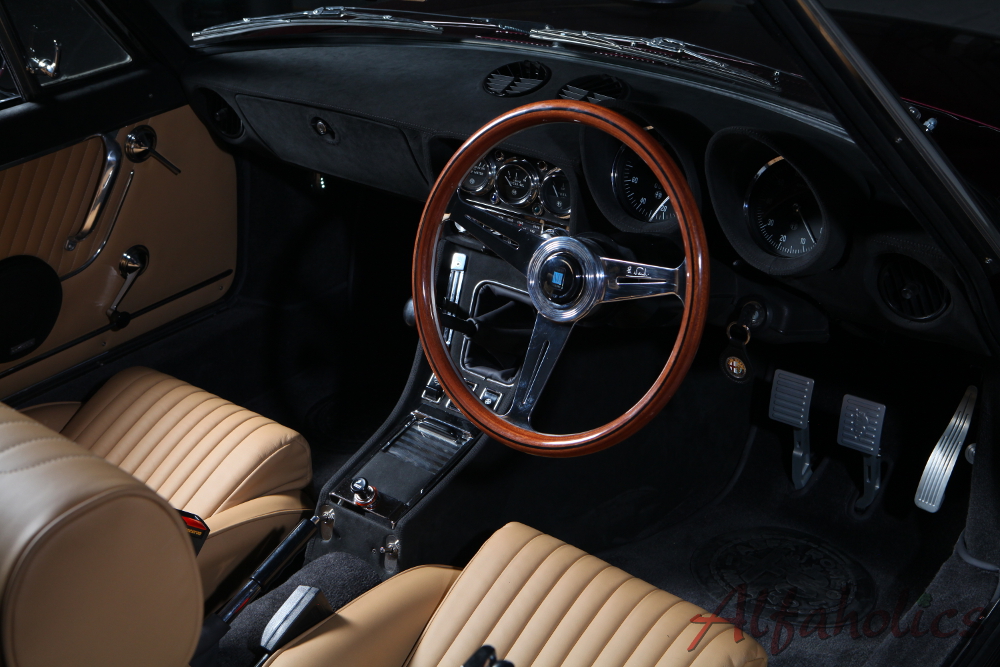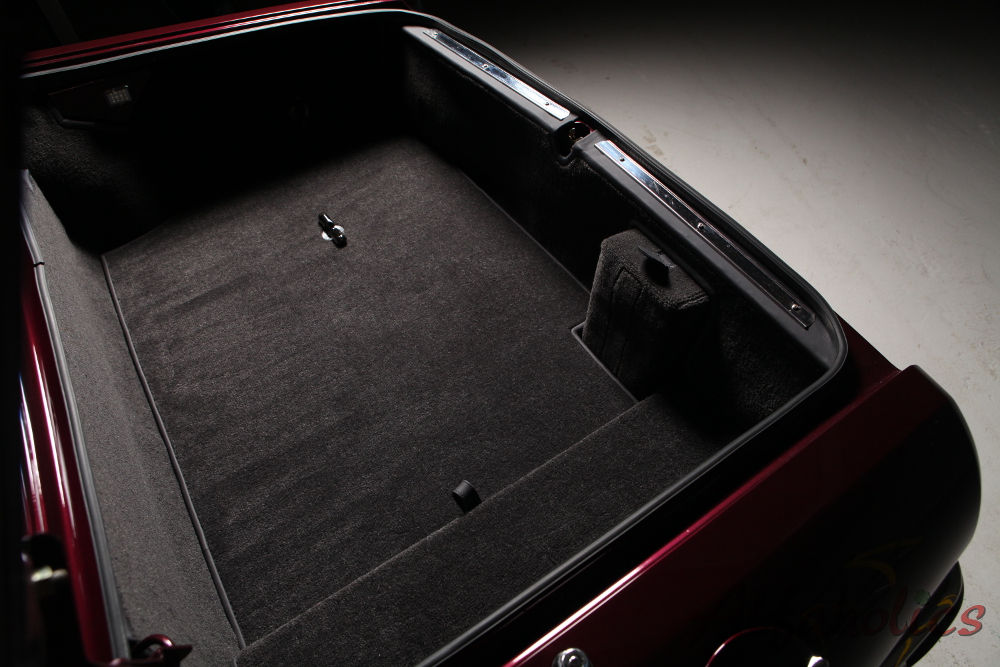 Build – Stage 3
The car has been mechanically completed within 6 weeks of receiving the shell from paint, a great achievement given the added (and often hidden) complexity of the V6 installation!
We have also done a complete dry build of the interior and have modified the rear side panels to fit around the chassis stiffening. The boot has been boarded in ply, and features a hidden compartment at the front which houses the battery and the modern Sony stereo unit. The period stereo in the dash has been converted to act as a remote control for the modern head unit in the boot.
After restoring the steel hood frame, we installed our premium quality Sonnenland mohair hood. With the car mechanically completed, we couldn't resist the opportunity to give the car its first drive, with a quick blast around the estate before we start the trimming.
The car drives beautifully, with lovely torque to match the glorious 24v V6 soundtrack… very much looking forward to getting the car out on the road once completed!
Build – Stage 2
A busy first 2.5 days of assembly sees the bare shell develop to a rolling shell ready to drop on the floor to install the engine and gearbox next. The following components used:-
Alfaholics 4-pot front brake kit
Alfaholics aluminium rear calipers with sport brake discs
Alfaholics dual circuit bias adjustable pedal box
Alfaholics Billet Aluminium pedal set
Alfaholics premium quality braided stainless steel pressure and reservoir feed hose
All Alfa suspension members blasted & premium quality satin black powder coated, with fittings acid dipped & high quality plated
Alfaholics 2 1/4″ front spring conversion
Alfaholics lightweight spring pans
Alfaholics quick steering arms
Alfaholics Kit B rear springs
Alfaholics aluminium t-bar & lightweight trailing arms
Koni Sport shocks
Polycarbonate headlight pack with Alfaholics Xenon headlight conversion
New Alfaholics wiring loom
New development Alfaholics Power Steering Conversion with Alfaholics billet aluminium steering box casing
Build – Stage 1
New Crate 24V V6 engine fully prepped and dressed with bespoke inlet runners and plenum. Cam covers crackle black finished. Fuel rails high quality nickel plated, bespoke alternator bracketry lazer cut and powder coated.
Gearbox fully rebuilt with our premium quality synchros and bearings and mated up with custom v6 installation bellhousing.
Custom clutch made up to mount to V6 flywheel whilst also having correct spline detail for 105 series gearbox.
Axle fully rebuilt with our high quality LSD and new bearings. Tubes powder coated, halfshafts built up with all new componentry and new brakes.
Painted Shell Ready To Assemble
Shell prepared to concours standards with bespoke colour to customer specification. Paint with full wet flat finish, underside finished with protective spray sealer and then fully top coated to achieve water repelling wipe clean finish.
Shell restoration – Stage 2
With all the metal work completed, the shell is removed from our Celette chassis jig and mounted on our roll-over jig. It is then re-media blasted, etch & epoxy primed and seam sealed ready for the underside to be spray sealed prior to paint application.
Shell Restoration – Stage 1
With the shell bolted to our factory Celette jig we removed the inner, middle & outer sills with floor pans. The new sills and been fitted in place with additional stiffening tubes welded between the inner and middle sills. The inner sills were pre-drilled to accept diagonal tubes to the b-post and front firewall to form a similar system as used on Spider-R 007, but without the visible door bar restriction. New a-pillar and b-pillar bottoms were fabricated and installed with new jacking points. The rear chassis legs have been cut short as per Spider-R 007 to allow the new rear floor pans to be modified and dropped down to ensure the tall owner will fit comfortably in the car. The shortened chassis legs will get stiffened back to the hidden cage stiffening.
The rear wings were removed to allow proper repair of the inner rear wheel arch and hood frame tub. With the extent of repair required to the original rear wings visible once blasted and removed, we have elected to fit new original Pininfarina tooling pressed rear wings.
Shell Media Blasted
Shell sensitively media blasted on our rollover spit to remove paint, filler, underseal and corrosion to allow us to assess what metal work requires replacing. Shell is generally in a good condition, but has suffered from poor quality repairs to the door bottoms and rear wheel arches in the past. These will all be cut out to be redone to our high quality standards. Floors cut out before blasting as they always get replaced and thus helping to reduce time for the blasting process.
V6 Dry Installation
Prior to shell preparation and painting, we took the opportunity to do a dry installation of the V6 engine and gearbox to design and manufacture any bespoke parts required for the job and make any necessary modifications to the engine bay prior to painting.
We sourced a brand new crate 3.0 V6 24v from Fiat/Alfa in Italy for the project, it will need new cambelts having sat for many years, but being brand new was the best basis to start from.
We sourced an Alfa 6 oil sump and oil pump pickup which fits directly to the v6 block but is the 105 style wing shape. This means that the engine cross member does not need to be cut during the installation, a significant advantage over using a normal FWD sump. With special engine mountings fabricated the engine dropped straight in with relative ease. We sourced a special bellhousing which adapts a 105 series gearbox to fit directly to the v6 engine block. With the engine and gearbox fixed in its final position, we fabricated a bespoke 304 marine grade tubular exhaust system. For ease of running and future use, we decided to plumb the engine with the standard factory ECU and Bosch Motronic ancillary systems. The FWD intake plenum, sat on top of the right hand head would not clear the Spider bonnet, so we custom fabricated a new aluminium intake plenum, located further down, and extended the intake runners to match. A custom inlet run was made from the throttle body to the free flow air filter via the airflow meter to avoid having to cut clearance room at the bulkhead, resulting in a neat installation. A custom radiator has been made which sits further forward to give enough space to fit top and bottom radiator hoses to the engine, this radiator has a special header tank for filling.
Project Brief
Our customer has asked us to build an Alfaholics Spider-R with a more long distance touring focus than trackday use, and for optimum effortless cruising has asked us to install a 3.0 V6 24V Alfa engine. Being quite a tall person, we will need to follow a similar route as Spider -R 007, dropping the floor pan height down and adding a similar chassis strengthening system to reduce scuttle shake, but this time without a visible bar across the door aperture.
Donor car was a 30,000 mile S2 Spider which had been off the road for 15 years showing evidence of rust coming through the sills, wing bottoms and door bottoms.