Suspension Parts for 1300 & 1600 GTA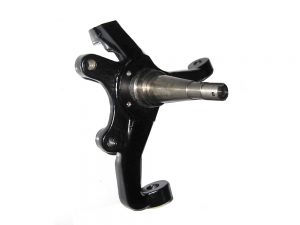 £1750.00 GBP (ex vat)
GTA2
Copied directly from the original pair of uprights on our 1600 GTA race car for perfect accuracy. These uprights have been manufactured to the very highest standards, exclusively for Alfaholics, in the same factory in which McLaren Mercedes SLR uprights are made. They come complete with new spindles fitted and are finished in premium quality black powder coating. Priced per pair.
£350.00 GBP (ex vat)
GP2GTAM1
Autodelta type knuckle riser for wide body GT to improve roll centre height and KPI/scrub radius characteristics. Recommended for all wide body GTs as well as period correct FIA type widebody GTA/GTAm. Sold as pair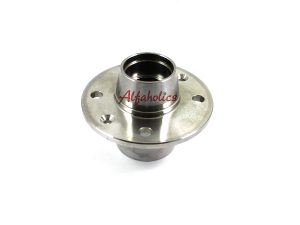 £295.00 GBP (ex vat)
GTA3
CNC machined from billet steel to the correct & special dimensions unique to 1600 GTA. Priced individually.
£450.00 GBP (ex vat)
SUS2001
Premium quality Alfaholics production. Cast from race grade aluminium and heat treated for additional strength. Original GTA aluminium t-bars are often cracked in the area around where the end bush is pressed into the casting. For our new t-bar, the end bushes for attachment to the chassis are machined from latest technology Igis anti-friction material which are a simple push fit, thus avoiding the issues often seen with original GTA t-bars. This new material also provides improved lateral axle location compared with the commonly used polyurethane end bush, as well as smoother vertical movement of the axle. The kit is [?]
£535.00 GBP (ex vat)
SUS2002
As above item, but with premium quality, heavy duty PTFE lined self lubricating spherical bearing fitted in place of the poly conical bush. This provides improved axle articulation and reduced rear roll stiffness for improved rear grip. Comes complete with new machined axle pin to ensure a perfect fit on the spherical bearing. As offered in the Autodelta parts catalogue and fitted to the 1965 Autodelta team cars before the sliding block was manufactured.
cat_race_parts cat_race_parts_gta cat_suspension filter_book_mechanical_front_suspension filter_members_hardware filter_front_suspension cat_standard_parts cat_std_parts_105_all cat_race_parts_105 filter_book_mechanical_main filter_book_mechanical_rear_suspension filter_suspension_rear