Race Suspension Parts for 1300 & 1600 GTA
£2,995.00 GBP (ex vat)
GTA-16UPRS
New premium quality Alfaholics production. We 3-D scanned original factory uprights to produce a perfectly accurate CAD model and have CNC machined our new uprights from billet motorsport grade steel to improve quality and rigidity. Ultimate quality and lightest weight on the market, avoid heavy approximations available elsewhere.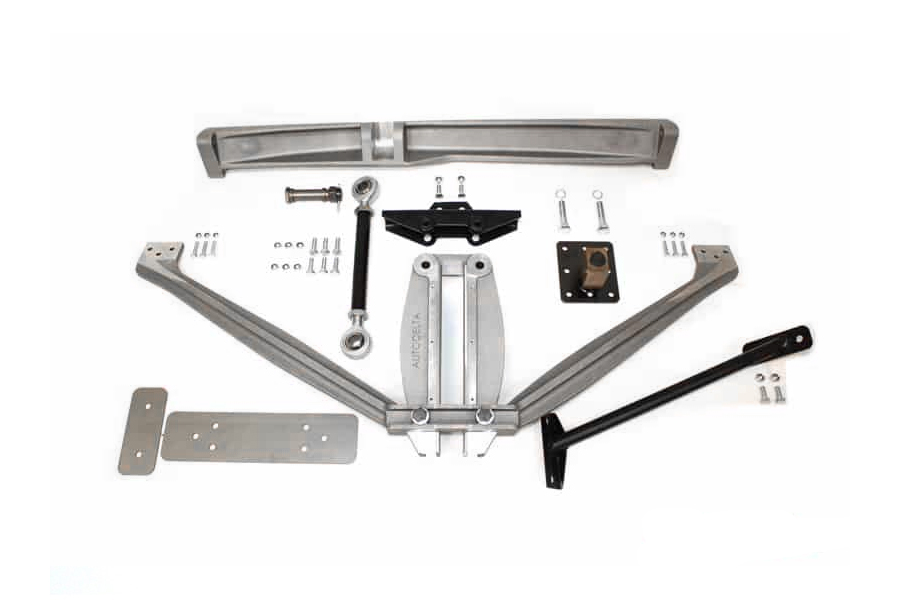 £2,250.00 GBP (ex vat)
ALF/SBK
We have gone to great lengths to make this premium quality sliding block kit due to the poor fit and quality of the current European reproduction kit. We have taken a genuine original Autodelta kit, laser scanned all the parts to create CAD models to manufacture all the parts very accurately. The aluminium castings are of very high quality (one of the worst aspects of the European kit) and we have added our logo discretely into each cast part into a surface that is not easily seen when installed. Doing this enables our kit to be identified so future owners know they have got Alfaholics quality and also ensures that our parts can never be passed off as genuine original. The machining of the slider guides and block are very precisely toleranced to ensure optimum clearance for both smooth movement and to ensure they are not too rattily, this tolerance is the most important part of the whole system and why our kits are supplied as a complete matching kit. The kit is supplied with motorsport quality rose joints, stiffening plates to add to the boot floor (just as Autodelta did)and all the bolts to install the assembly. Buy Alfaholics, buy the best! Complete the installation with our specific Autodelta type sliding block axle casing, which we offer in either aluminium or magnesium listed in 'related products' below.
£350.00 GBP (ex vat)
GP2GTAM1
Autodelta type knuckle riser for wide body GT to improve roll centre height and KPI/scrub radius characteristics. Recommended for all wide body GTs as well as period correct FIA type widebody GTA/GTAm. Sold as pair
£350.00 GBP (ex vat)
GP2GTAM2
Autodelta type knuckle riser for narrow body GTA to improve roll centre height & roll camber characteristics. Sold as pair.
£295.00 GBP (ex vat)
GTA3
CNC machined from billet steel to the correct & special dimensions unique to 1600 GTA. Priced individually.
£85.00 - £170.00 GBP (ex vat)
SUS117R
Reproduction of Autodelta's adjustable camber top suspension arm. The threaded adjuster means you can change the length of the arm and that in turn changes the camber angle of the front wheel. We recommend polyurethane bushes are bought to install into these arms in place of the standard rubber bushes.
£495.00 GBP (ex vat)
SUS2001
New premium quality Alfaholics production. Cast from race grade aluminium and heat treated for additional strength. The end bushes for attachment to the chassis are machined from latest technology Igis anti-friction material. This provides improved lateral axle location compared with the commonly used polyurethane end bush, as well as smoother vertical movement of the axle. The kit is supplied with a range of spacers to help shim the axle centrally as well as a pair of Alfaholics polyurethane conical bushes. 4KG weight saving over standard cast iron item!
£595.00 GBP (ex vat)
SUS2002
As above item, but with premium quality, heavy duty PTFE lined self lubricating spherical bearing fitted in place of the poly conical bush. This provides improved axle articulation and reduced rear roll stiffness for improved rear grip. Comes complete with new machined axle pin to ensure a perfect fit on the spherical bearing. As offered in the Autodelta parts catalogue and fitted to the 1965 Autodelta team cars before the sliding block was manufactured.
cat_race_parts_gta cat_suspension filter_book_mechanical_rear_suspension filter_suspension_rear filter_suspension_geometry cat_race_parts filter_book_mechanical_front_suspension filter_members_hardware filter_front_suspension cat_std_parts_105_all cat_race_parts_105 cat_standard_parts cat_std_parts_motreal cat_race_parts_montreal filter_book_mechanical_main