Alfaholics Race Suspension Rebuild Package
£3,025.00 GBP (ex vat)
AH/KTSUSRC
Based on the highly regarded Alfaholics "Blue" Race Suspension kit, this is a complete suspension package for customers building a race or trackday car. Everything you need to get you out on track!
The package consists of-
Alfaholics Fast Race Blue Suspension Kit with upgrades to S4-type front bar and 2.25 inch springs
Four Bilstein Sport Dampers.
Lightweight front spring pans
GTA-type adjustable top suspension arms
Alfaholics quick steering arms
Complete set of bushes and ball joints including a set of high quality Lemforder track rod ends
New bump stops front and rear and new axle straps
cat_race_parts_105: 105/115
cat_std_parts_105_coupe: 105/115 Coupe
cat_std_parts_105_saloon: 105/115 Saloon
105-115-spider: 105/115 Spider
cat_std_parts_105_all: All 105/115 Series
filter_book_mechanical_front_suspension: Front Suspension
filter_book_mechanical_rear_suspension: Rear Suspension
cat_suspension: Suspension
filter_package: Suspension Package
Related Products
£2,495.00 – £3,275.00 GBP (ex vat)
GTA-R 5/4 | GTA-R 5 | GTAR/PACK/BPS
Following the success of our full GTA-R suspension package, we have introduced the equivalent full brake package as fitted to our GTA-R builds. We run all our top specification road and track cars with un-servo assisted brakes and our dual circuit bias adjustable pedal box to give the ultime levels of feel and modulation in the brakes, not possible with servo assisted systems.  This packageconsists of:-Choice of Alfaholics Billet aluminium bias adjustable pedal box (either RHD, floor pedal LHD or hanging pedal LHD)Alfaholics 6-pot or 4-pot front brake kitAlfaholics billet aluminium rear calipersSport rear discsAlfaholics Braided brake line – set of 3Alfaholics front caliper banjo brake linesFerodo DS performance brake pads for race or road/track day application.Upgrade this kit to our lightweight 'Superleggera' version of 6-pot kit and rear calipers which represents a 1.5KG weight saving in both un-sprung and rotational weight over the standard 6-pot kit!
£775.00 – £795.00 GBP (ex vat)
PACK002 | PACK004
Complete set of new brake calipers, sport grooved discs, Ferodo Ds2500 brake pads, fitting pins and braided steel brake flexi hoses for all 105/115 series Alfa Romeos from 1968. Available for both 1300/1600 ATE brakes with a 76mm front caliper bolt spacing or 1750/2000 ATE brakes with a 89mm front caliper bolt spacing.For our Alfaholics race and performance kits.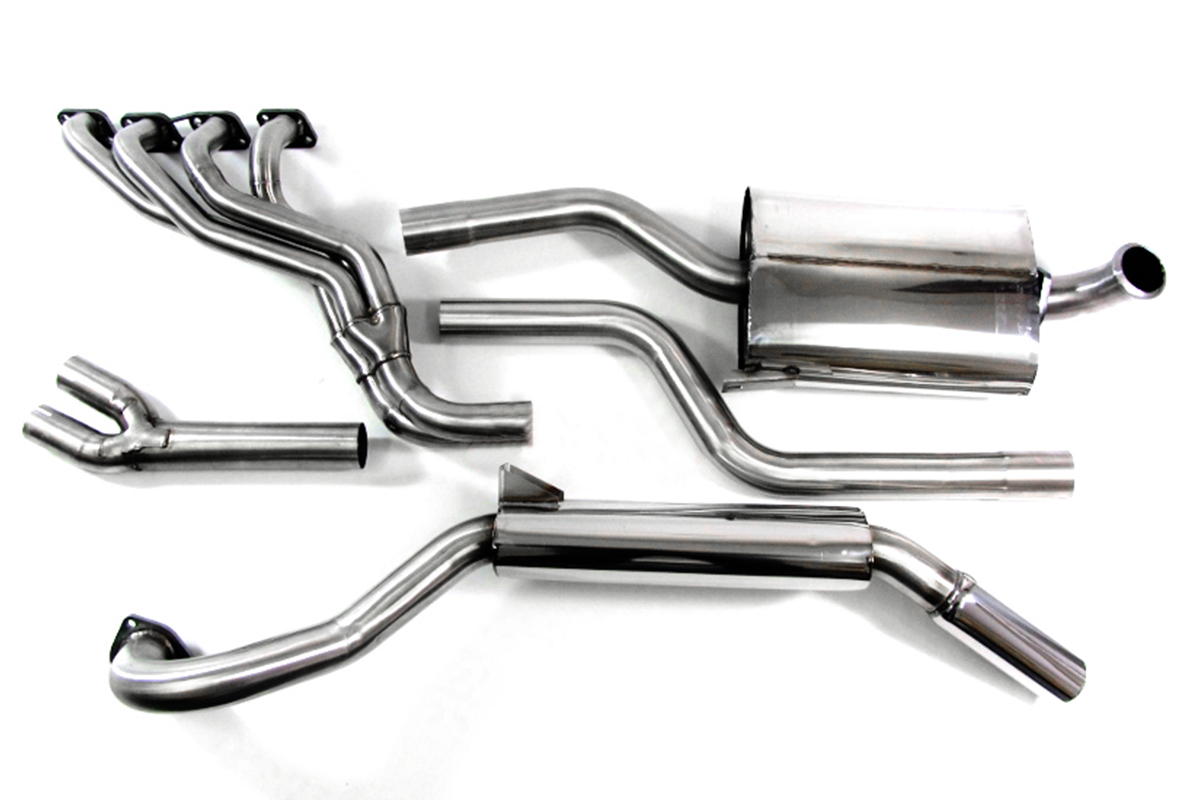 £995.00 GBP (ex vat)
EXH038 | STA/EXH | STA/EXH
Superb quality, unrivalled on the market for quality, fit and performance! Primary & secondary lengths and bores optimised on the dyno. With this system fitted the engine will rev much freer with higher rev capability and in the region of 10BHP increase and 8lb/ft torque. We have options to allow the direct fitment for all factory fit model variations of 105/115 Series cars; LHD (floor & hanging pedals, cable & hydraulic clutch) as well as RHD. We have centre link pipes & tailpipes to cover all model variations; GT, Giulia Saloon, Berlina, Roundtail Spider, Kammtail Spider, 1300 Junior Zagato and S3/S4 Spider. Please follow the QR code on the centre section for a complete fitting guide for this system. Notes:- For LHD floor pedal cable clutch cars which have been upgraded to non-factory fit 1750/2000 engines, our 1750/2000 manifold will clash with your factory mechanism – you will need to modify your mechanism to factory GTA/TI Super specification to allow the manifold to clear. For hanging pedal LHD 1600 cars, please order 1750/2000 shallow floor system for increased clearance to floor pan. For RHD 2000 Spider post 1972, please order 2000 hanging pedal version of manifold as your car will have a deep left front floor pan. Under axle upgrade Cars that are lowered 2.5+ inches can encounter the rear axle touching the exhaust on full compression, to resolve this we have created  "under axle" centre and rear sections. For cars that are not lowered by 2.5+ inches should refrain from ticking the box. Alfaholics customer John Dobson said the following about his recent purchase:- Many thanks for prompt despatch of the stainless-exhaust. It looks the business. Fitting has proved to be very straight forward and the first impression was of a freer revving engine especially higher up the range. I did a back to back test on the rolling road and was very pleasantly surprised to find that after a bit of carburretor rejetting there was an increase of almost 10BHP! Any more quick fixes like this would be much appreciated! "Just wanted to let you know that the exhaust system went on beautifully. My mechanic, who works mainly on Ferraris and other italian exotics, told me it was it was the best after-market system he had ever seen. Thanks for making the effort to put great products on the market!" Marc Hungerford, USA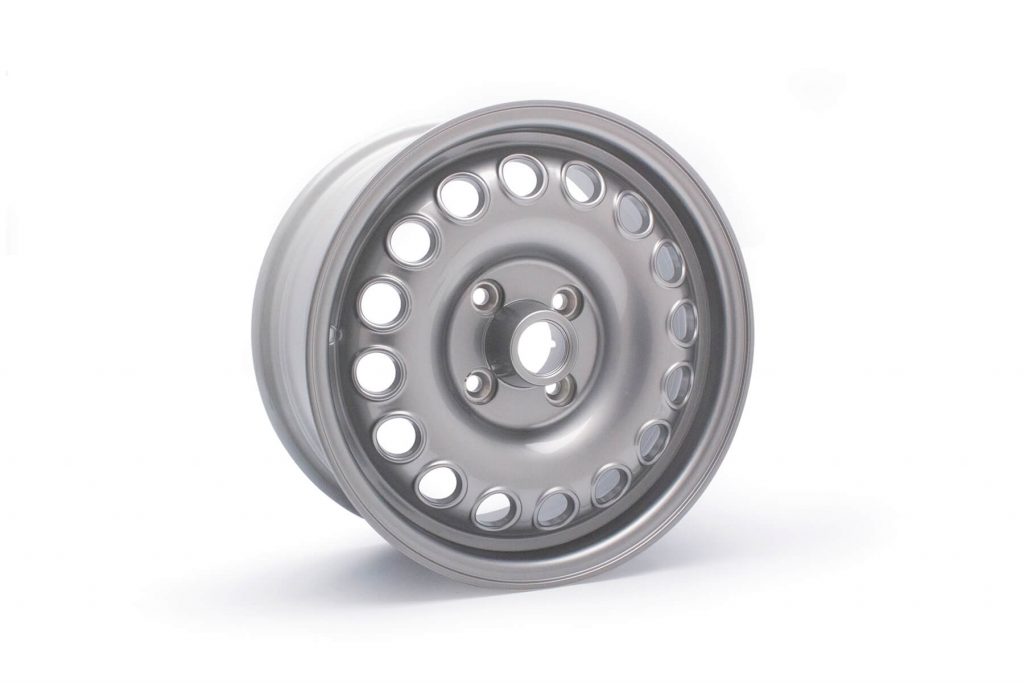 £160.00 GBP (ex vat)
WHL002/1 | WHL002/2
Our best selling wheel, now improved and even lighter! The ultimate GTA style aluminium wheel, made exclusively for Alfaholics.The last few years have seen the withdrawal of performance 14 inch road tyres from the market, with the result that there is little point spending good money upgrading your suspension, engine and brakes if you cannot transmit this improved performance properly to the road! Our GTA Veloce 7×15 inch wheels allow the fitment of modern high performance tyres such as the fantastic Yokohama AD08RS and Michelin Primacy 4, as fitted to Alfaholics works GTA-R builds.The wheel is very light at just 7.0kgs. This has been achieved in part by incorporating small ribs into the back of the wheel, very much like the original sixties Campagnolo design, which allow the wheel to be made thinner in cross-section. The beauty of this thin cross section is that it has also enhanced the aesthetics of the wheel, by making the holes appear finer and more elegant. All variants of the wheels are now heat-treated for maximum strength and weight saving. By being 15" diameter, there is adequate clearance for the steering ball joints (even without the use of GTA steering arms), so we have been able to produce the wheel to Alfa's original design offset of ET29. We have also made an ET35 offset variant of the wheel, in order to clear the tighter rear arches on pre-1968 coupes (with the deeper rear arch) and all Giulia saloons. This means that we can offer a beautiful, lightweight 15 inch GTA style wheel to fit any 105 series Alfa Romeo.The wheel is supplied with a GTA centre cap and circlip.Suggested tyre sizes are 185/60, 185/65 or 195/60 for fast road use, 195/55 for high performance road and track day use. "Thank you for the shipment of the wheels.  I got them today on Saturday.  My wife and I could not believe how beautiful those GTA Veloce Supperleggera wheels look.  We were both blown away.  These wheels looks awesome!  I got the other items you sent inside the wheels.  Your service to the U.S. is extremely fast.  It is the fastest service I have ever gotten from anyone.  I order items from all over the U.S. and even my own state, and it is never this fast.Thank you.  I will be ordering more things from you in the near future.  I am extremely please with all the items in my order.  Thank you for all the advice you and Max provided with the decision of getting these wheels.  Take care."Carlos Rodriguez
cat_race_parts_105 filter_book_mechanical_brake_and_clutch_actuation filter_brake_kits cat_brakes filter_book_mechanical_front_brakes cat_race_parts_gta_r cat_race_parts filter_book_mechanical_rear_brakes cat_std_parts_105_all filter_book_mechanical_main cat_standard_parts cat_exhaust filter_book_mechanical_exhaust_system filter_exhaust_sports_exhausts filter_wheels_15_inch filter_wheels_wheels filter_book_mechanical_wheels cat_wheels