Lightweight Aluminium Radiator for Early GT
£625.00 GBP (ex vat)
RCE1004/1
High-quality motorsport manufactured aluminium radiator to fit all step-front GT and early Giulia. Fitted with a high-quality performance core to give the most efficient cooling capacity. Recommended for use with all performance-tuned engines to maximize performance and avoid any potential engine damages or overheating issues.
Related Products
£80.00 GBP (ex vat)
COO016/K2
We now offer this complete package containing all the hoses you'll need for early 105 cars. The kit includes W2 stainless steel hose clips. It is designed to fit cars with twin carburettor inlet manifolds with the large screw in thermostat (not single carburettor 1600/1300Ti) and for cars with early radiators fitted with 4 legs and early heater boxes (i.e. Sprint GT/V, early GT Junior, Duetto, early Giulia Super, 1300/1600 GTA etc). Due to cars having had engine transplants over the years, please check the compatibility of components before ordering). If your car has had an engine transplant, please let us know the details and we can customise this kit to be compatible.
£28.00 GBP (ex vat)
COO49
A faulty radiator cap can cause your car to boil-over at a lower temperature. Test or replace the coolant cap when servicing the cooling system. The Lev-R-Vent? features a patented lever release to safely release pressure for quicker cooling. Meets Original Equipment specifications. Made from premium materials. Designed to function on open cooling systems and overflow reservoir type systems.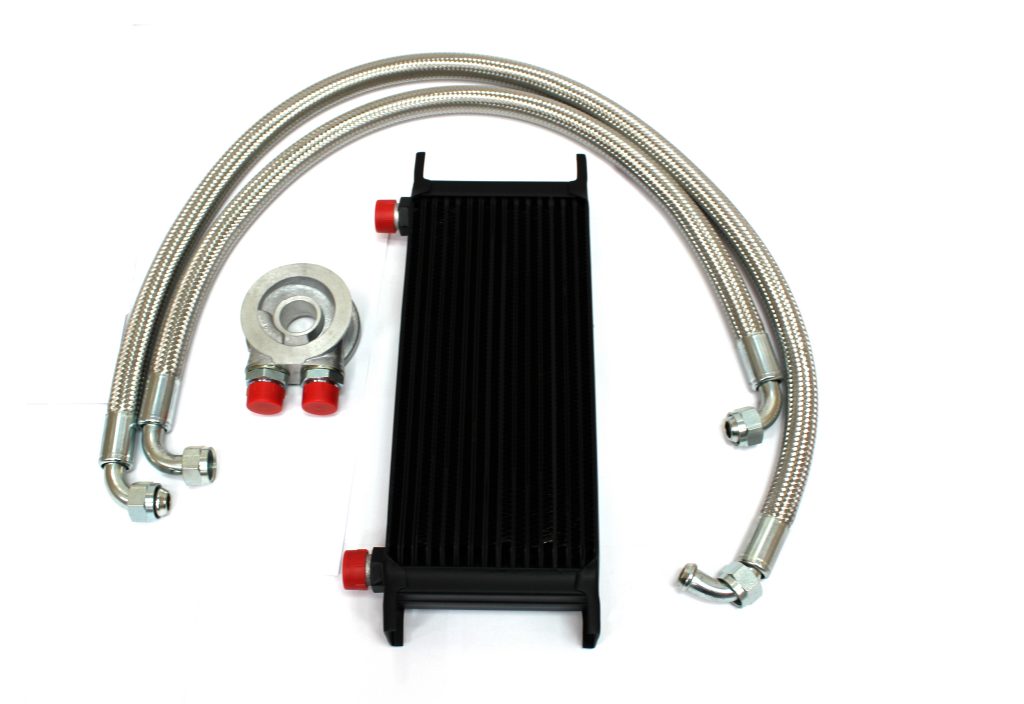 Call for best price
Premium quality oil cooler kit to fit Alfas fitted with Nord or Twinspark engines. Includes sandwich plate for spin-on type oil filter take-off, pre-cut oil pipe lines in either stainless steel braided or normal rubber hoses, oil cooler and fitting bolts. Our recommendations. The basic 13 row 115 mm cooler will be good for fast road use but for the small extra cost the 235 mm will be better, most cars will take a 235mm cooler but if space is a problem for you the 115 may be all that will fit! For trackday and race use, go for the 13 row 235 or in extreme hot climate or hard racing, the 16 row 235 is the one to go for. The 13 row cooler is around 10cm tall, the 16 row is around 12cm tall.   For road cars with late engines, it's worth going for the thermostatic take off plate, this will ensure that your oil gets up to temperature even if the weather is very cold. If you have an older engine then there's no option for this so you may want to engineer in a blanking plate so you can cover the cooler when you don't really need it! Braided hoses look nicer and are more resistance to damage than rubber, they're also less prone to kinking during fitting so like the larger coolers, worth the small extra cost.
£85.00 - £120.00 GBP (ex vat)
RCE1008/5
10" premium quality curved blade fan with waterproof motor, low noise, long life
cat_standard_parts cat_std_parts_105_all cat_race_parts cat_race_parts_105 cat_race_parts_gta_r cat_cooling filter_book_mechanical_cooling_system filter_cooling_hoses filter_book_mechanical_main filter_cooling_radiator filter_cooling_fans