Reverse Idler Gear
£95.00 GBP (ex vat)
GRB-105-GRI
Standard production 105 series reverse idler gear.
cat_transmission: Transmission
Related Products
£15.00 GBP (ex vat)
GRB017/1
Bronze inner bush for gears.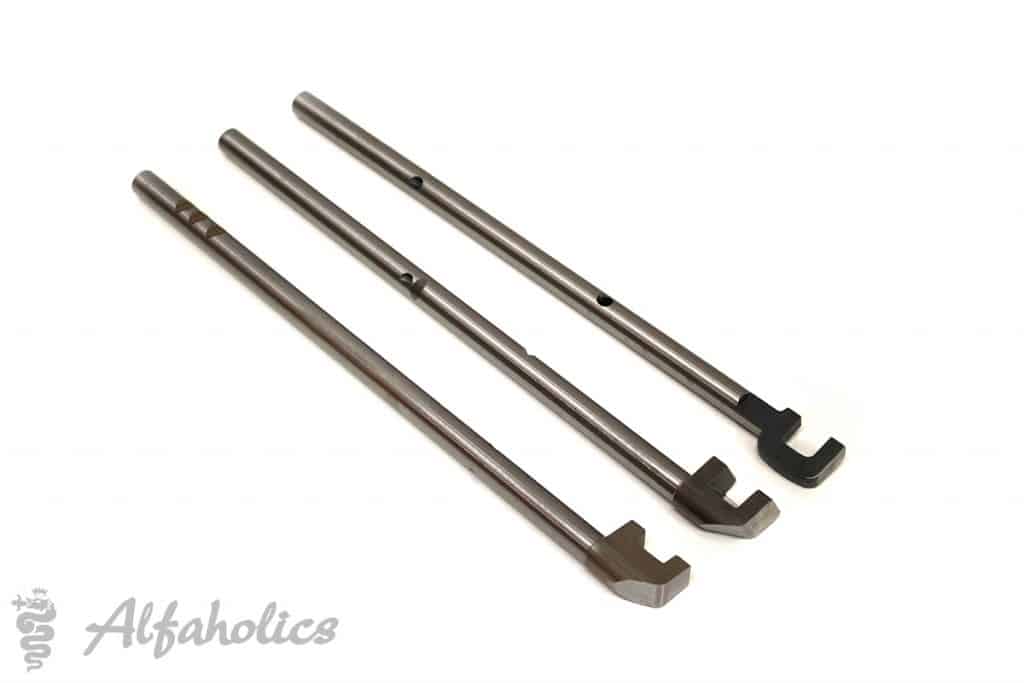 £995.00 GBP (ex vat)
SROD34E | SROD34L
We are increasingly finding bent selector rods more and more when we are rebuilding gearboxes. This results not only in a sticky gear change but also causes the selector fork/synchro sleeve not running straight to the gear assembly which can cause premature wear, damage and more gearshift quality. They have proven very tricky to try to straighten and since the huge sucess of our manufacturing of billet 3rd/4th gear selector rods we have now evolved this into a full set of 3 rods manufactured from motorsport grade materials and machined to motorsport quality tolerance. we have also imporved the design of these to be tougher and stronger, 3rd/4th rod is an inherently weak part in the gearbox, the narrow width required as part of the gearbox design means that the clevis where the gear linkage drops into can easily get bent from 'over-selecting' gears. This risks a shift not fully selecting a gear and resultant massive gearbox damage. We have re-designed the part with greater radiuses and increased material thickness at the weak points to make the part more resilient to this 'over-selection' based driver damage.
£975.00 GBP (ex vat)
SRSFSET
Worn/damaged selector forks are becoming a bigger and bigger issue with Alfa gearboxes as they get older and increased performance & race use is highlighting the inherent design weaknesses of the standard parts. We have redesigned and manufactured these race quality forks by combining our considerable experience of high performance & motorsport use along with general modern motorsport knowledge to produce the ultimate selector fork set of 105/115 series gearboxes. We have added an additional pressure pad to control the synchro sleeve angle more accurately and to increase the total pad area and thus reduce pad wear rate, the net result is a sweeter and faster shift action. These forks are made of motorsport grade steel, so are also more resilient to abuse from over selecting than the factory bronze parts. As developed for and being used in our latest GTA-R builds.
£1,335.00 – £1,450.00 GBP (ex vat)
PACK005/EAR | PACK005/LATE | PACK005-EAR-OEM | PACK005-LATE-OEM
Full set of components required to rebuild all moly-synchro type 105 series gearboxes. The kit comprises our ultimate quality Alfaholics synchro rings & Alfaholics sleeves as well as our best quality gearbox bearings, oil seal and heavy duty rear mount. Please specify if you need a layshaft front bearing of 20mm or 25mm internal diameter. Please note that the synchros are not compatible with the first series of mechanical gearboxes (1963-1966) which featured non-moly synchros.
cat_race_parts_105 cat_std_parts_105_all filter_book_mechanical_gearbox_internal filter_book_mechanical_main cat_race_parts cat_standard_parts cat_transmission filter_transmission_gearbox filter_transmission_gearbox_bearings cat_race_parts_gta_r filter_transmission_gears_selectors 105-115-spider cat_race_parts_750 filter_transmission_synchromesh