Bootlid script – Giulia Sprint GTA
£69.95 GBP (ex vat)
BDG011
Type: Reproduction bootlid Giulia sprint GTA script.
 Models: GTA.
 Material: Mirrored Stainless Steel.
 Size: 265mm in length.
Fitment: Three threaded pins.
Location: Rear bootlid (trunk).
cat_std_parts_105_coupe: 105/115 Coupe
cat_race_parts_gta: 1300 & 1600 GTA
cat_std_parts_105_all: All 105/115 Series
cat_badges: Badges
cat_body: Body
filter_scripts: Scripts
Related Products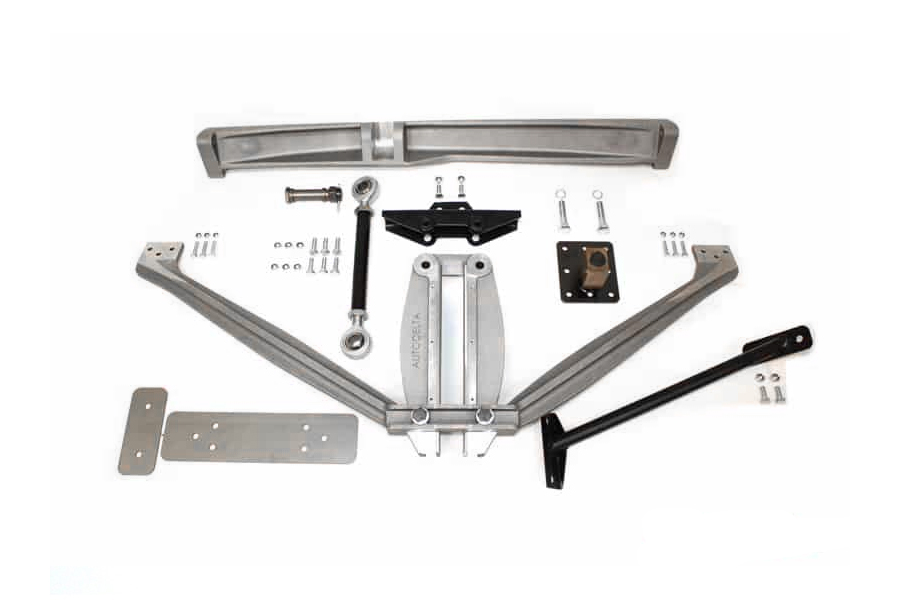 £2,995.00 GBP (ex vat)
ALF/SBK
We have gone to great lengths to make this premium quality sliding block kit due to the poor fit and quality of the current European reproduction kit. We have taken a genuine original Autodelta kit, laser scanned all the parts to create CAD models to manufacture all the parts very accurately. The aluminium castings are of very high quality (one of the worst aspects of the European kit) and we have added our logo discretely into each cast part into a surface that is not easily seen when installed. Doing this enables our kit to be identified so future owners know they have got Alfaholics quality and also ensures that our parts can never be passed off as genuine original. The machining of the slider guides and block are very precisely toleranced to ensure optimum clearance for both smooth movement and to ensure they are not too rattily, this tolerance is the most important part of the whole system and why our kits are supplied as a complete matching kit. The kit is supplied with motorsport quality rose joints, stiffening plates to add to the boot floor (just as Autodelta did)and all the bolts to install the assembly. Buy Alfaholics, buy the best!Complete the installation with our specific Autodelta type sliding block axle casing, which we offer in either aluminium or magnesium listed in 'related products' below.
£795.00 GBP (ex vat)
GTA15
New production of our Aluminium GTA Radiator with a new higher thermal efficiency core and improved pressing tools for the top tank detailing. Made exclusively for Alfaholics to the very highest manufacturing quality, not to be mistaken for other lesser quality items on the market. This is an exact replica of an original GTA radiator but naturally with a huge weight saving and much better cooling efficiency. This radiator is truely a piece of art!
£995.00 GBP (ex vat)
RCE2007/1
High quality production, correct part for use with vented 250mm diameter GTAm brake discs. Comes complete with retaining pin and spring kits. Priced per pair.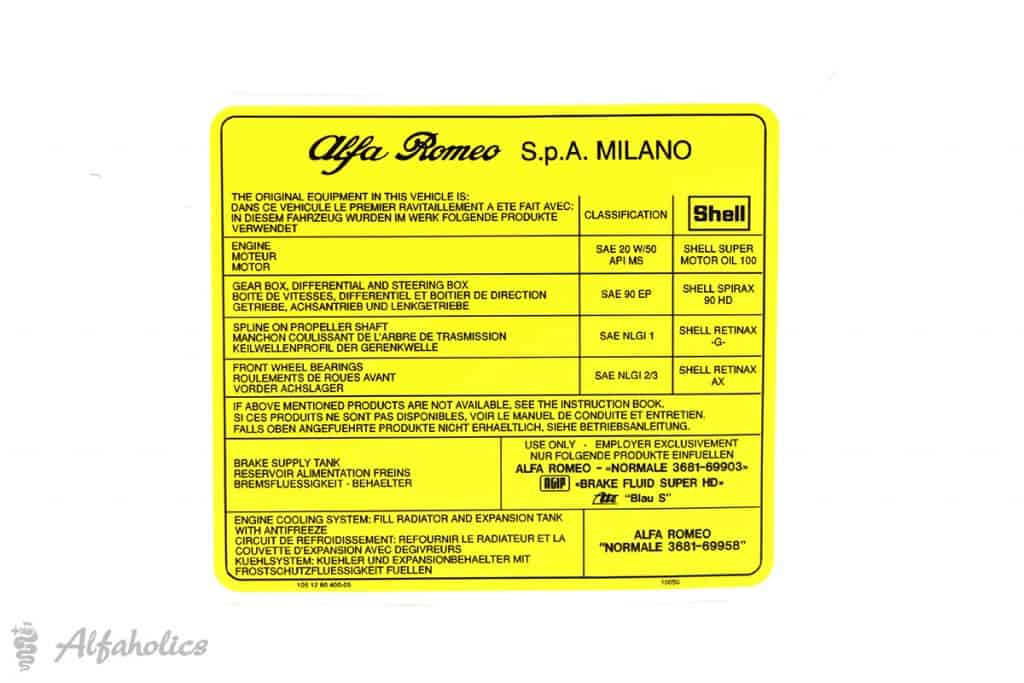 £5.25 GBP (ex vat)
ACC030Y
Type: Alfaholics production under bonnet lubricant sticker, copied from an original. Models: Mk2 1750 GTV, 2000 GTV & 2000 Spider. Material: Vinyl. Size: 150mm x 129mm.Fitment: Self adhesive.Location: Under BonnetLanguage: Italian/English.
cat_race_parts_gta filter_book_mechanical_rear_suspension cat_suspension filter_suspension_geometry filter_suspension_rear cat_cooling filter_book_mechanical_cooling_system cat_race_parts filter_cooling_radiator cat_brakes filter_book_mechanical_front_brakes filter_brake_hydraulics filter_book_mechanical_main cat_std_parts_105_all cat_badges filter_book_body_main cat_body cat_decal cat_standard_parts filter_stickers