Product Information
Alfa Romeo 105 Series wheels – an 8×15″ version of the original 13″ GTAm wheel.

GTAm looking wheels with 15″ diameter to suit modern performance road and race tyres.
15″ diameter allows the use of 4-pot and 6-pot brake conversions (unavailable on 13" rim)
Allows fitment of Alfaholics Geometry Kit, giving a significant improvement to the handling.
3D CAD designed to replicate original wheel and oval hole design.
Manufacturers racing in the 1970s, made widebody versions of their race cars. Tyre were antiquated compared to modern tyres, so the only option in the 70's was to make wider tyres in an attempt to improve grip. Period race tyres subsequently large in diameter which made it necessary to use 13" wheels to fit the wheel wells and retain sensible gearing. This compromised the brake disc size and limiting the scope to improve suspension geometry.

Fast forward to the 21st century and vast improvements in tyre design and compounds mean that ultra wide tyres are no longer necessary and often detrimental if the chassis is unable to work the tyre to an operating temperature.
13" wheels are less fashionable with modern car design and good 13" tyres are hard to find leaving only two options of modern semi-slick race tyres or a period high profile Dunlop CR65 race tyre.
Semi-slicks offer good grip but the small overall wheel / tyre diameter causes serious ground clearance issues for road & track day use. Increasing the ride height merely results in a 'skateboard' appearance.
Period race tyres are not legal for road use and their cross-ply construction makes the car vague and track cambers badly, not to mention being terrible in the wet!
Note: These wheels will not fit cars with standard bodywork!
What's Included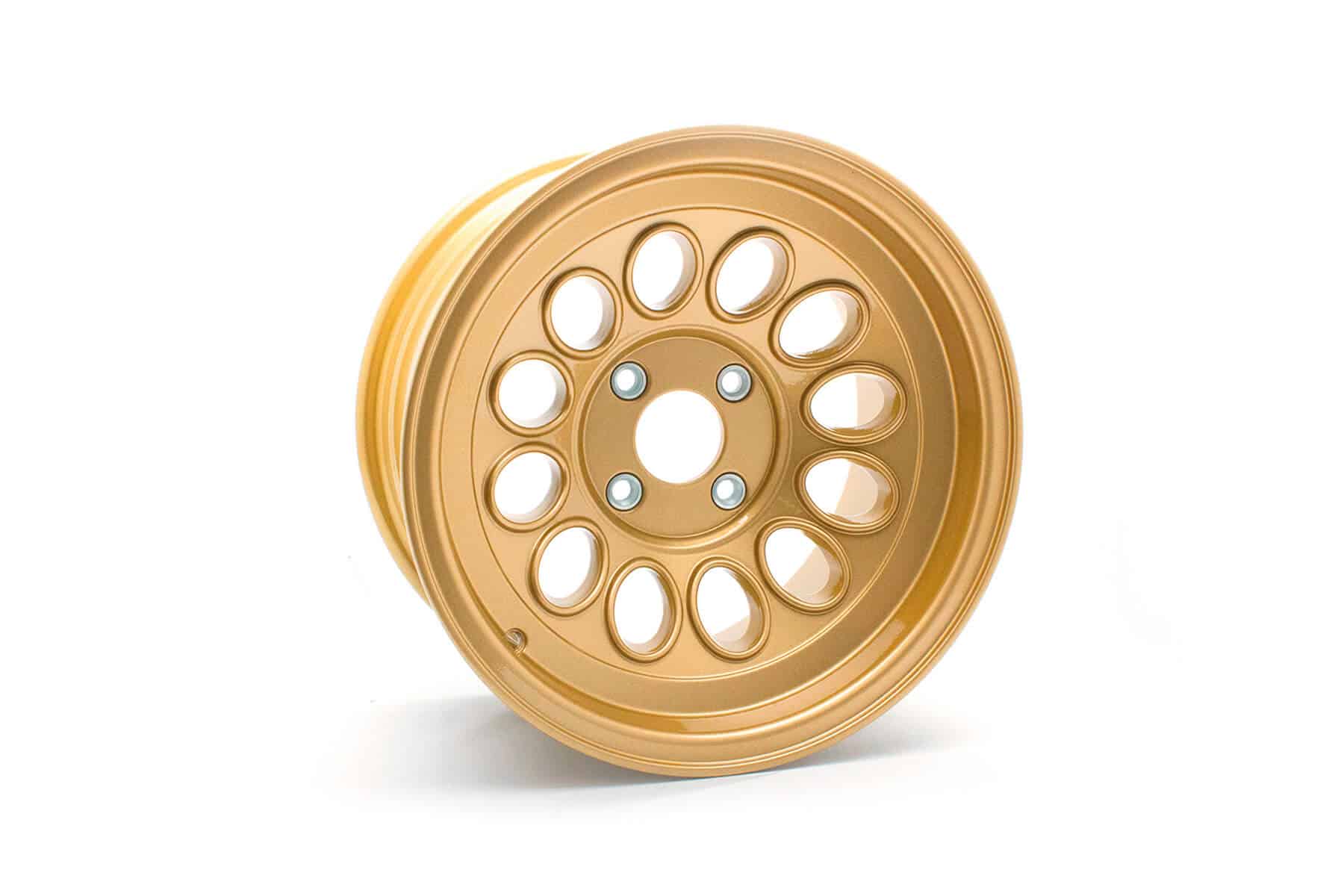 8 x 15″ Wheel
Quantity: 1
Technical Details
Motorsport Grade Lightweight Alloy