Glass & Glass Parts for 750/101 Series Giulietta Alfa Romeo
£750.00 GBP (ex vat)
GLA011
Alfaholics has tooled up to manufacture SZ windscreens using a perfect original screen as a sample to ensure perfect accuracy. This screen fits both Coda Tonda and Coda Tronca SZs. Available in standard weight with integral micro heating element between the laminates which does not impair vision at all, lightweight version available as special order.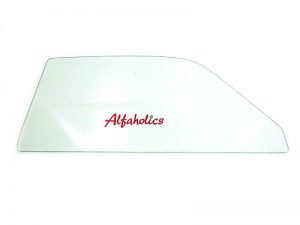 £110.00 GBP (ex vat)
GLA500
Premium quality production exclusively manufactured for Alfaholics. Specific door glass for Giulietta Sprint.
cat_standard_parts cat_std_parts_giulietta cat_glass filter_book_body_windows filter_glass_windscreens cat_race_parts filter_glass_side_glass