240bhp @ 7,000rpm
Alfa Romeo Twin Spark engine, aluminium block built with bespoke designed 94mm long stroke crankshaft, steel connecting rods, forged oversize pistons and race bearings. CNC ported aluminium cylinder head with race quality valve gear, DLC cam followers and crackle black finished billet aluminium cam cover.
Motec M1
Motec's latest M1 ECU management system with 1000Hz processor speed, fully sequential fuel and ignition firing, wideband lambda control, 200Hz knock control and 120Mb datalogging.
Cooling
Bespoke aluminium fabricated cooling system with taper flow top tanks, motorsport grade water and oil cooler cores incorporating ECU controlled cooling fans.
Gearbox
GTA close ratio gearbox with drilled and scalloped gears, rifle drilled layshaft, billet selector rods and forks, billet quick shift kit and redesigned synchro profiles for improved gear shift feel and speed. Superfinished internals to minimise friction. Magnesium tail casing to reduce weight
Axle
Titanium axle tubes with plate type limited slip differential, improved pinion bearing design, super finished final drive gear set, rifle drilled billet halfshafts and high capacity aluminium oil sump.
GTA-R 300 Ultraleggera Titanium Suspension
The ultimate evolution of our GTA-R suspension design achieving an impressive 34kg weight saving over the original setup. Fully optimised geometry together with minimal unsprung weight to deliver the ultimate driving experience whilst retaining the legendary 105 series character and feel.
Lightweight spring conversion with adjustable ride height
2 1/4″ spring conversion with adjustable platforms front and rear saves a huge 12kg whilst allowing fine ride height adjustment for the perfect chassis setup.
Titanium front wishbones
Lower wishbones CNC machined from billet titanium featuring spherical bearings for superior accuracy of geometry under high cornering loadings. Upper wishbones fabricated from tubular titanium resulting in a further 6kg weight reduction.
Titanium uprights and hubs
CNC machined billet uprights with modified pick up positions to optimise dynamic geometry and uprated spindle design to eradicate pad "knock back". Together with titanium wheel hubs and titanium wheel studs and nuts, a considerable saving of 3kg of unsprung and rotational weight.
Aluminium T-bar
Aluminium T-bar features redesigned chassis mount bushes and spherical bearing axle location for improved traction and further weight saving.
Double adjustable aluminium gas dampers
Developed by Alfaholics at the Nurburgring, these aluminium bodied double adjustable dampers provide exceptional body control and ride refinement with separate bump and rebound adjustment for the perfect setup on both road and track.
Titanium rear trailing arms
Significant reduction in unsprung weight and to increase rigidity improving rear axle location and damper control.
Brakes
Billet aerospace grade aluminium calipers. 6 piston front with 300mm vented rotors, 2 piston rear with 267mm solid rotors.
Aluminium dual circuit non-assisted pedal box for maximum pedal feel and adjustable bias front to rear.
Interior
Bespoke leather interior hand crafted to suit owner's desires. Fully insulated using Dynamat for optimum heat protection and noise damping.
Leather trimmed 'Sport Road' seats with custom weave & stitch detail
Classic design seats with outstanding comfort and support, trimmed in the finest quality Italian leather and woven to evoke the timeless style of the period Alfa "basket weave".
Dashboard
Finished in crack black & the finest quality Italian Alcantara for unparalleled aesthetics and anti glare properties.
Carpets
Tailored in the finest English Wilton wool and bound in leather for the ultimate in luxury.
Door Furniture
Billet aluminium door openers & winder handles.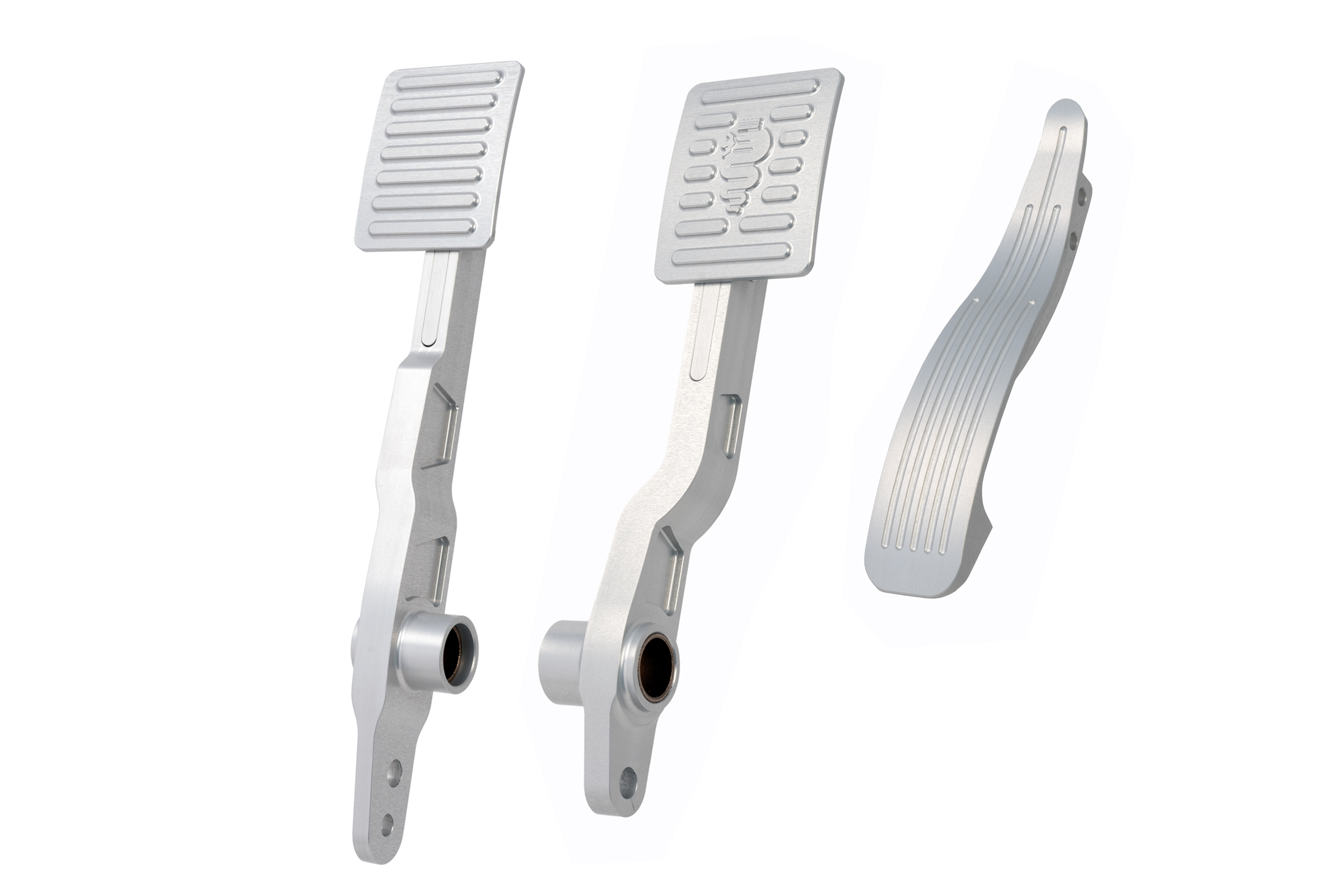 Controls
Lightweight adjustable pedals machined from billet aerospace aluminium.
Momo Prototipo 360mm steering wheel, Rhodium plate GTA-R build ID number, custom trimmed wheel rim and heritage horn push.
Exterior
Wheels and tyres
Alfaholics designed lightweight alloy 7×15″ wheels finished in GTA-R smoke grey, and fitted with Michelin 195/60 tyres and retained with titanium wheel nuts and studs.
Glass
Lightweight heated windscreen, lightweight 4mm side glass and polycarbonate rear screen save an impressive 14kg.