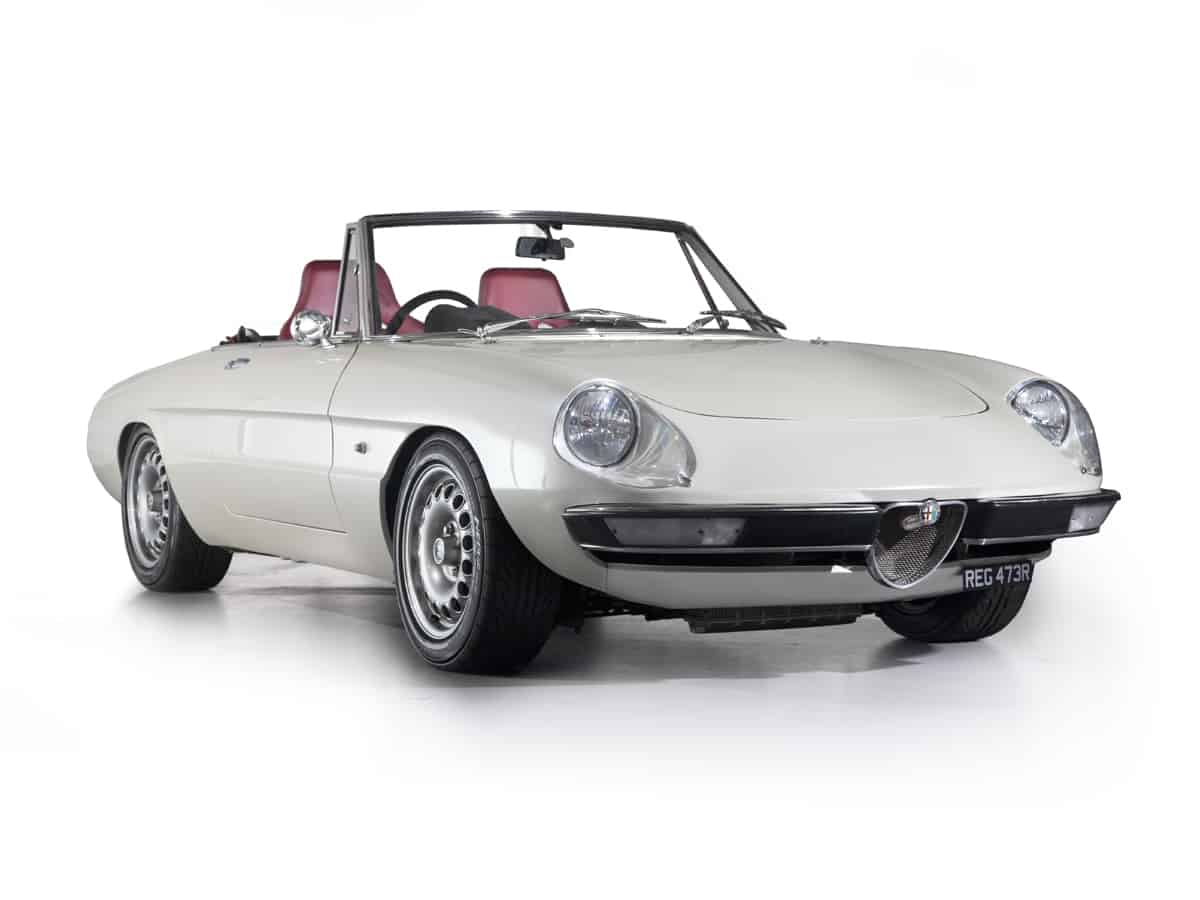 Spider-R (Track Day)
007 (UK)
Update 2014
After 3 enjoyable years and over 12,000 miles (most of which have been on track), the owner of Spider-R 007 fancied some new upgrades in order to evolve the car.  It therefore came back to Alfaholics over the 2013/14 winter months for the work to be carried out. These upgrades included:
Alfaholics 6 Speed Sequential Gearbox
Alfaholics Programmeable Throttle Body Fuel Injection System
Race Technology Digital Dash Conversion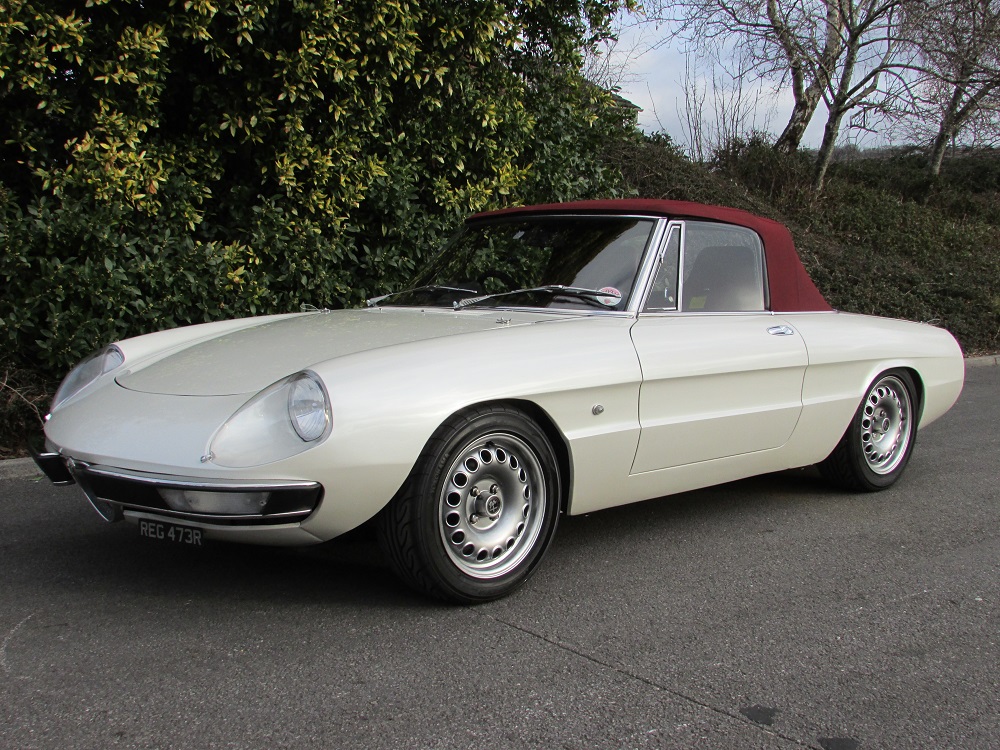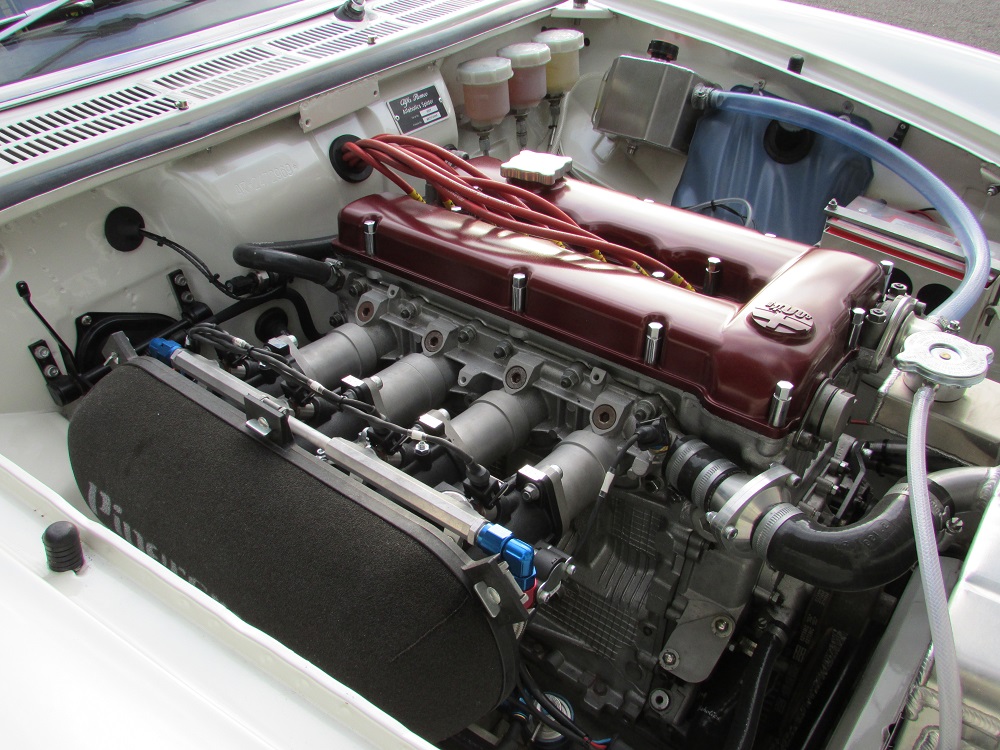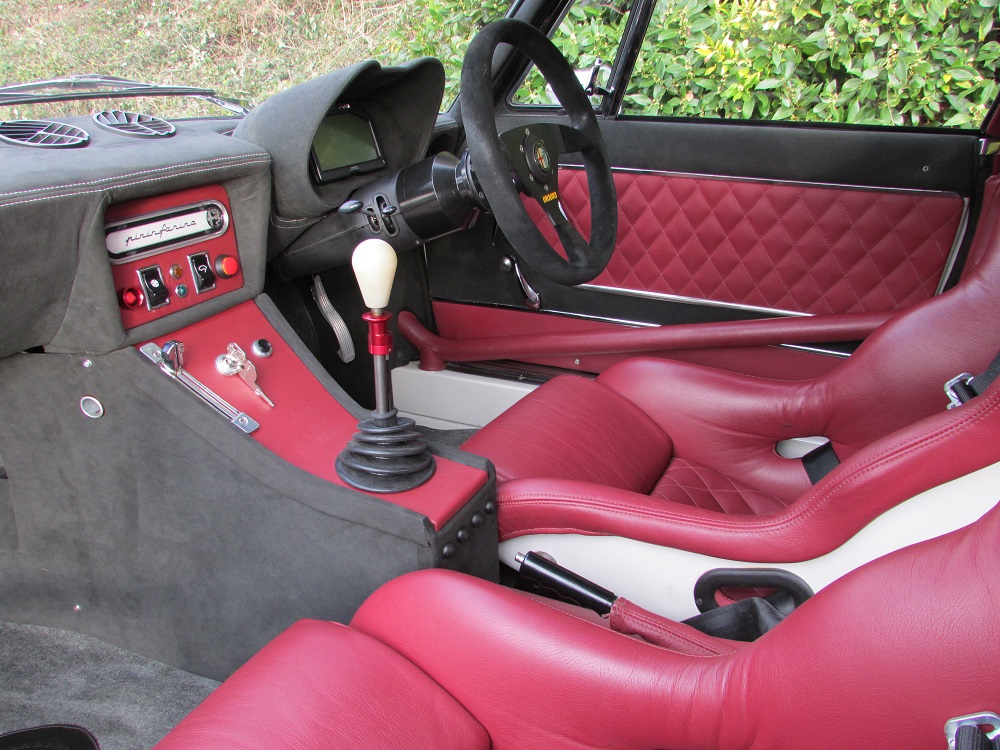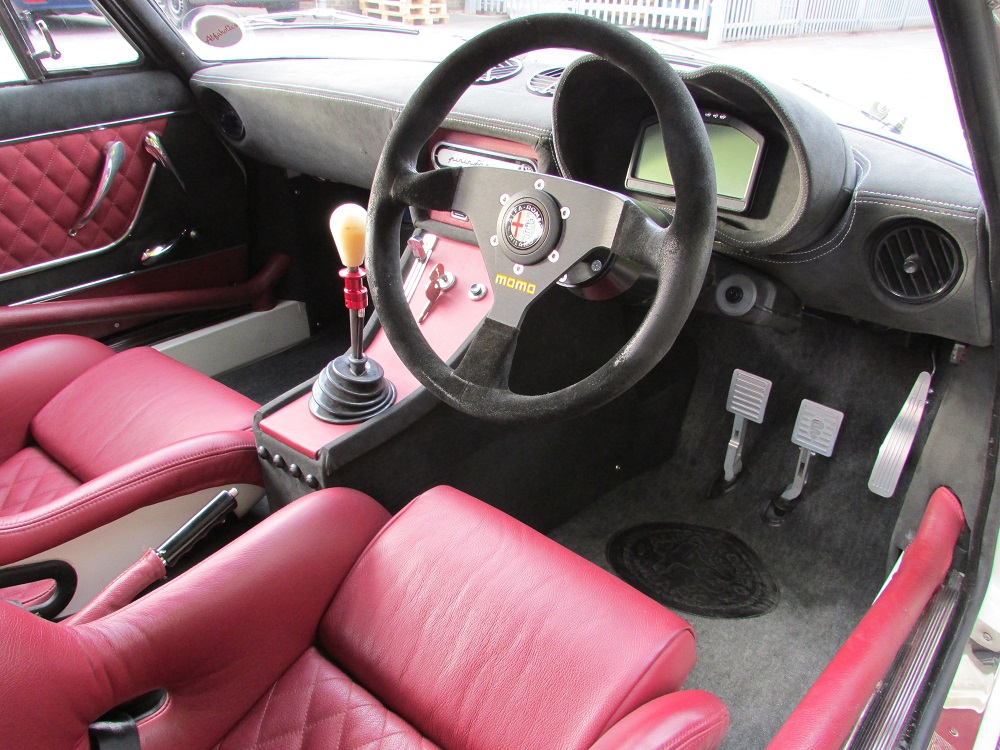 Delivery
The owners took delivery of the car at our open day, the day before our trackday and were signed up for our trackday as their first event with their new car! The car performed perfectly at the track all day racking up over 100  flat out miles on circuit, lapping very quickly! We are very pleased with the results both on and off the track with this project, the chassis stiffening has worked out superbly with virtually no scuttle shake evident at all and the handling balance is superb; just as sharp, if not sharper (being shorter chassis) than our GTA-R coupes, this car is a serious trackday weapon!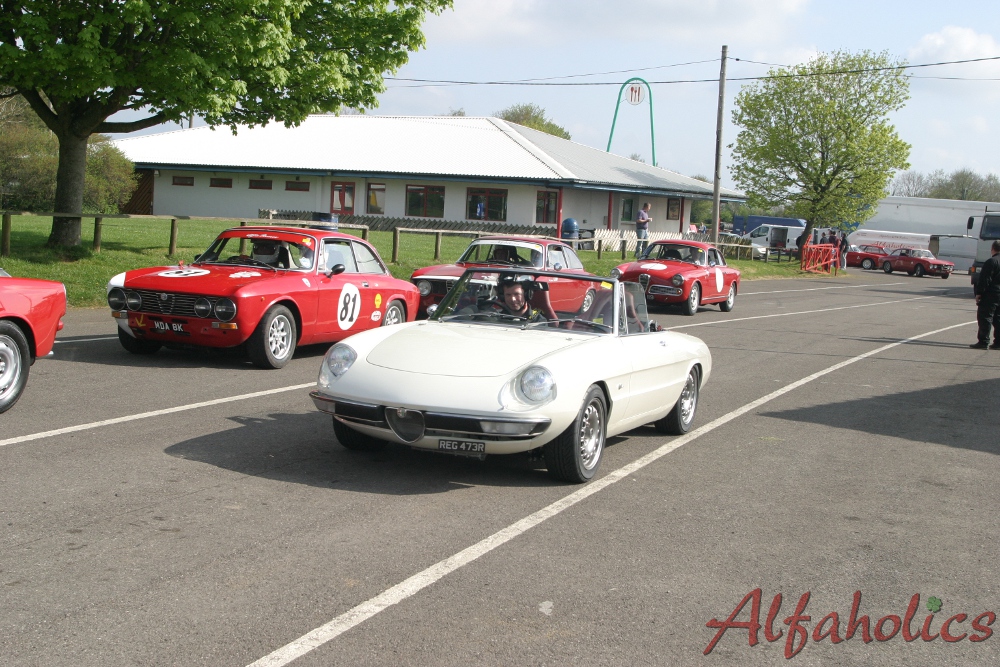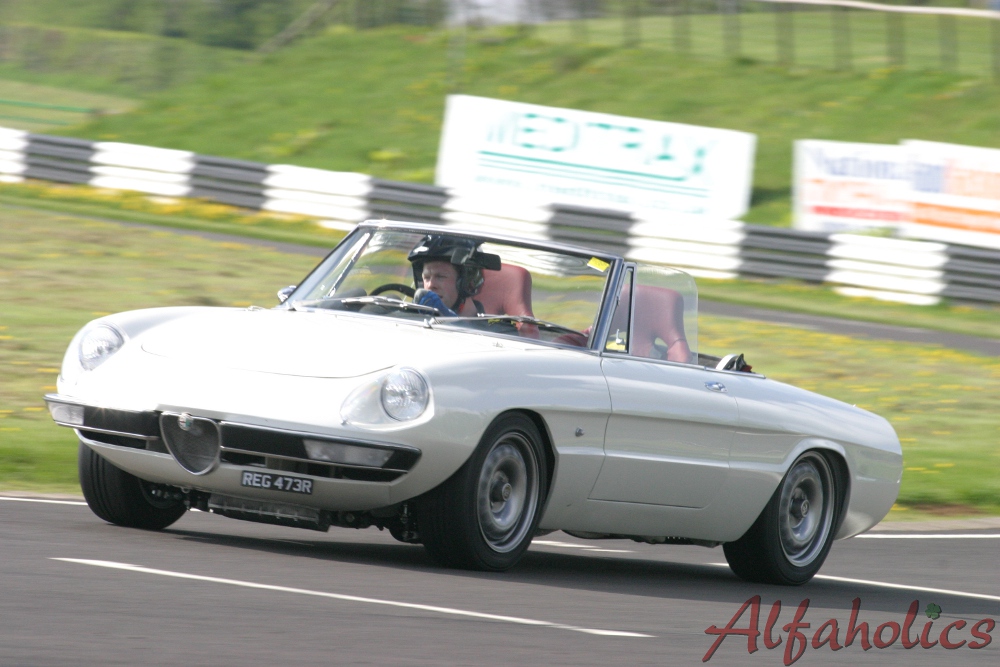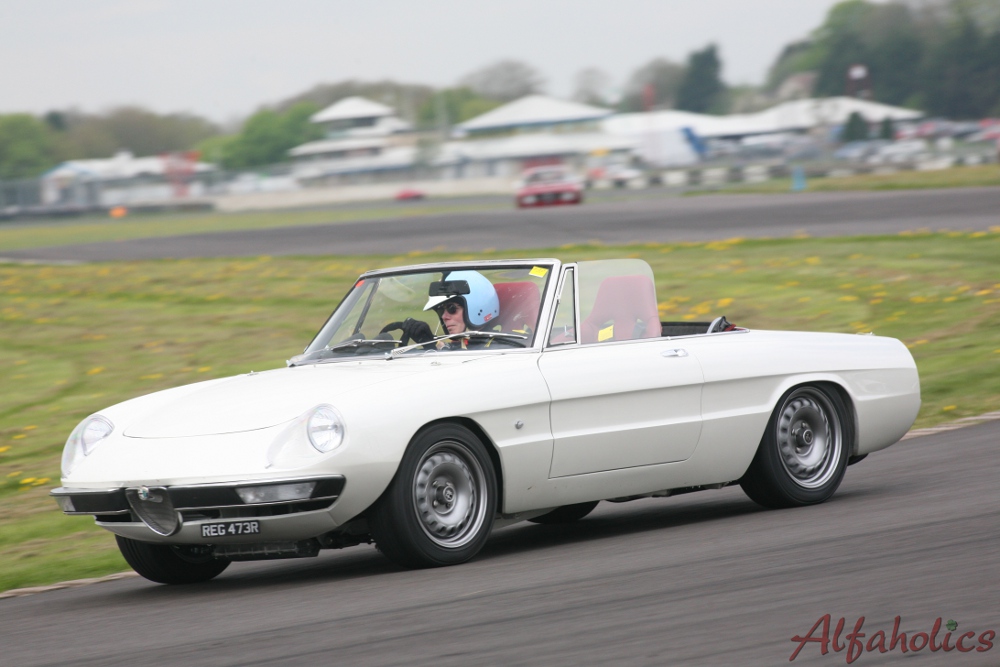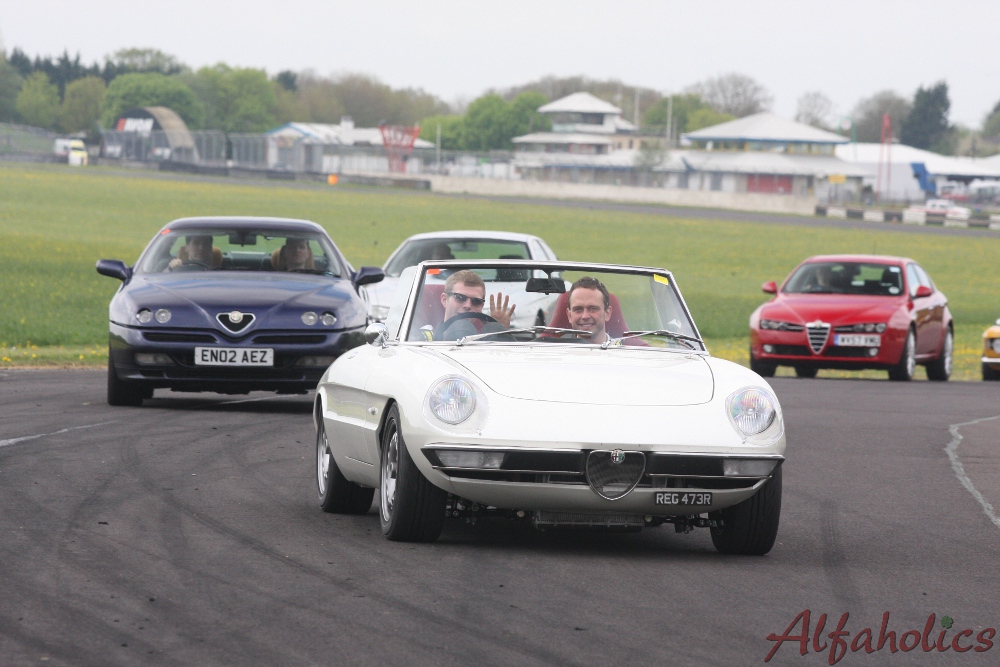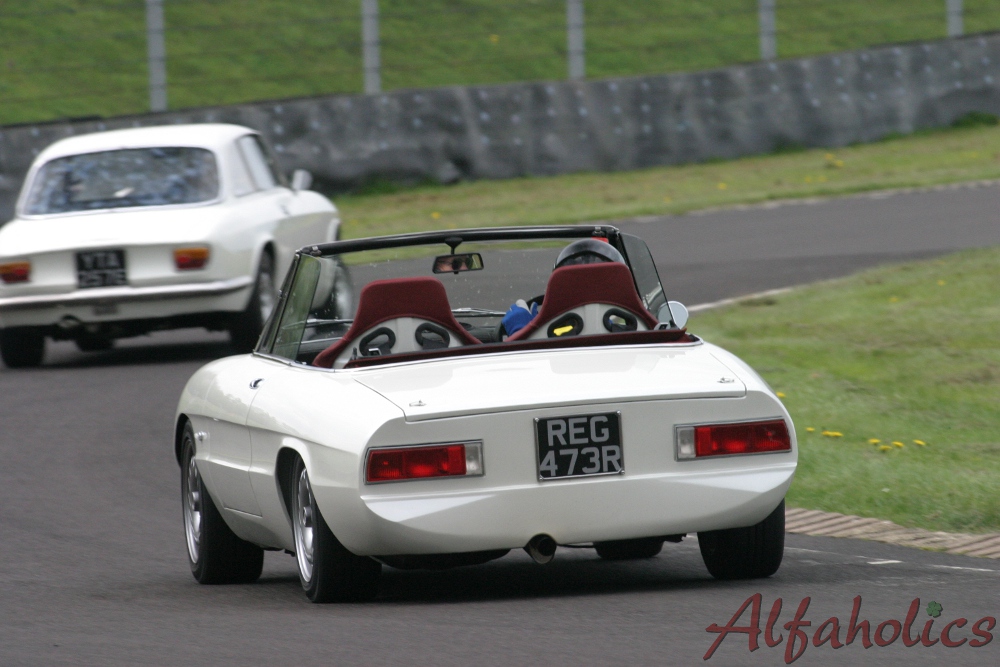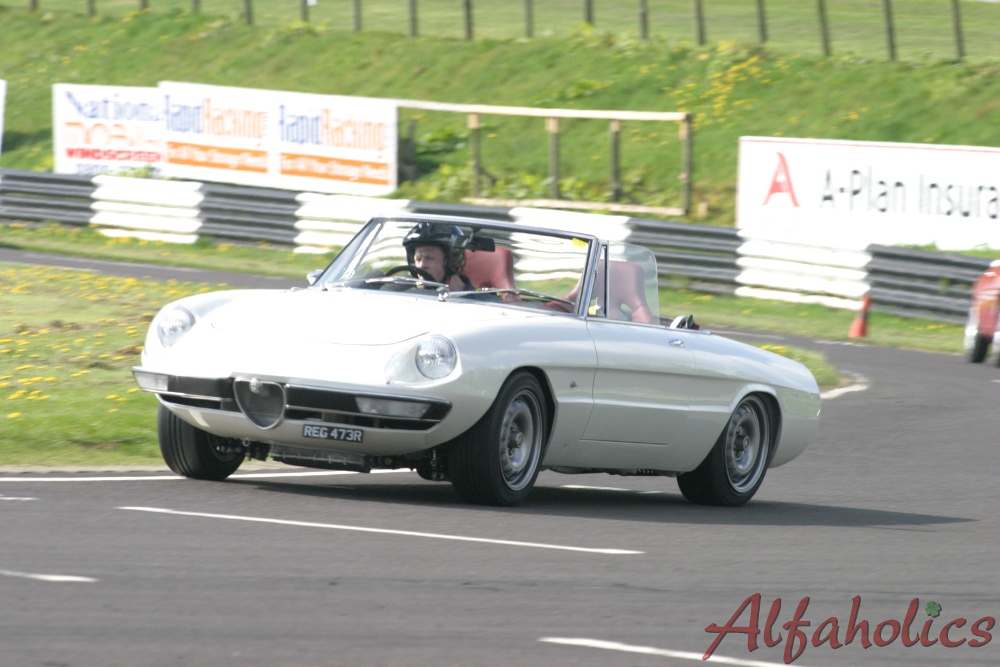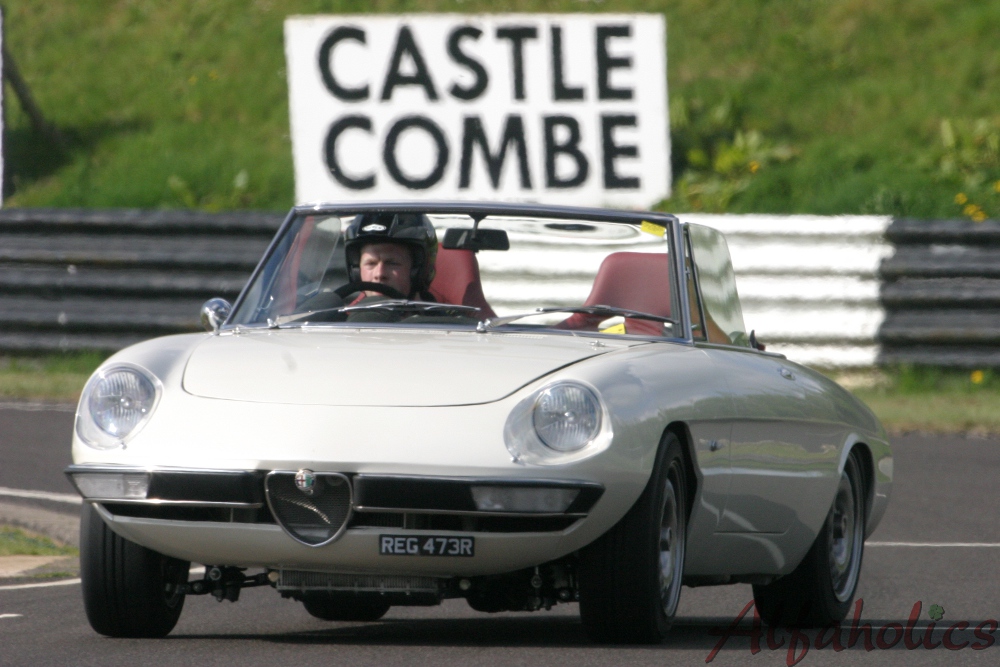 Completed
The completed car, fully road tested then rolling road tuned to optimise the carburettor jetting and ignition map for running on 98 octane fuel. The customer's chosen Alfaholics big valve TS engine spec producing a superb 216BHP held from 6800-7300 rpm.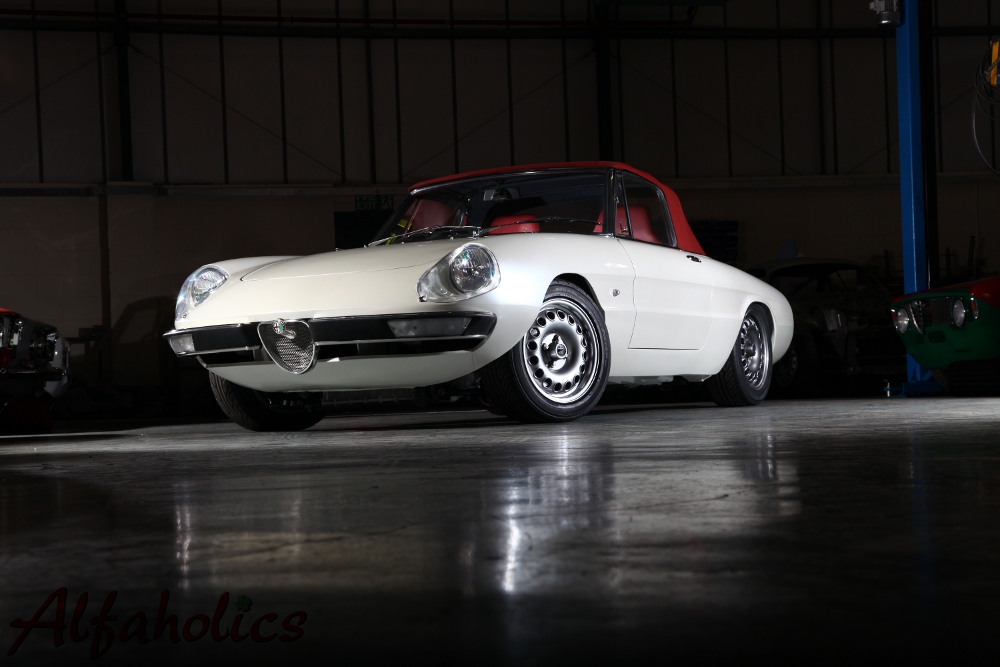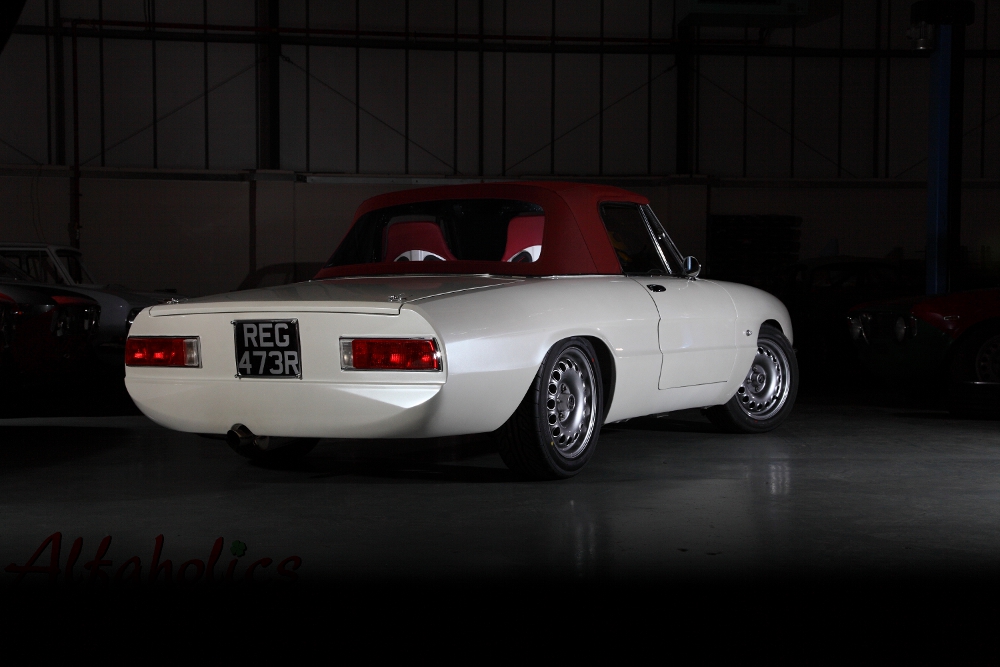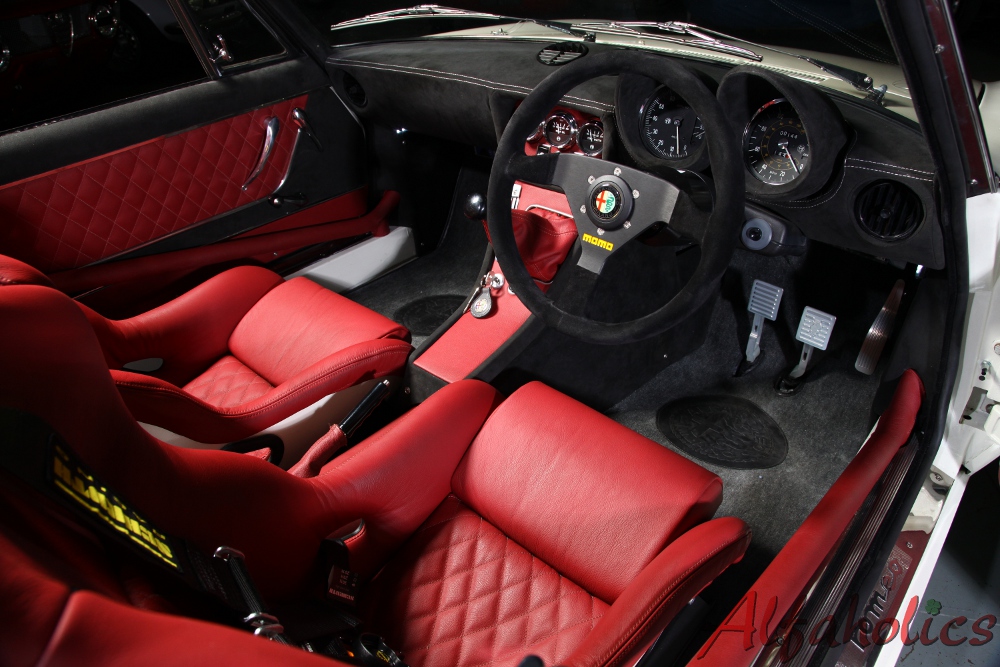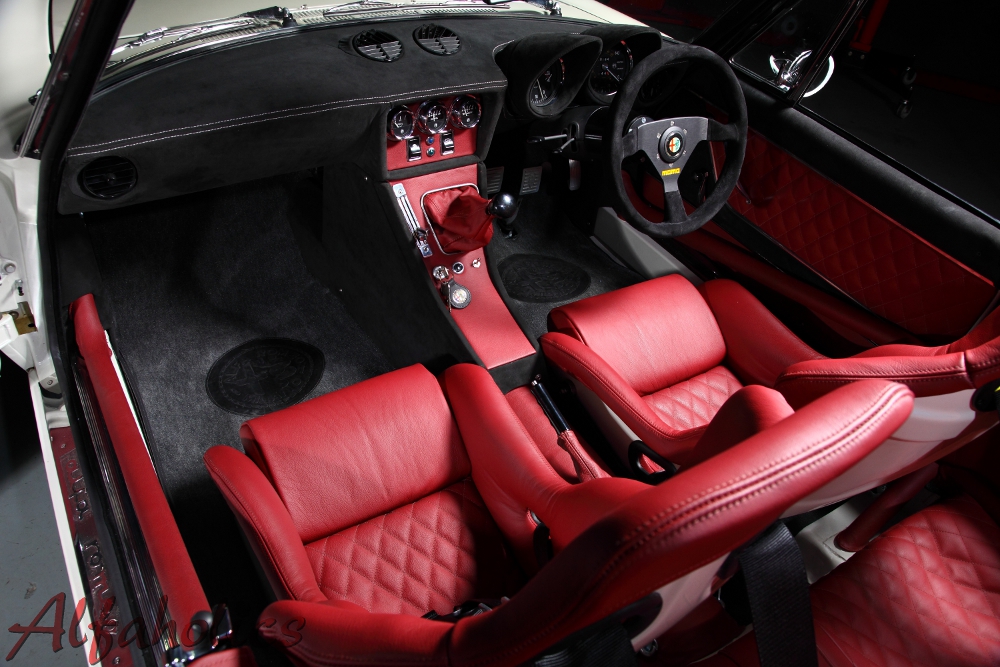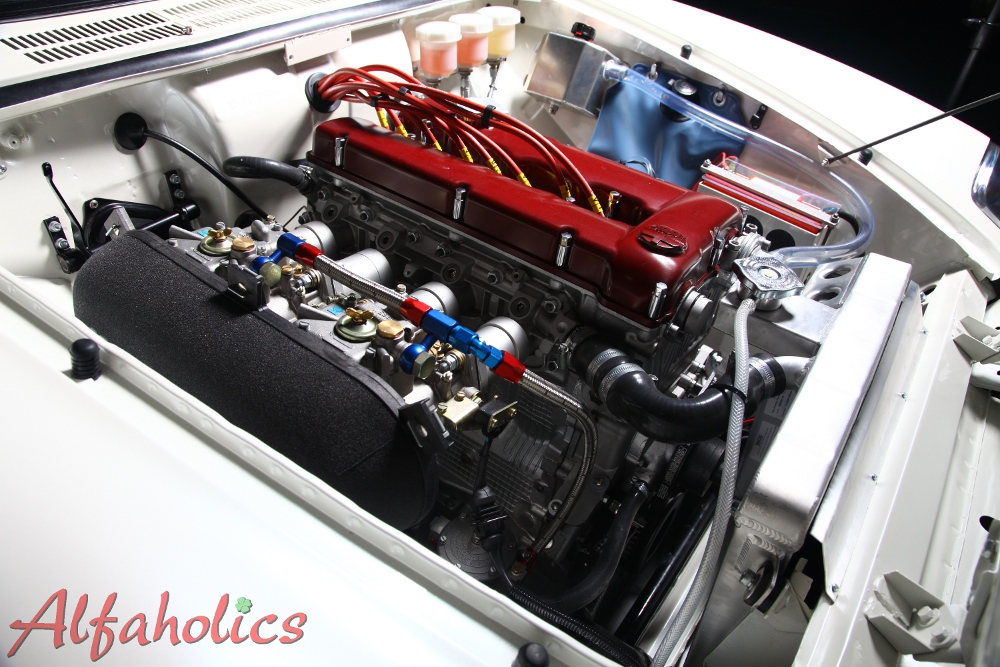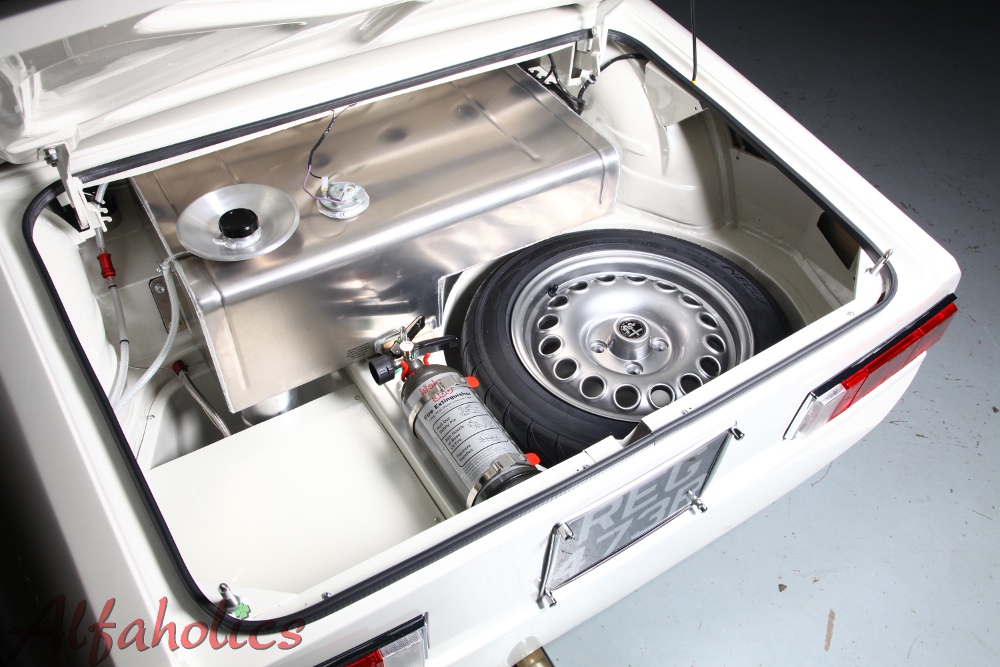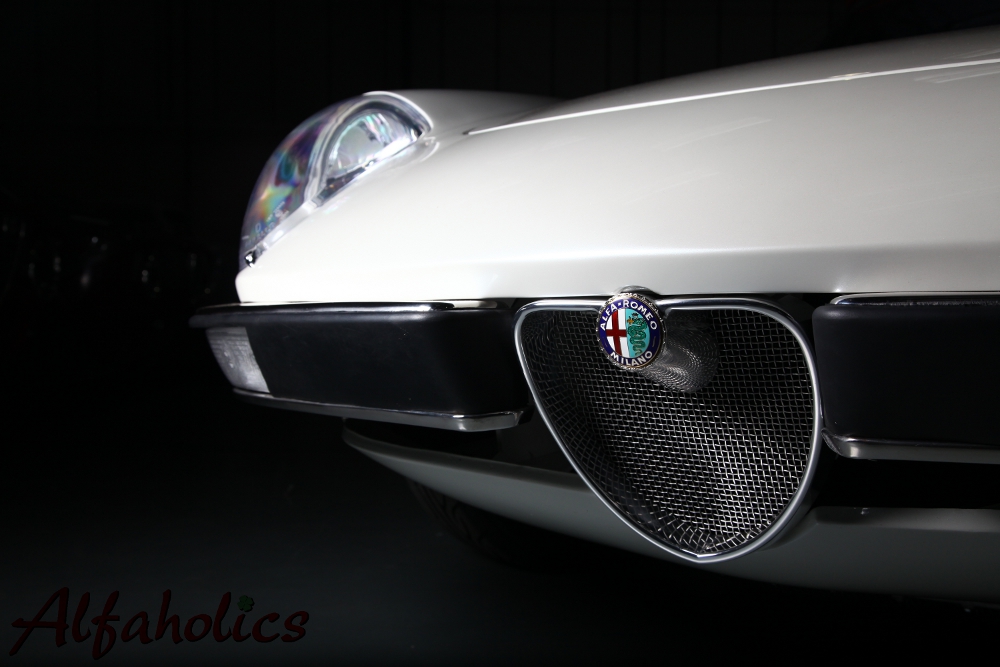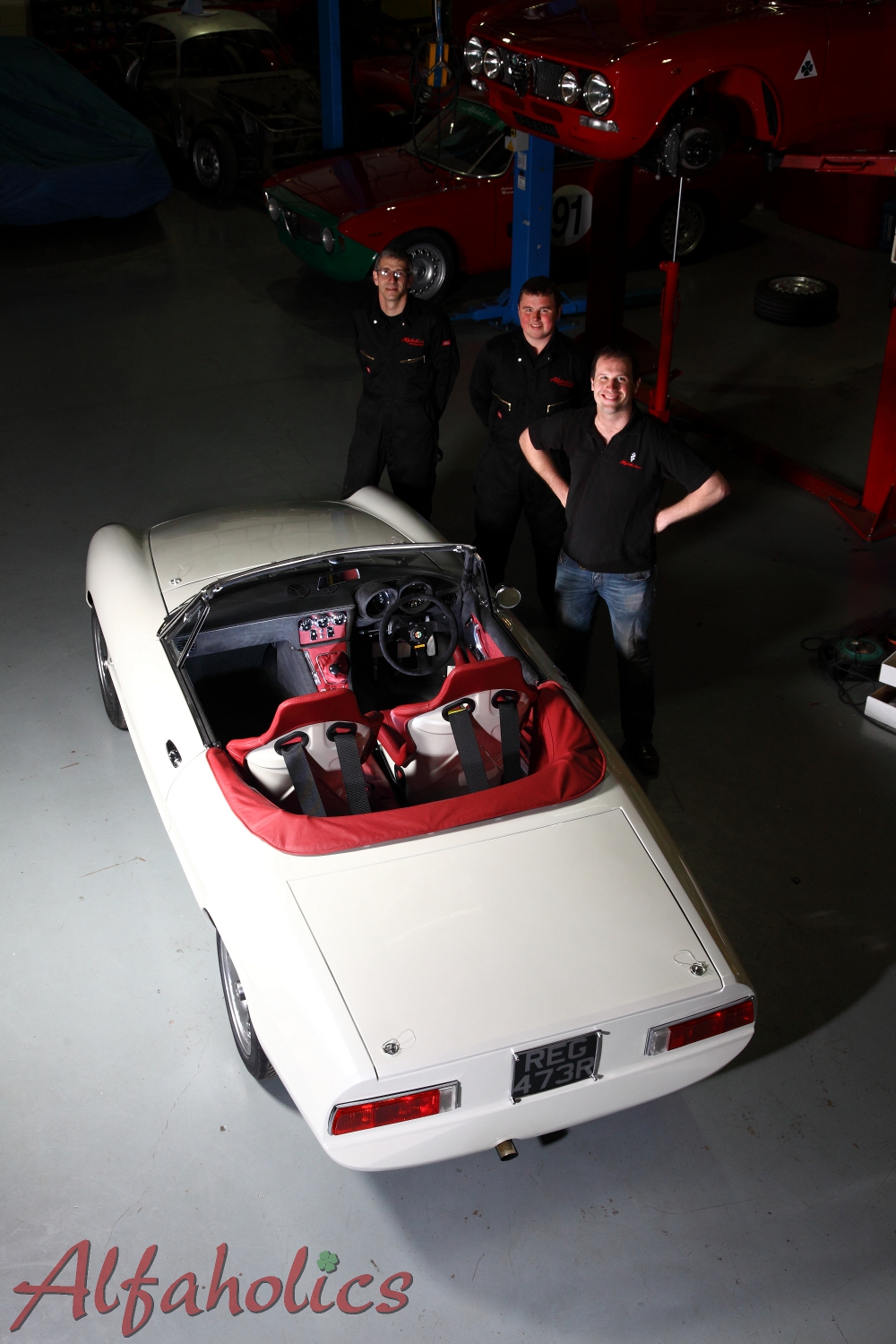 The build team, Steve, Brendan & Max!
Build Stage 4 – CAD Design Parts
Our customer requested several parts to be designed and manufactured to add to the bespoke nature of his build. Firstly he wanted a non-standard centre heart to be made in the style of a Kammtail centre heart but without the horizontal bars and with a fine woven stainless steel mesh incorporated to add a little influence of GTA to his build. It was clear from the outset that to fulfill his request to match the quality of the rest of his build, we were going to need to manufacture the heart from scratch rather than modify an original item. We had an original heart 3-D laser scanned to capture the shape detail of the heart. We used this data to create a CAD model which we modified to incorporate fixtures on the back for the woven mesh to fix to and removed the slats for fixing the horizontal bars which were were not using.
Once the CAD model was finalised, we machined a resin model from billet so we could test the mesh fixture system and of course ensure the original scanned data resulted in a perfect fit of the heart on the car. Happy with the fit of the resin heart, we machined the final heart from billet aerospace aluminium and finally polished it to a mirror shine.
The second bespoke part to manufacture were the inner door grab handles; the customer requested we use GTA inner door openers and GTA window winders and he did not like the original design of un-matched inner door pulls. He therefore requested we manufacture a pair of inner door grab handles to match his GTA openers and winders. We used the GTA inner door openers as inspiration and CAD drew from scratch a pair of inner door grab handles to match. These were again CNC machined from billet aerospace grade aluminium on a 5-axis mill and polished to a mirror finish.
SLA model of centre heart, lightening pockets milled into the back surface to keep weight to a minimum
SLA model of centre heart, lightening pockets milled into the back surface to keep weight to a minimum
Final centre heart ready for fitment
Build – Stage 3
Alfaholics 215BHP twinspark installed with the following spec:-
Big valve head with race valve gear
Billet rifle drilled cams
Billet H-section conrods
Forged pistons with special coating
45mm Webers running with Alfaholics 3-D mapped ignition system
Alfaholics race paddle clutch kit
Alfaholics Giulia Super/Spider 55 litre foam filled aluminium fuel tank installed with Red Top Works fuel pump
Build – Stage 2
Dual circuit brake box fitted, front and rear pressure lines made. Girling reservoirs for individual brake circuits and clutch fitted. Reservoir to m/c feed lines will be clear coated braided s/s, so these have been mocked up to work out neatest runs and to work out exact lengths required.
Build – Stage 1
Front suspension built up with all powder coated suspension members. Fitted with the following upgrade parts:
Alfaholics lightweight wishbones
Alfaholics adjustable ride height 2 1/4″ front spring conversion
Alfaholics geometry conversion kit
Alfaholics 6-pot brake kit
Adjustable camber arms with spherical inner bush and poly castor bush
Alfaholics aluminium adjustable shock absorbers
Rear suspension being fitted up with the following products:
Alfaholics extreme lightweight trailing arms
Alfaholics  aluminium adjustable shock absorbers
Alfaholics race aluminium t-bar (to be fitted shortly)
Customer specified US style all red rear lights to be fitted, look superb, really complimenting the colour!
Cage Fitted
Final T45 ultra lightweight cage fitted. Main tube runs the length of the floor inside the sill structure from the front to the rear firewall. All visible bars tie into this bar for maximum triangulation benefiting rigidity massively. The bar which enters the inner a-pillar runs diagonally up to the front firewall where it is fully welded in place. Diagonal bar seen entering floor directly welds into the shortened rear chassis leg directly where the rear suspension trailing arm picks up. Prior to rollcage fitment, the chassis was bolted to a flat jig bed and the shell was straightened back to its factory alignment to close the door gaps which had opened up from previous poor quality sill repair work. Once this was correct, the T45 cage was fitted ensuring a very rigid structure.
Floors finished with ribbing to increase panel stiffness.
Build Brief & Rollcage Design
The brief was to build a trackday car using an S2 Spider owned by the customer for many years as the basis. The owner is a huge trackday enthusiast with experience driving many extremely high performance cars. He requested that we build the car top be as fast as possible with only the very highest specification parts used. The specification for our Alfaholics GTA-R became the basis, to which extras have been added.
It was very clear from the start that in order to achieve not only a fast car in a straight line, but also a car which could genuinely compete with our GTA-R on a circuit, significant chassis modification would be required to stiffen the renowned weak Spider chassis. As a result some form of rollcage would be required to stiffen the shell, speaking to the owner, he requested that no cage be visible above the door line to keep the car looking as stock as possible from the outside – the stiffening challenge just got harder! From initial seat fitment in the car it also became clear that shortened Spider floor pan would create some difficulties of its own. The rear chassis legs which encroach into the floor area prevented race seats from being mounted correctly in the car, indeed the rear floor pan height was not going to be suitable as the driving position as standard would be too high by several inches.
The donor car – a tired 2000 Spider Veloce in need of proper restoration – you can see that previous sill work not done on a chassis jig had allowed the car to bend in the middle resulting in poor rear door shut alignment and incorrect chassis alignment.
Initial mock up of how the front of the cage might work in the car
Initial floor design mocked up
Painted Shell Returns for Assembly
Our customer requested the car be painted in Alfa 147 Bianco Nuvola, a very slightly pearl metallic white; it ranges from rich cream to silvery white, stunning in the flesh! The colour really brings out the contrast between the smooth curves and the sharp waistlines of the Spider, a superb choice! Many hours went into the fit of the perspex headlight covers, these so often let down the finish of restored Spiders.