Completed
Final specification:-
Full GTA aluminium body conversion
Alfaholics air-conditioning system
Hydraulic power steering conversion
Full leather and alcantara interior with Wilton wool carpets
Concealed modern Sony bluetooth stereo system – with a dash mounted 1960s Motorola head unit interface
Alfaholics big valve Monza Twinspark engine running on 45mm Webers with 3-D mapped ignition
Alfaholics gearbox
Alfaholics competition LSD axle
Alfaholics fast road/trackday suspension package
Alfaholics aluminium adjustable dampers with 2 1/4″ spring conversion
Alfaholics aluminium race T bar
Alfaholics lightweight suspension member and titanium suspension bolt package
Alfaholics 6-pot front brakes, billet aluminium rear calipers
Alfaholics billet aluminium pedal box conversion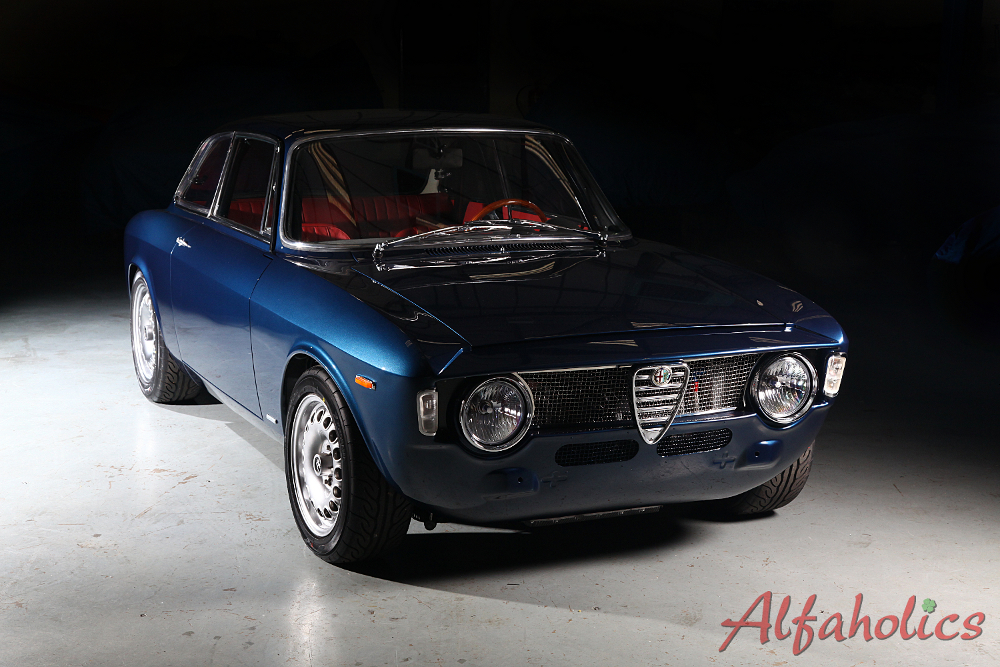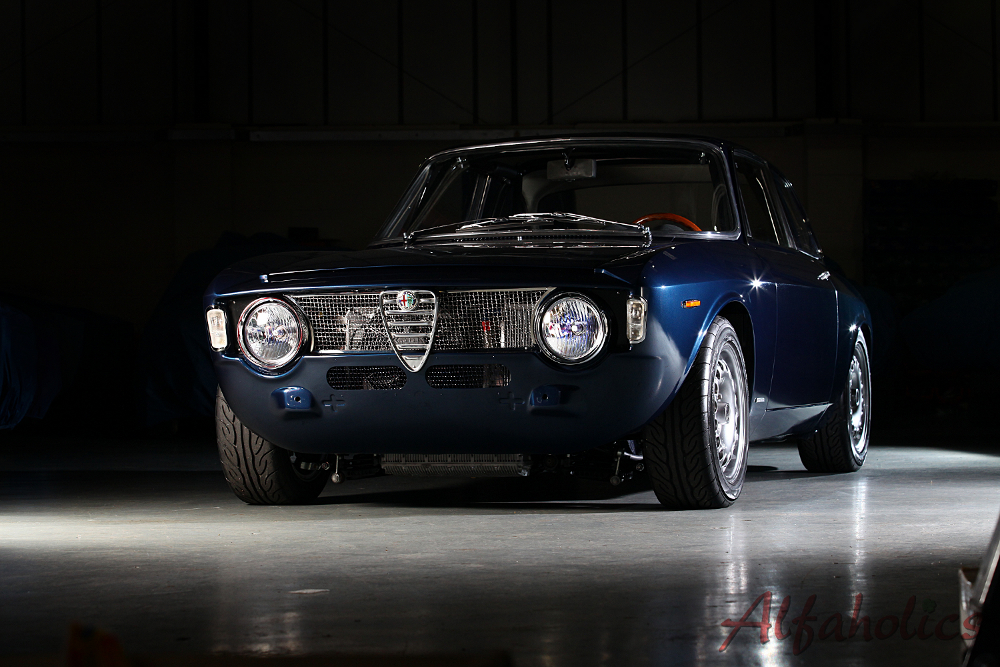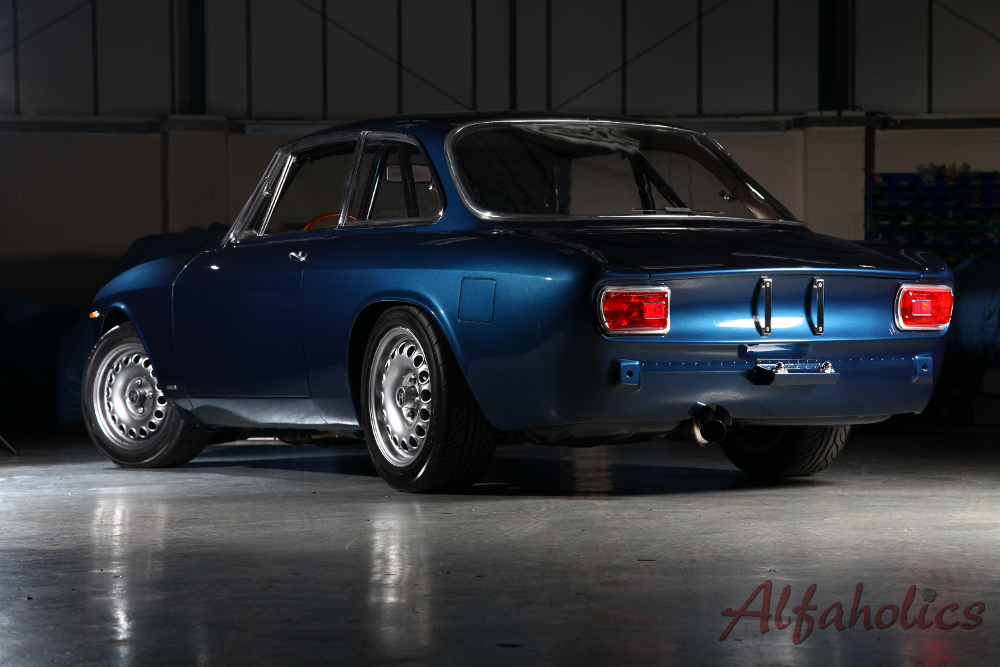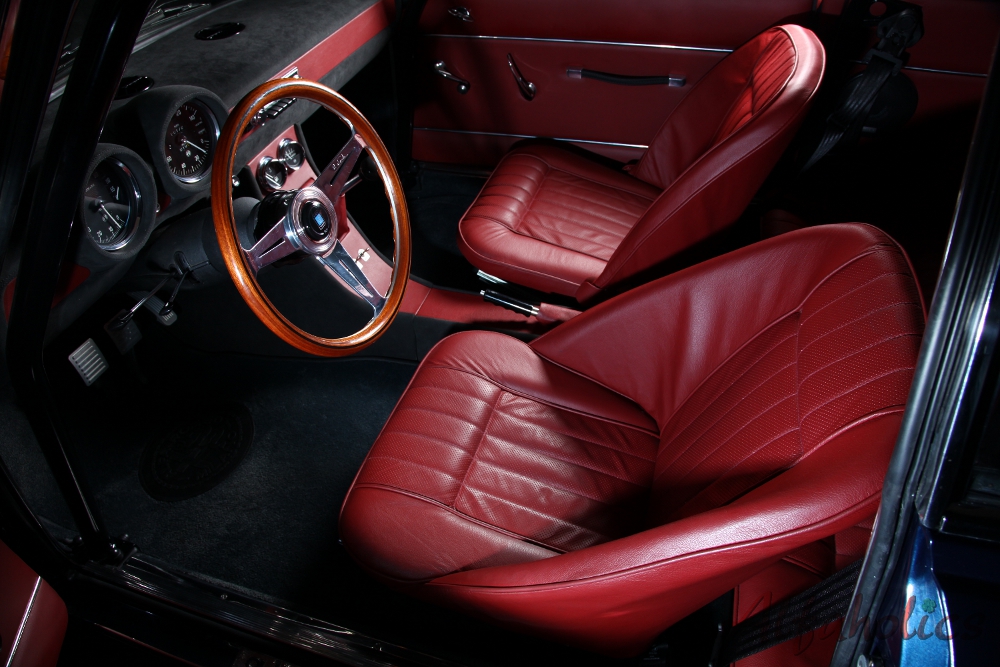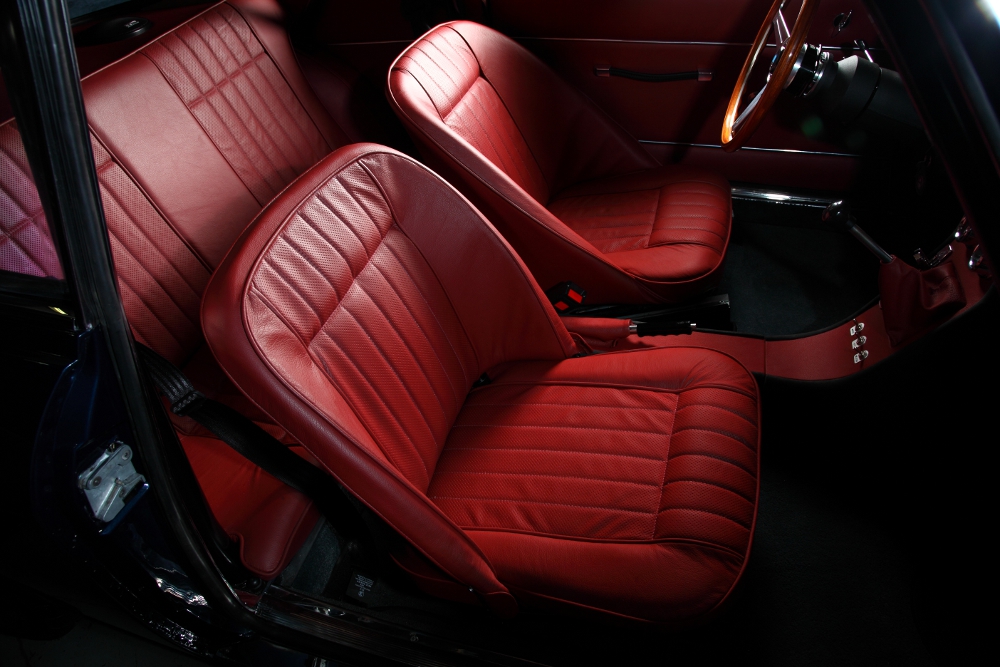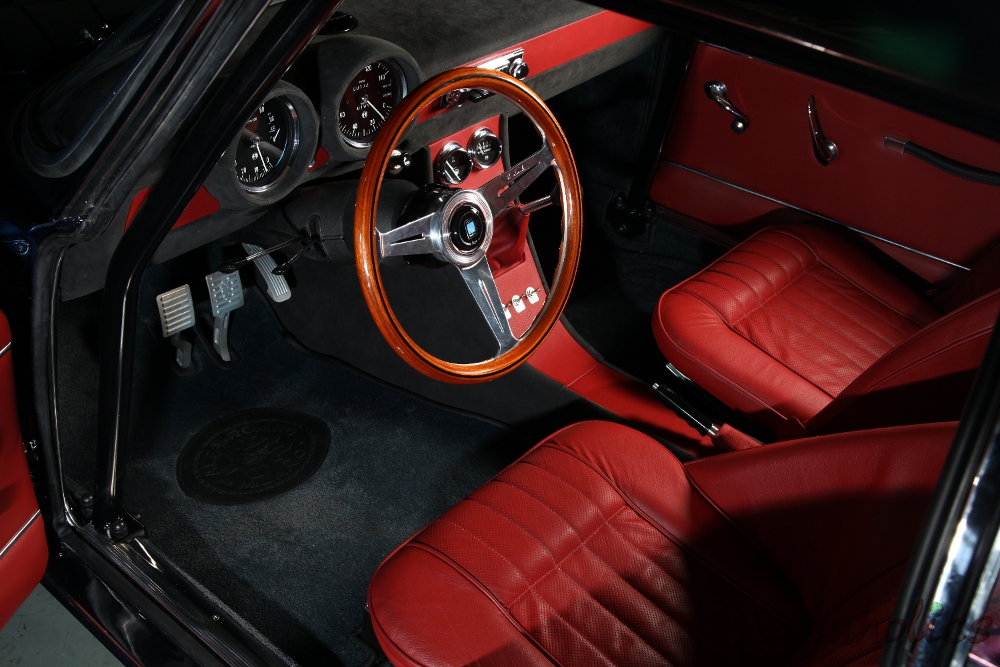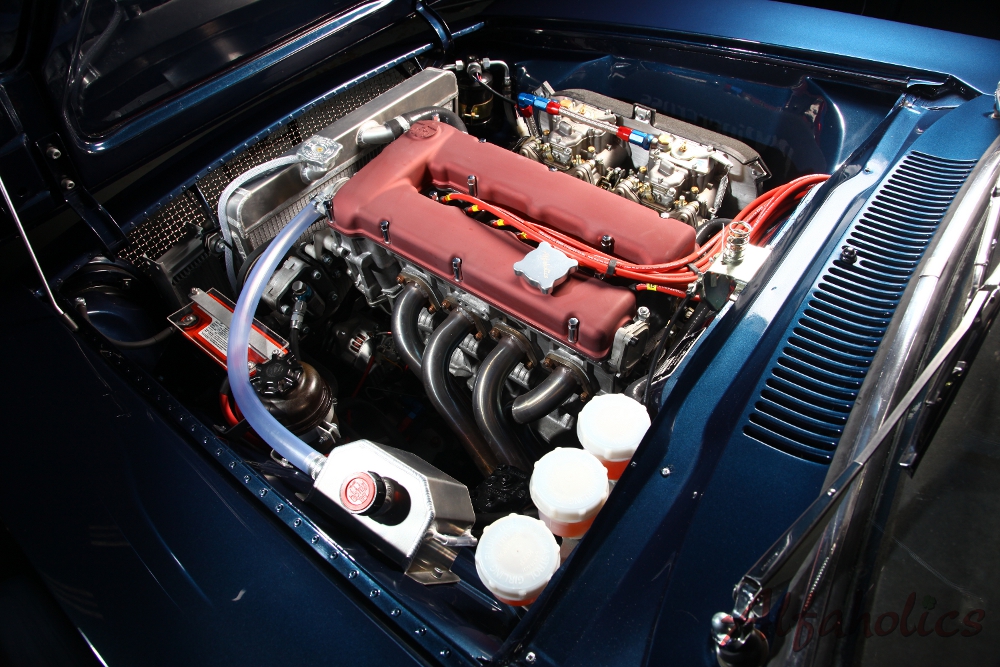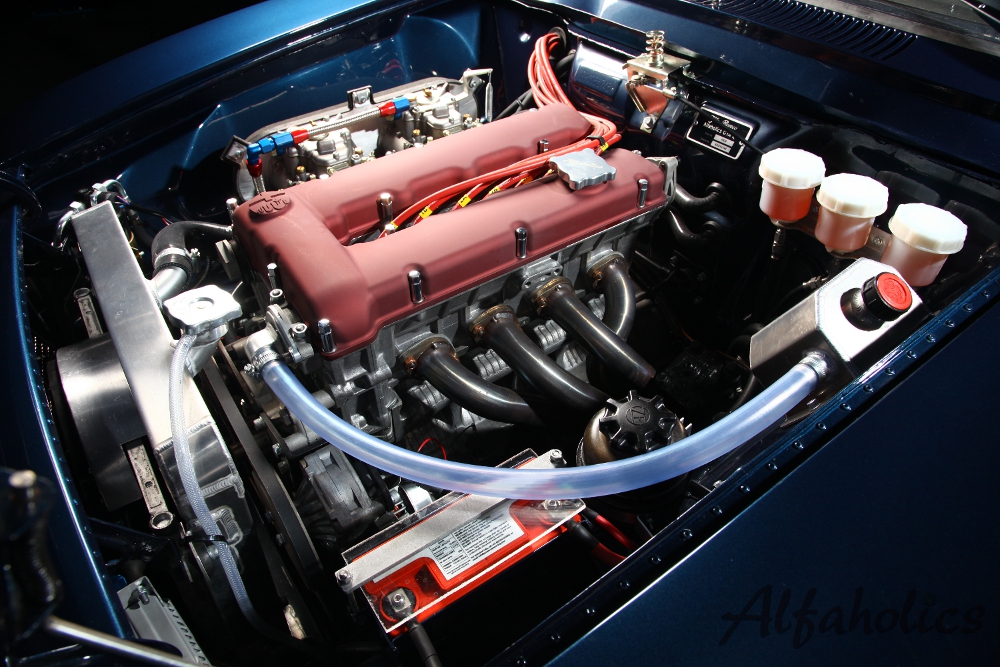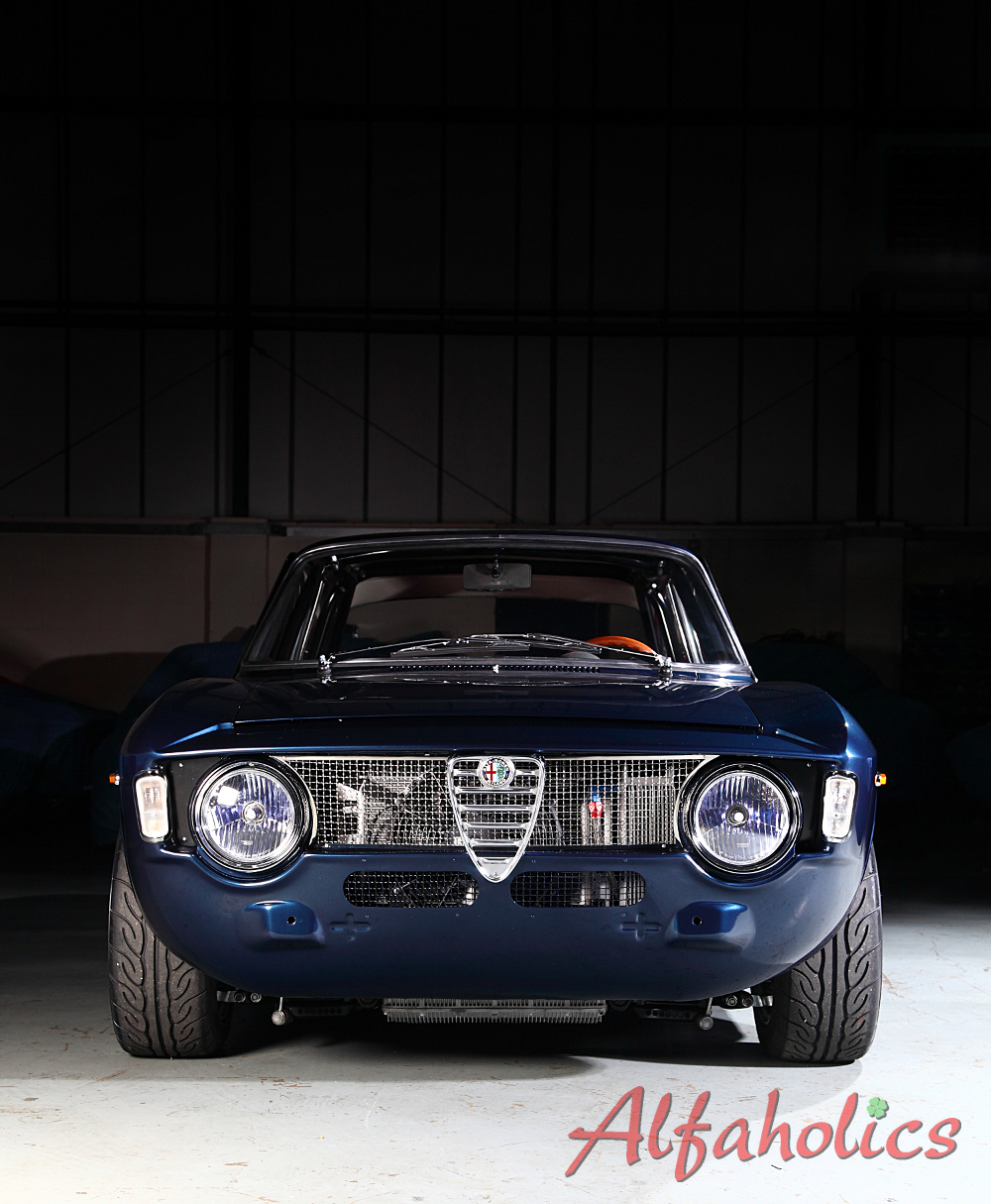 Build – Stage 4 – Ready To Road Test
Assembly completed, car ready to road test prior to flying to Dubai. The colour combination is exquisite; the dark blue paint work highlights the stainless trim work superbly and the burgundy leather creates a wonderfully inviting interior.
Build – Stage 3
Car now ready for trimming with only the air-conditioning/heater box still to install. The full air-conditioning installation under the bonnet is completed with bespoke bracketry for installing the pump on the engine, condenser unit and evaporator/dryer bottle. The full power steering installation is complete with bespoke bracketry for installing the pump on the engine and bespoke v-belt pulley system to drive it. Boot fully boarded out for trimming and with modern Sony head unit hi-fi installation in boot. The period Motorola head unit on the dashboard is purely a remote control for the modern system hidden in the boot. This gives the perfect blend of classic aesthetics inside the car with modern high quality sound, i-phone/i-pod connectivity and CD.
Build – Stage 2
Full car set of stainless steel trim polished and installed
Doors built up with 1/4light frames, door glass, channels and new regulators
Headlining installed
Bespoke smoke silver wheel finish applied to Alfaholics 7×15″ GTA wheels & Yokohama Neova tyres installed
GRP dashboard mocked up in place along with GRP consoles
Wiring loom made and installed along with harness for 3-D mapped ignition system
Alfaholics dual circuit LHD pedal box installed
Girling race clutch master cylinder conversion installed
Alfaholics competition propshaft installed
1750 GTV steering column sleeve modified to fit S4 needle roller bearing and double UJ'd shaft
Build – Stage 1
With sub assemblies built up prior to the body arriving back from the paint booth, we have had a very productive first week of assembly. Parts specification as follows:-
216BHP Alfaholics 75 Twinspark engine with power steering pump installed
Power steering box
Close ratio gearbox
4.55 rear axle built with Alfaholics performance LSD unit
Alfaholics 6-pot front brake kit and billet aluminium rear calipers with sport rear discs
FIA 2 1/4″ front spring conversion with lightweight wishbones and lightweight spring pans
Alfaholics front suspension geometry kit with rose jointed track rod kit
Alfaholics 55 litre aluminium foam filled fuel tank
Painted Shell Returns for Assembly
Aluminium Body Fitted
Aluminium bodywork completed and ready to paint, quality of work is outstanding!
Chassis Restoration Completed
With all the chassis restoration completed, the steel panels were all drilled off. The shell was then re-blasted in all the newly exposed areas prior to being black epoxy coated. With dummy suspension fitted, it's ready to have the aluminium panels fitted.
Chassis Restoration Work
The shell went through the same media blasting processes as all our restorations, removing all the paint, filler and sound deadening first, then a second media blast to remove corrosion from any areas of the chassis that are not replaced. Next it is immediately expoy primed to seal the metal work before work is carried out.
Body fitted to our Celette jig to have floors and sills removed and replaced
Boot floor cut out ready for new item to be fitted
The Project
The donor car was an ex-Italian 1970 Step Front Junior which we had in stock. This was chosen as the most suitable donor model for this particular build as our customer requested a step front car but liked the interior styling of GTA-R 1004 & 1005 which were both based on late GTVs and fitted with 1750 dashboards and consoles. These last of the line step fronts in 1969 & 1970 left the factory with 1750 style dashboards, thus making an interior finish like 1005 possible in a step front shell.
Our customer was keen to create the ultimate step front GT using the highest quality materials, with an emphasis on both luxury and lightweight construction. As a result, to reduce weight wherever possible, this shell is having all its steel outer panels removed and a full aluminium GTA specification body fitted. Our customer lives in the middle east, so with temperatures reaching 40 degrees C regularly, the car will be fitted with modern, efficient air conditioning. As the car will be used often in cities, for ease of driving, it will be fitted with hydraulic power steering.
Solid un-corroded and undamaged main chassis structures make this an excellent basis to make a lovely car
Boot floor shows typical signs of corrosion in main floor area as well as around fuel tank area, this will more than likely be all cut out and a new boot floor fitted
Floors and sills show typical corrosion, these will all be removed and 4 new floors and 6 new sill sections fitted as with all the cars we restore.