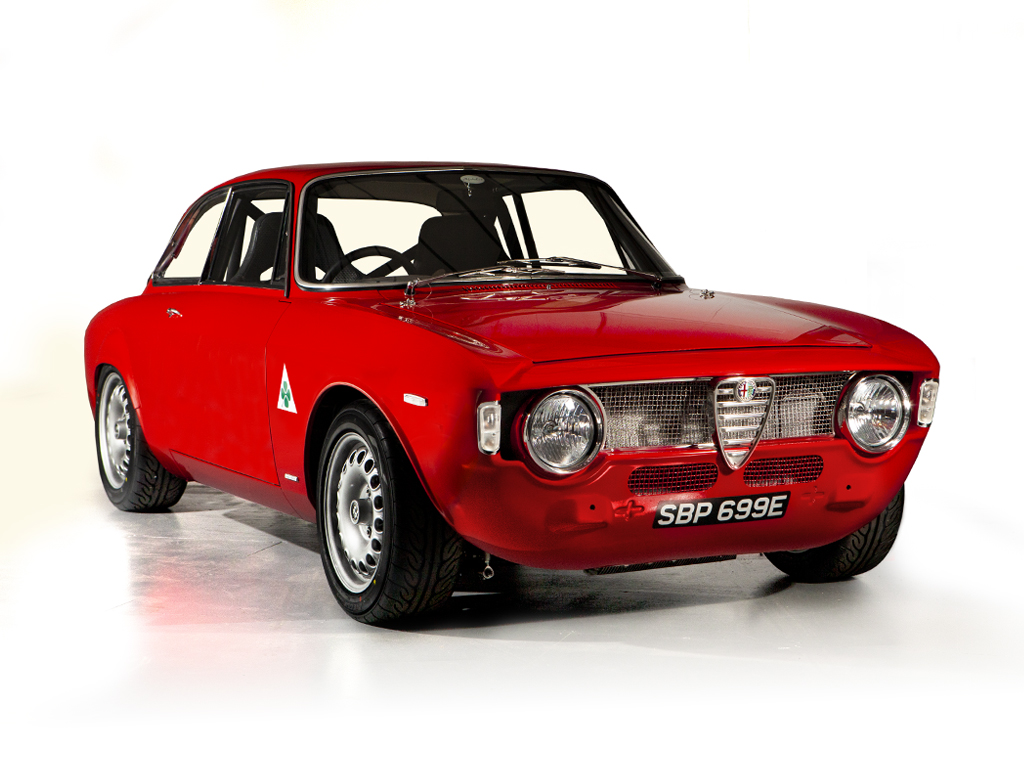 Completed
With further engine capacity increases achieved during the project with our new 94mm long stroke crank, we have smashed our original target of 270bhp/tonne. As a result, Alfaholics is very proud to present the Alfaholics GTA-R 290 – the ultimate Alfa Romeo with 290bhp/tonne!
…as capable lapping the Nurburgring in under 8 minutes as cruising the streets of Monaco!
Alfaholics GTA-R 290 Specification
Body
Monocoque steel body, fully seam welded
Carbonfibre doors, bonnet & boot
Kerb weight of 830kg
Drivetrain
Alfa Romeo Twin Spark Engine – 240bhp @ 7,000rpm
Motec engine management system with electronic fuel injection
GTA lightweight close ratio 5 speed gearbox
Copper-sintered plate limited slip differential
Lightweight propshaft and rifle drilled halfshafts
Stainless steel sports exhaust
Aluminium high performance radiator & oil cooler
Suspension
Titanium top front wishbones
Geometry improvement kit
Double adjustable aluminium gas shock absorbers
Lightweight spring conversion with adjustable ride height
Titanium fasteners
Aluminium T-bar and lightweight trailing arms
Brakes
Superleggera billet aluminium 6-pot front brake kit with 300mm vented discs
Superleggera billet aluminium 2-pot rear brake kit with 267mm discs
Dual circuit bias adjustable aluminium pedal box
Interior
Leather trimmed Recaro seats with inflatable lumbar support
Alcantara and leather trimmed dashboard
Wilton Wool carpets
Dynamat sound and heat insulation
12-point T45 roll-cage trimmed in leather
Billet aluminium pedals
Momo Prototipo steering wheel
Miscellaneous
Speed sensitive, adjustable load electric power steering
Heated, lightweight windscreen
Lightweight rear screen and side glass
55 litre foam-filled aluminium fuel tank
7×15" GTA Superleggera alloy wheels
Yokohama Neova AD08R 195/55 R15 tyres
Options
Air-conditioning
Aluminium body conversion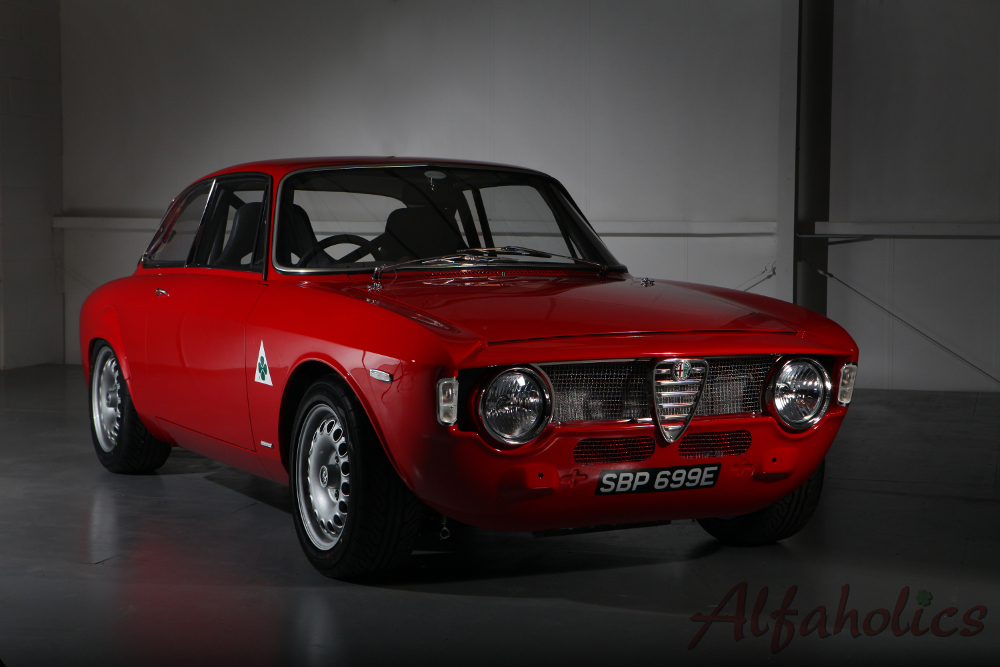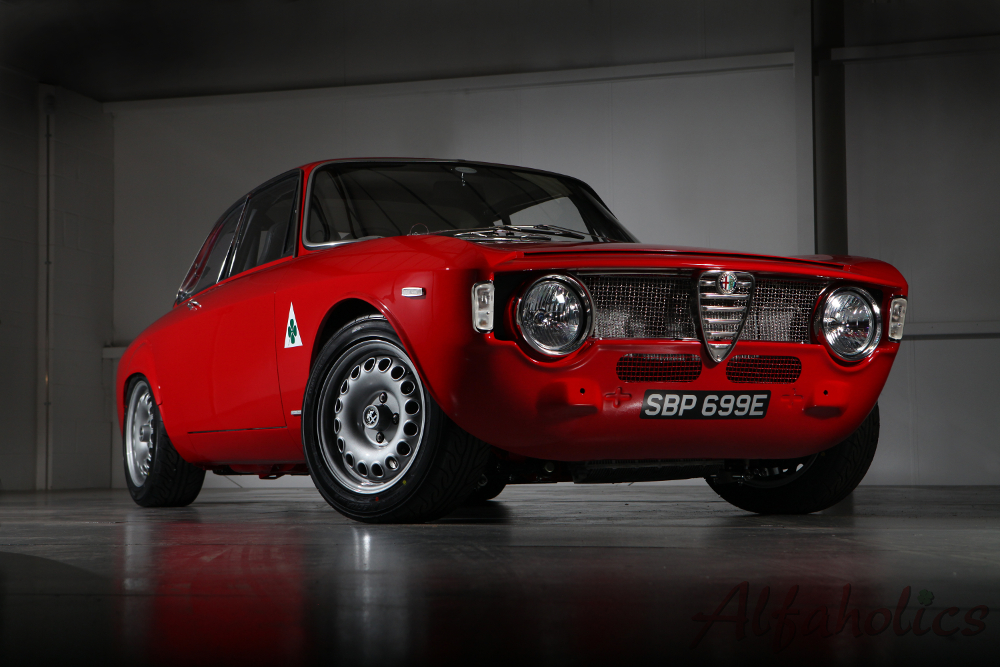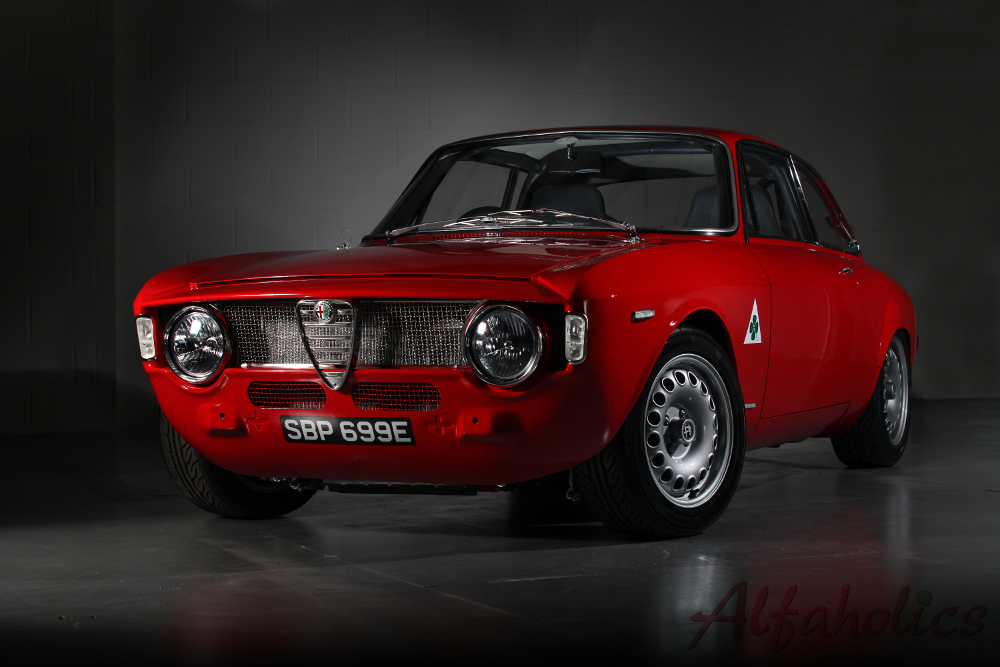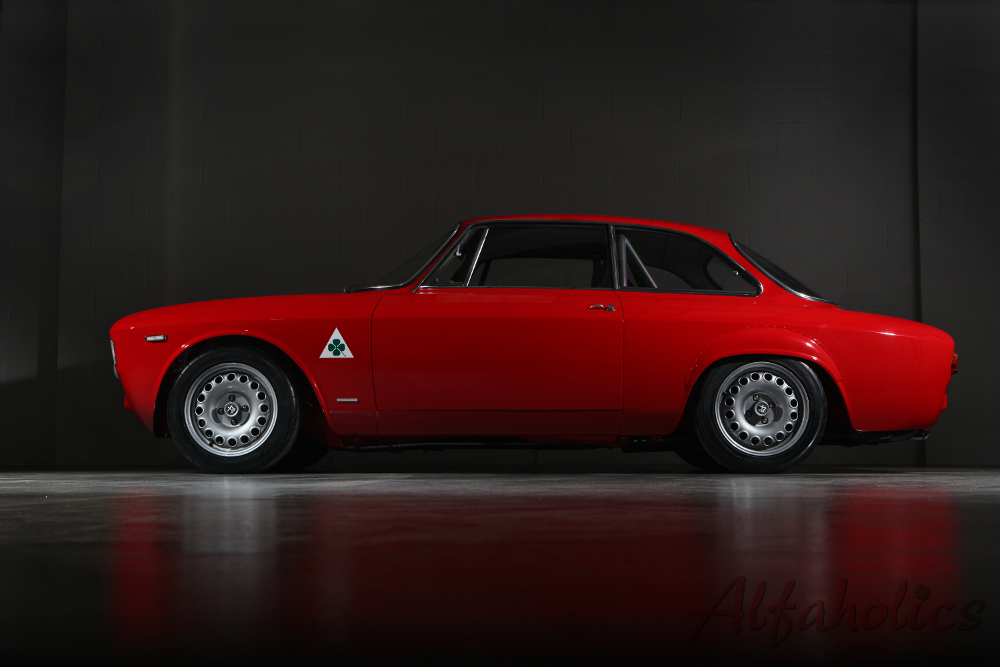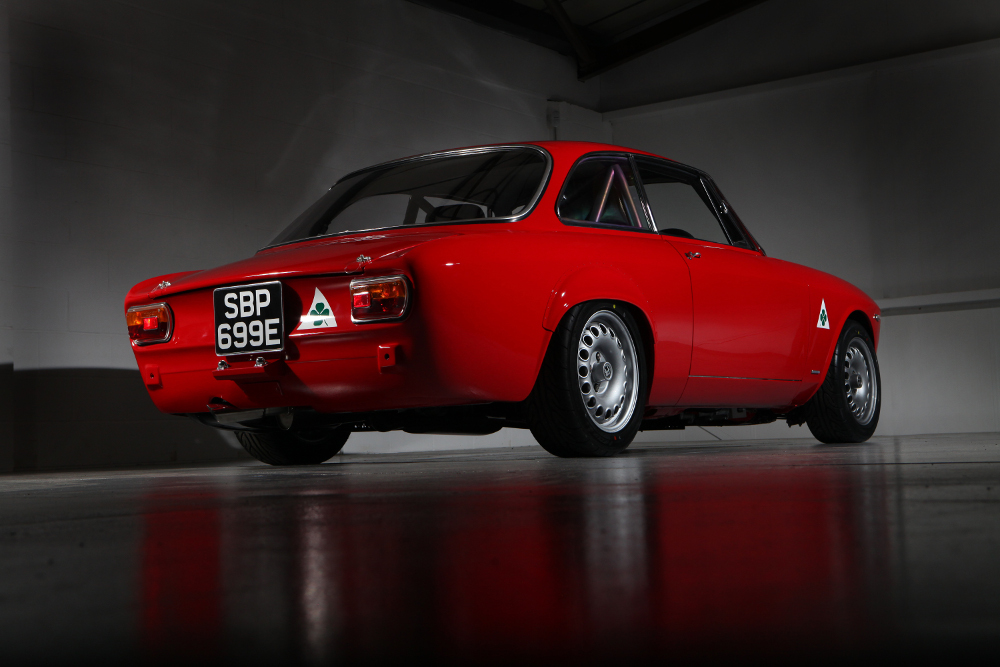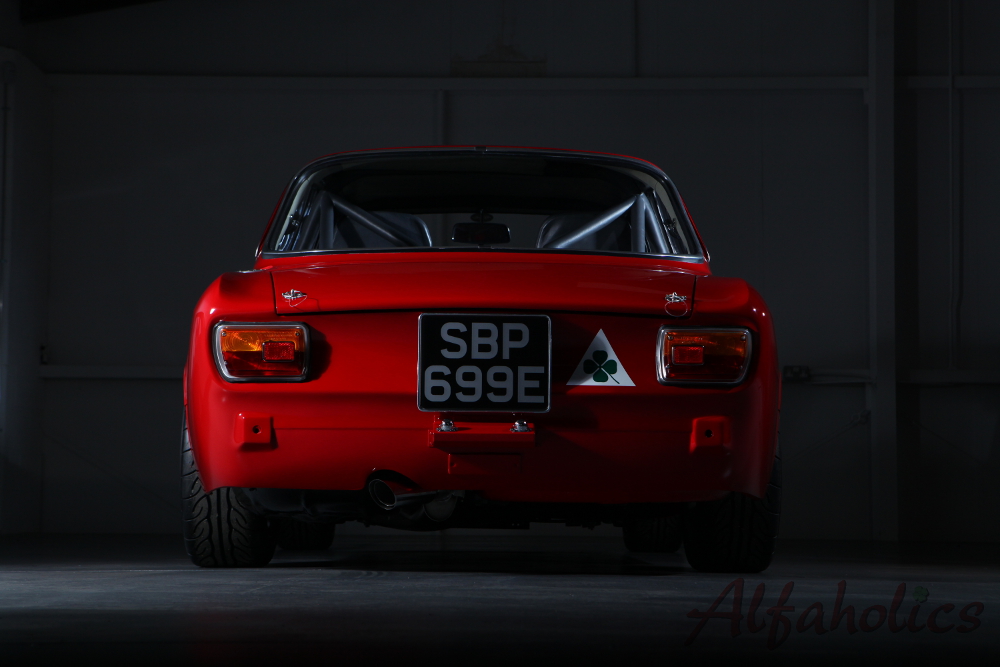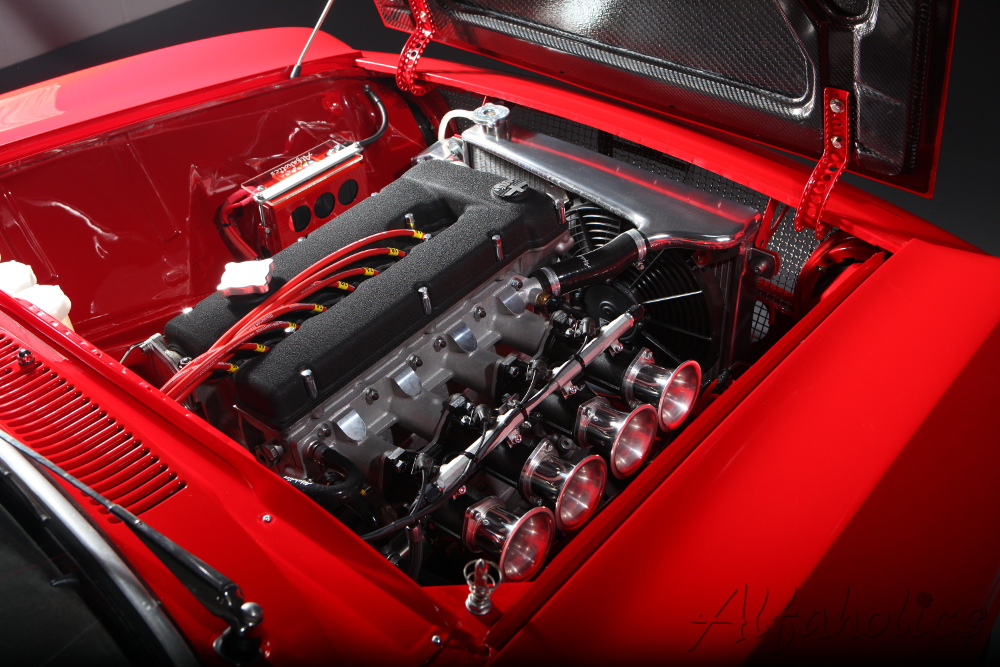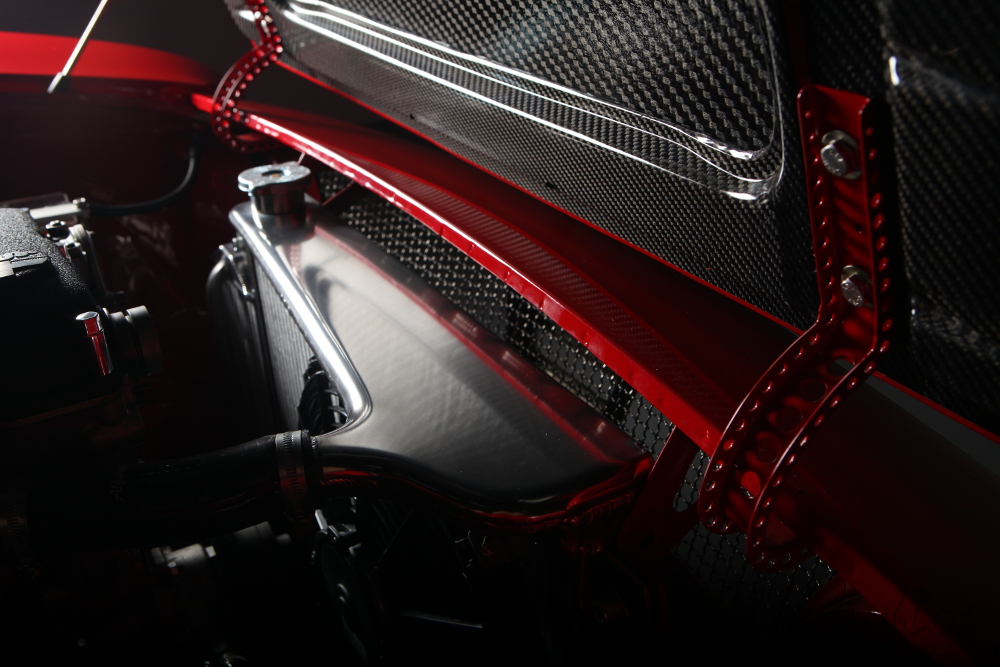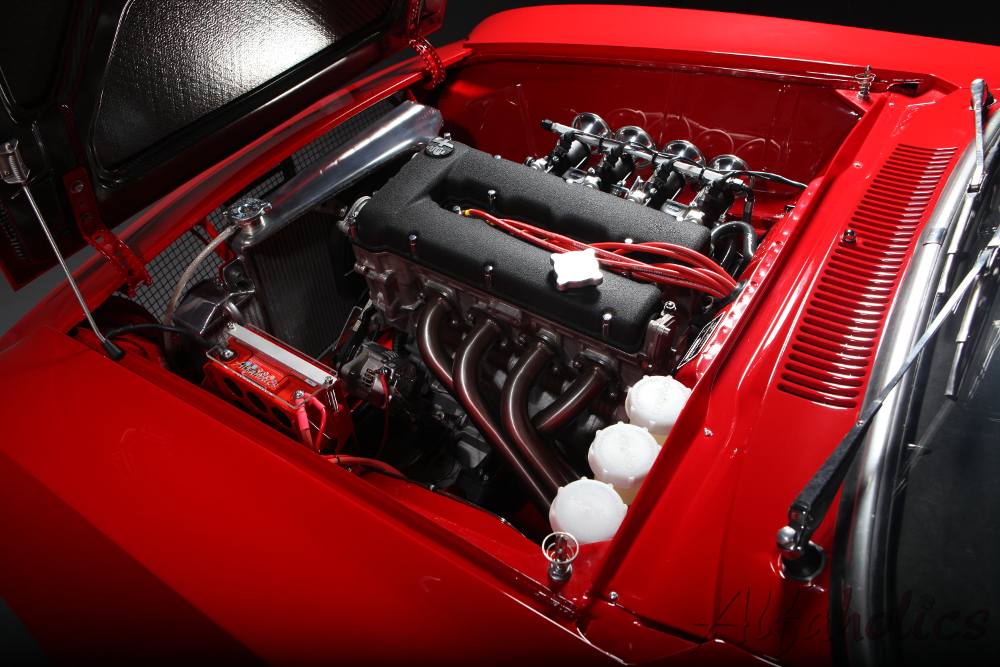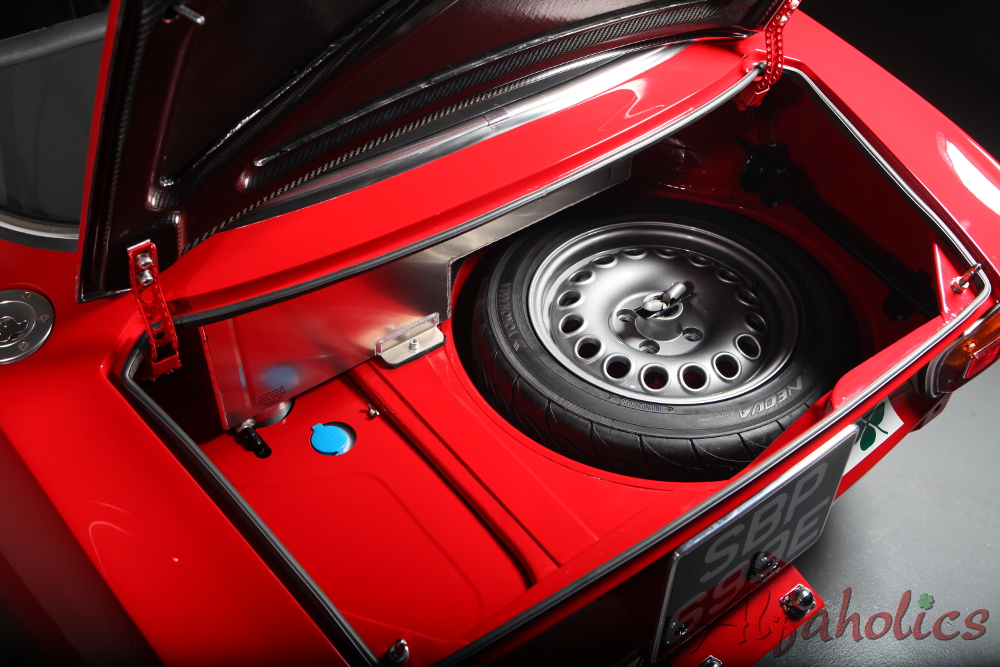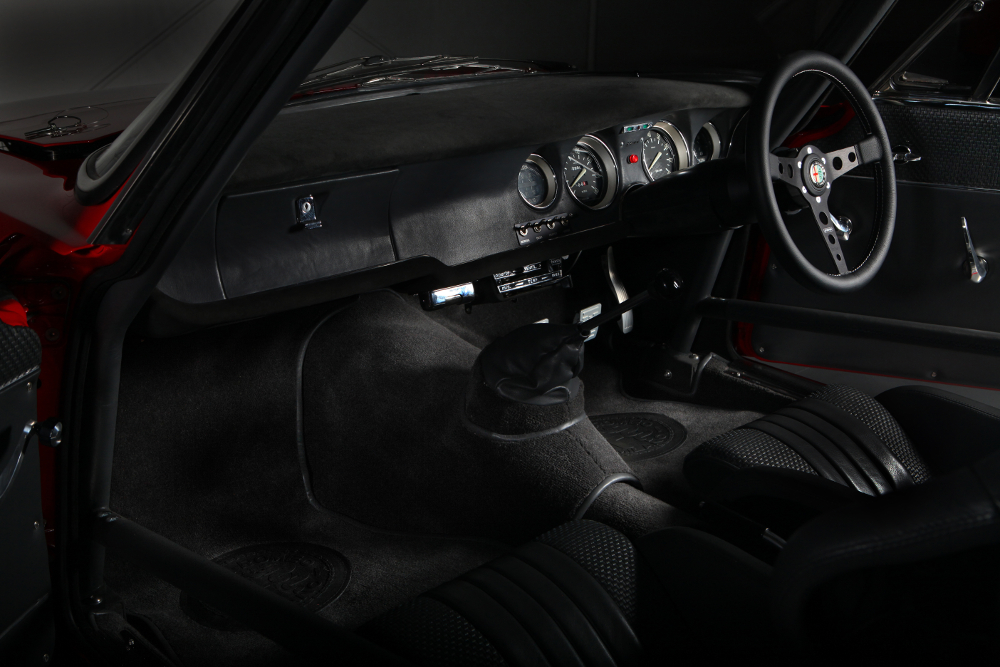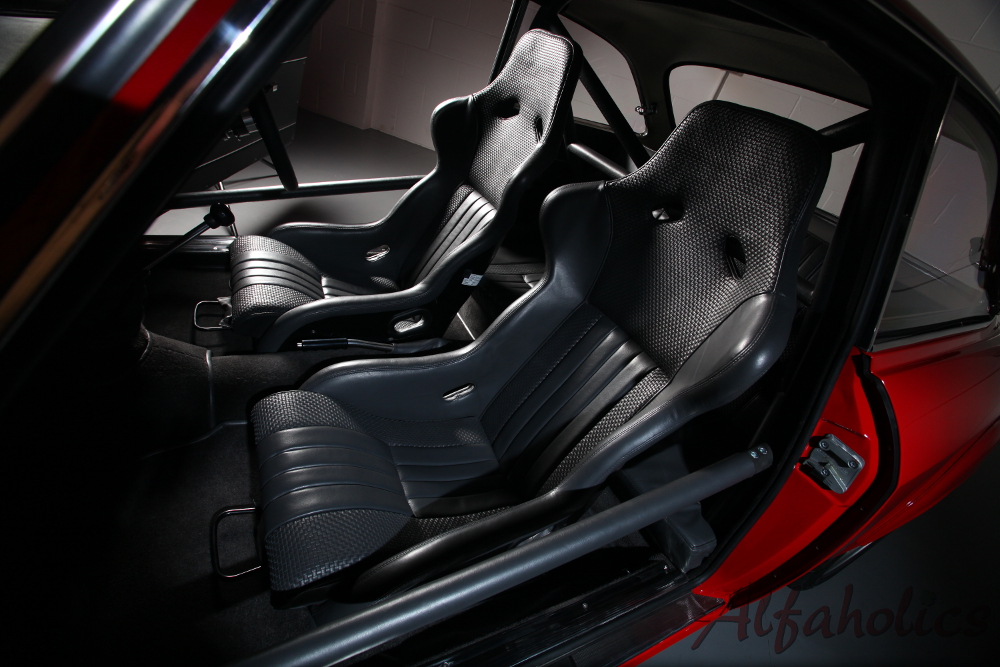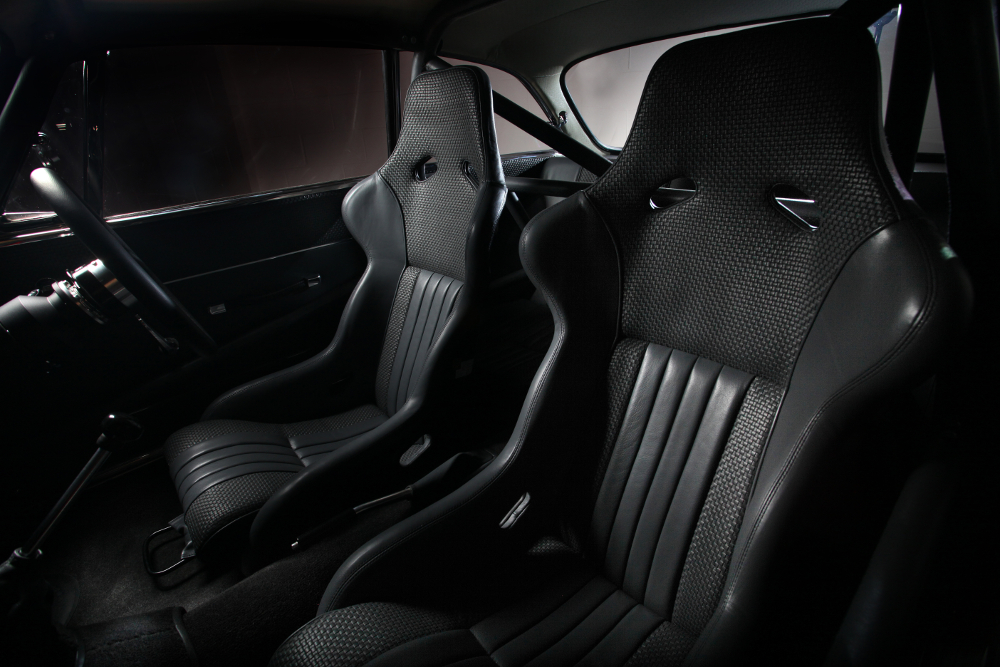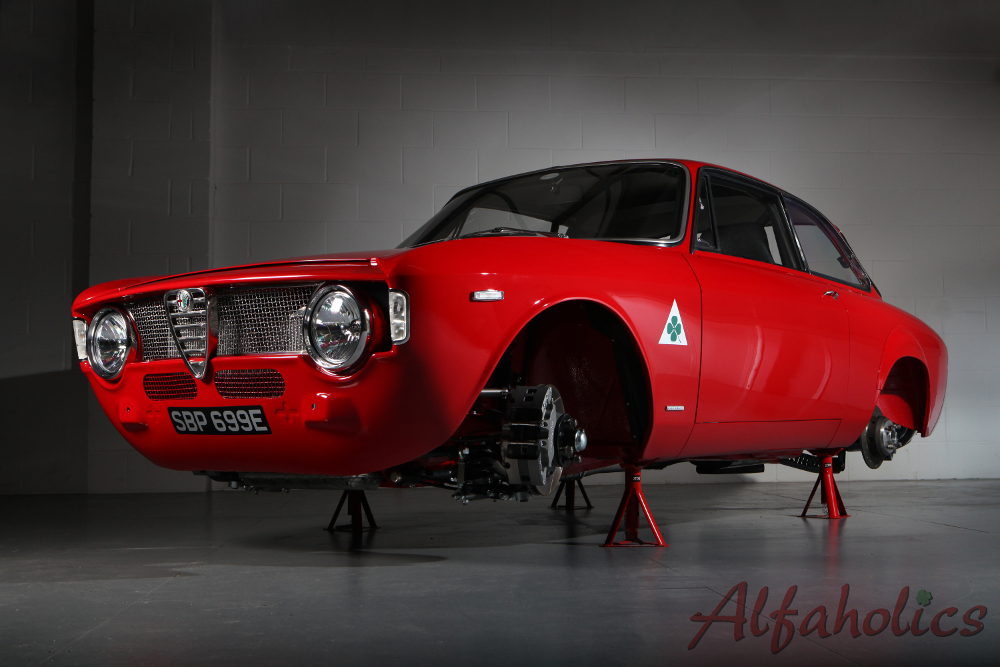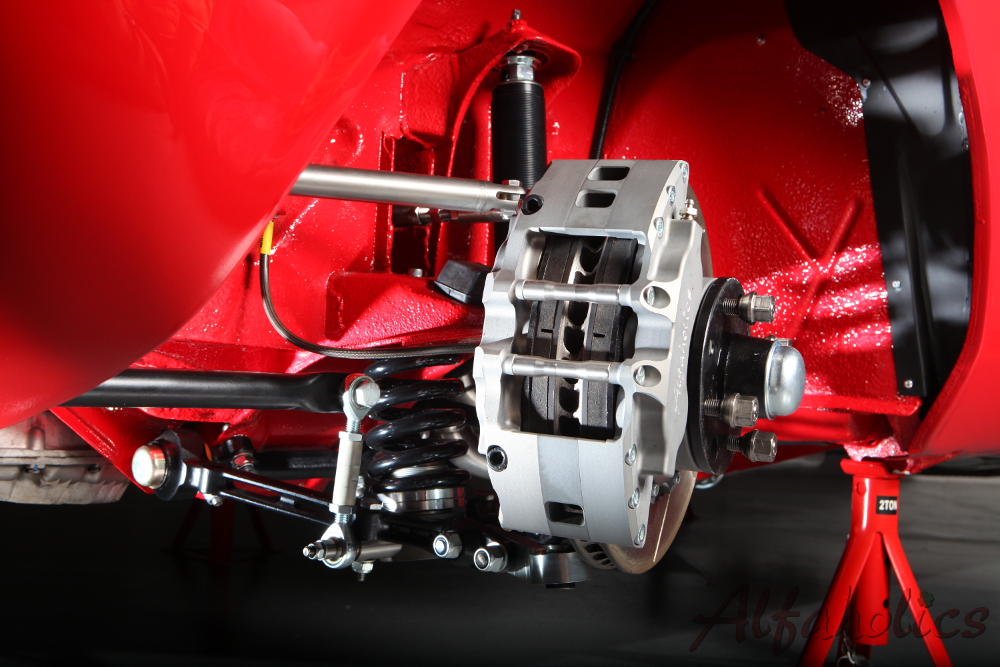 The Project
Our original target at the outset of the project was to achieve 270bhp/tonne in a GTA-R.
(In reality, by the end of the project we had smashed this target by achieving greater power from the engine with a new 94mm long stroke crank and 87mm bore which resulted in 2300cc & 240bhp and thus the car achieving 290bhp/tonne).
The basis for this project is a full rebuild of GTA-R (003) using all the latest Alfaholics tricks and developments.
Since 2011, when the latest version of our top spec Twin Spark engine was installed, the specification of 003 car has remained untouched. With 216bhp & 180 lb/ft torque and weighing just 895kg, the car possessed an excellent power to weight ratio of over 240bhp/tonne! Recent Spa & Nurburgring track days have shown the car to be more than a match for most BMW M3s and Porsche 911s, proving just how good the overall package is. At Spa, that means a lap time of 3:02 and the ability to lap the Nurburgring in 8:15.70 bridge to gantry. We installed HD video cameras in both GTA-R 003 and Ti Super-R 011 to demonstrate just how capable the cars are – see the Alfaholics TV channel on YouTube!
Now we want to make the car even faster! Over the past couple of years, we have developed a number of new products, in particular a suite of carbon fibre panels – boot, bonnet and doors. It seemed that the best way to implement all these upgrades would be a full rebuild, so here goes…!
In order to achieve the target power to weight ratio, the main focus of the rebuild will be attention to weight saving – we are looking to shed 80kg from a number of areas, including body, unsprung & rotational components. We will not however compromise on the quality and detail of the interior, so the leather, alcantara and Wilton wool carpets will remain. In addition, we will be making a few engine tweaks which should liberate a few extra bhp to bring the maximum power up to 220bhp. With 270bhp/tonne, perhaps a Nurburgring lap time of 7m 59secs in on the cards!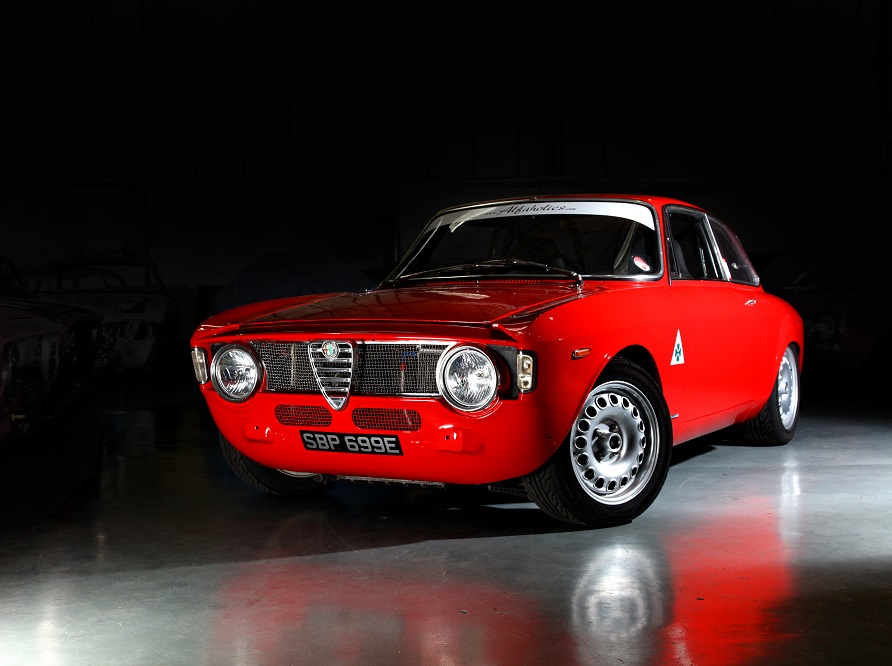 2011-2013
New for 2011 was the latest version of our infamous Twin Spark engine, now with modified piston and rod geometry. New power figure 216BHP with 180 lb/ft torque, giving the car a power to weight ratio of 240BHP/tonne! Very little else changed on the car during this period, proving just how good the package is. Spa and Nurburgring trackdays during these 3 years showed the car was more than a match for any BMW M3 CSL or Porsche 911, including GT3! New HD video cameras installed in both Max's and Andrew's cars allowed us to show real time just how fast we had made the cars.
At Spa a laptime of 3:02.00 was set and at the Nurburgring a laptime of 8:15.70 was achieved bridge to gantry, truly impressive lap times!
However, come mid 2013 we had now developed a package or carbonfibre boot, bonnet & doors as well as many other tweaks not installed on Max's car. Thus as quick as the car already was at this point, there was now a new range of possibilities with regard to weight reduction to improve track performance and a rebuild is required… watch this space!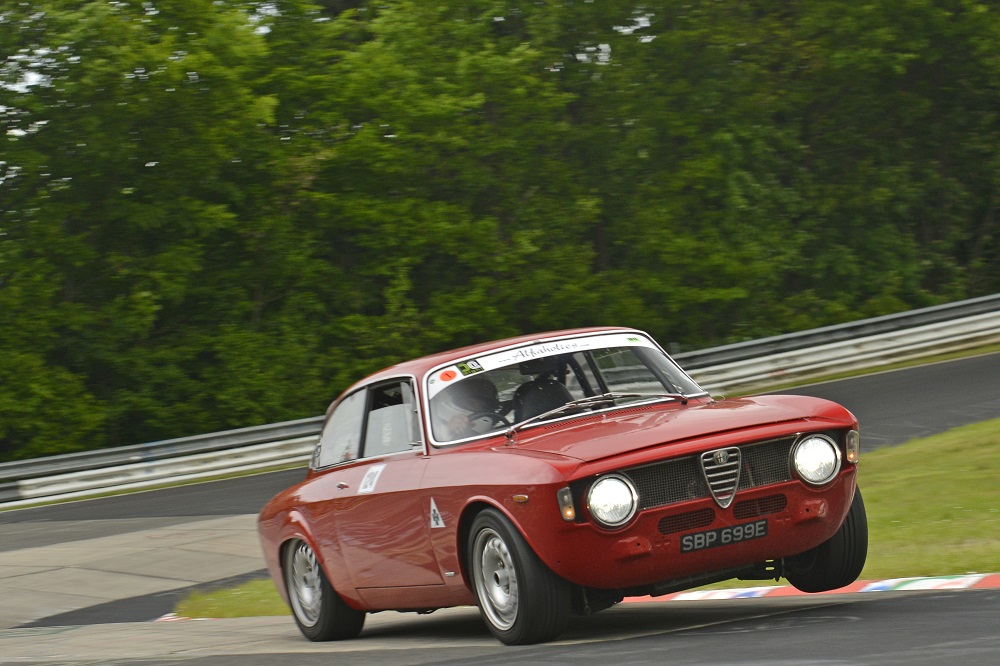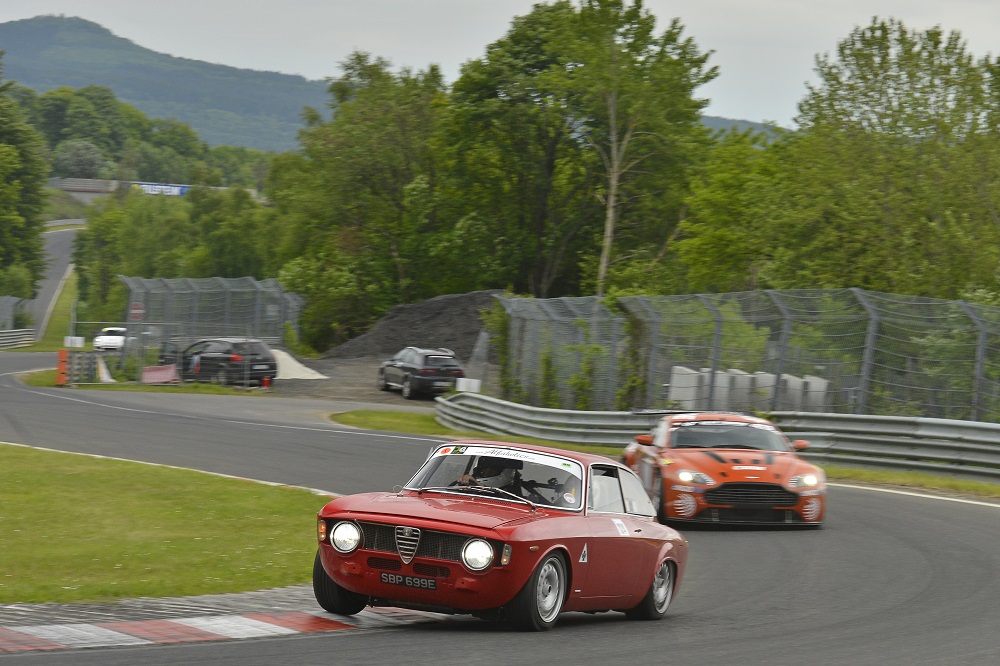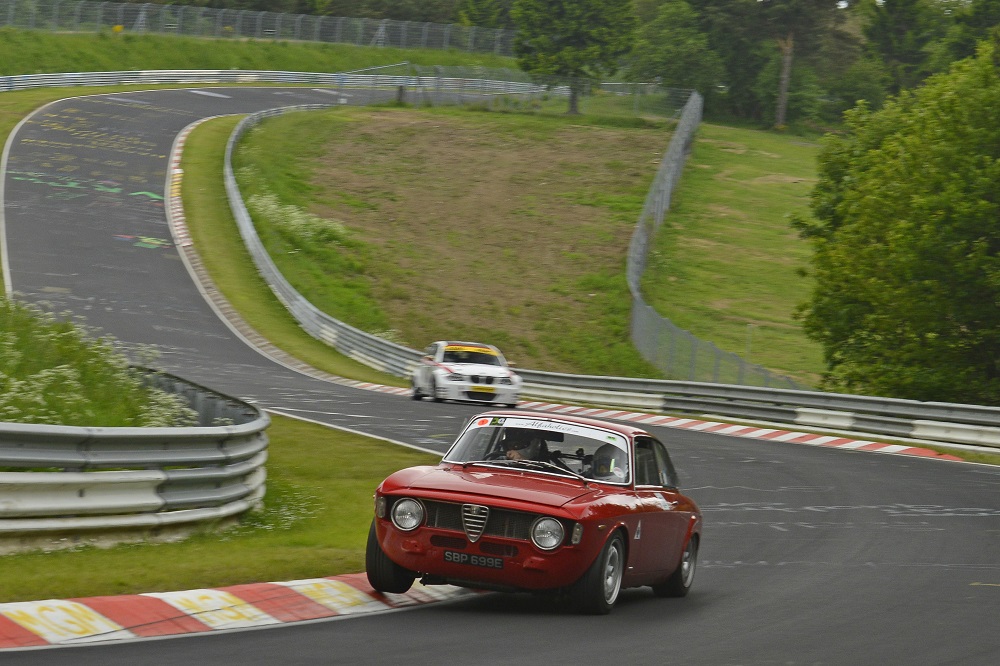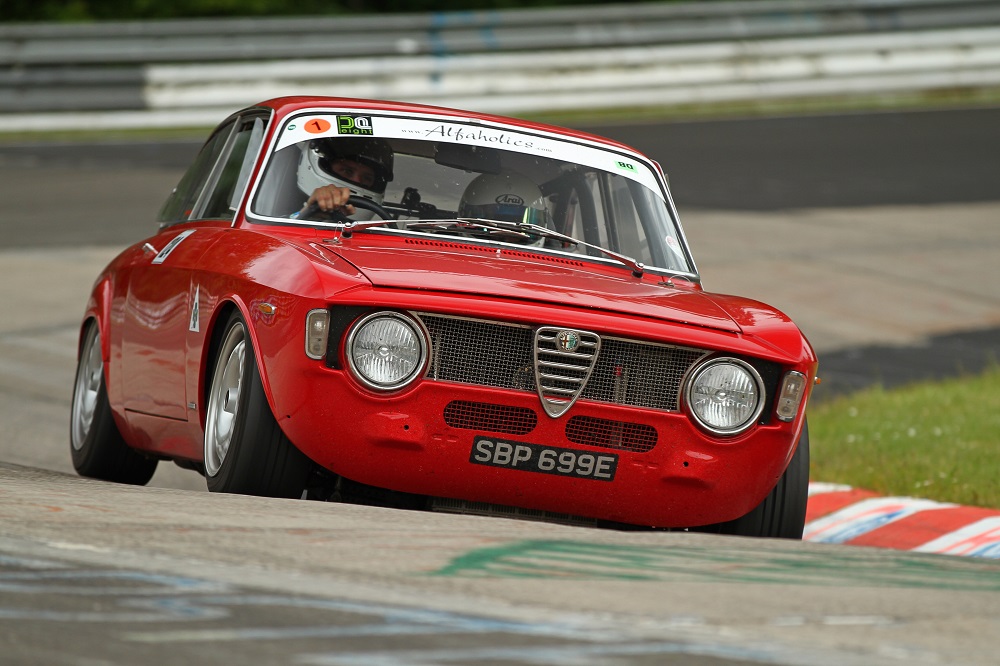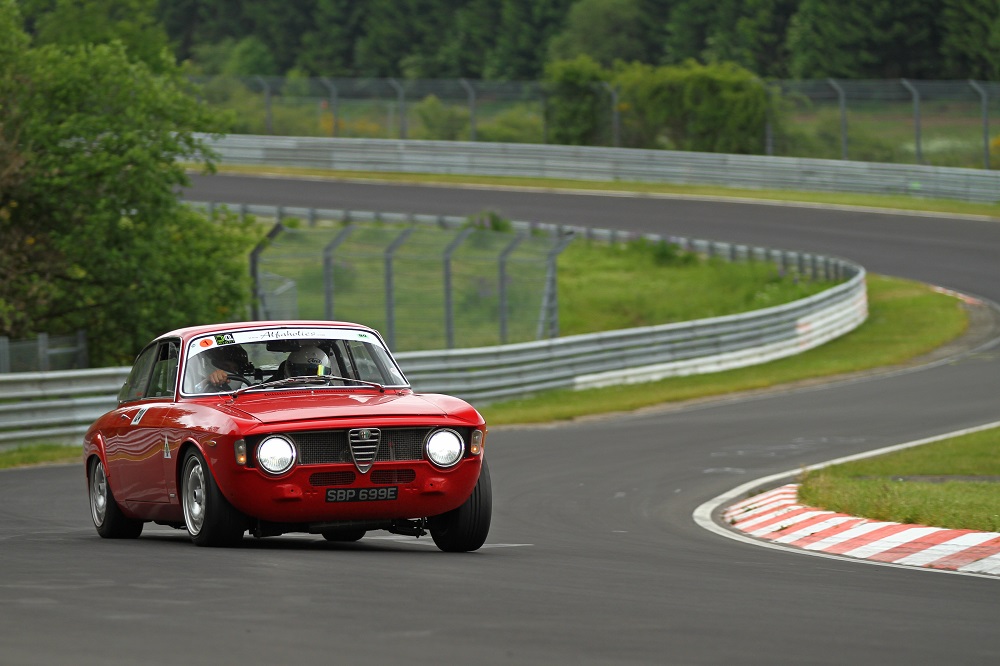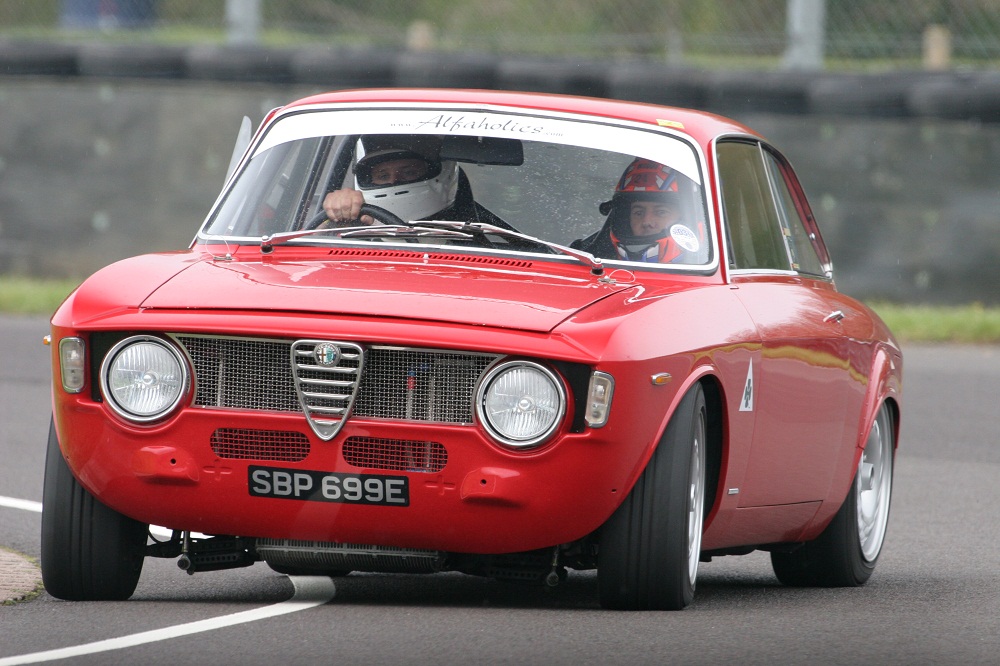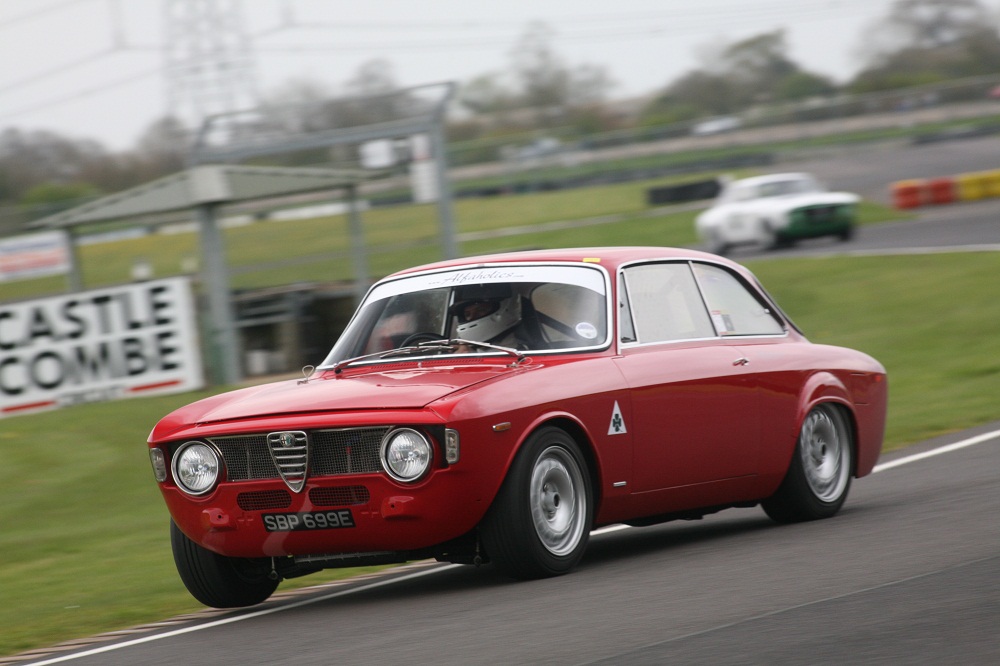 2009-2010
Development continued gathering pace in 2009, now with the increased grip from the new 15″ wheel/tyre package, we found ourselves wanting more power again; so we developed yet another version of our Twinspark engine, now with 207BHP! At this point we found the Bilstein dampers starting to struggle to provide sufficient damping for the suspension and thus we developed our own adjustable gas dampers. Not only did we do this to improve the on track handling of the car, but also to allow the softest positions to give us vastly improved road driving ride quality for the journey to and from the Ring. Once the damping was perfected, we moved back to the LSD and dramatically changed the friction material and ramp settings of the unit to give better traction under power and also more manouverability and precision of positioning under braking; yet again the car was transformed! Next we made a production of the 1967 Homologation GTA rear arches, this enabled us to widen the track of the rear of the car to give us more stability.
2007-2008
The evolution of my car really took pace over these 2 years, a new 198BHP Twinspark engine was installed, we fitted a proper performance clutch system and we started the development of our own LSD to get better traction characteristics.
I started to struggle to buy good 14″ tyres, so we designed and manufactured a new 15″ version of our 7″ width GTA wheel to ensure that we could fit the very best possible performance road tyres we could – no point having all that power if we couldn't apply it properly to the tarmac! Once the 15″ wheel came it released a lot of extra space in the area of the front hub. Not only did this allow us to develop bigger 6-pot brake calipers with larger 300mm discs, but it also gave us more room inside the wheel to modify the suspension and steering pick up points to optimise the front suspension geometry – our Alfaholics Front Geometry Kit was born, and quickly became a best seller! Back out at the Ring, the car was markedly faster, now able to compete with Porsche 996 Carreras and E46 M3s.
2005-2006
The first 2 years of use of my car were a blast, I covered 13,000 miles, most of them flat out round tracks and across Europe. The specification of the car started to evolve even in these first 2 years as the car was used continually harder and harder on track. The starting point in 2005 was a 175BHP Twinspark engine built with what were commonly available replacement parts, our trackday blue handling kit and lightweight brembo front calipers. By 2006 the car already needed bigger brakes and our Alfaholics 4-pot brake kit was developed. The car got its first magazine coverage with RetroCars in 2005, followed by a Classic Cars magazine article in 2006.
The car also got its first Nurburgring outings in these first 2 years. When I planned the first trip, I thought "this will be a nice place to go with the car", but on arrival it is hard not to get absorbed into the whole scene and culture; it did not take long to come to realise that unknowingly at the time, this was what I had built the car for; the Ring was my new found love! It became apparent pretty quickly though that with the huge gradients I would need more power than the current engine had to be able to keep up with the Porsches and BMWs and that there was still plenty of chassis and brake development to come. The theme over the future years would be to refine the car into the ultimate Ring weapon, but not only to make the car super fast round the track, it was also critical that the car should be perfectly comfortable and useable to drive the 1000 miles round trip to and from the Ring. This sparked the evolution of what would ultimately become the Alfaholics GTA-R!