Alfaholics Victorious again in GTA Challenge! Chimay Belgium – July 2002
The second round of the Top Hat GTA Challenge was held on the 4.5km road circuit at Chimay in Belgium over the weekend of 6th/7th July 2002.
All Top Hat competitors comprising, Pre 65 Historic Touring Cars, 1950's Touring cars & GTA Challenge were put together in one 50 minute race for one or two drivers with an enforced pit stop.
Andrew Banks sensationally put the Alfaholics GTA Replica in pole position, having been fastest in both 30 minute practice sessions.
However, he was out dragged off the start up to the first corner by Simon Garad's phenomenally fast 2.3 litre BMW 2000 and had to be content with running nose to tail behind it (making up the distance pulled by the faster car by braking later and flying through the corners!) until the driver change at half distance.
Andrew jumped out the Alfa and back in again joining the track once again right behind the BMW, this time with Graeme Dodd driving. They came out immediately behind the safety car which allowed Mark Hales in the Anglia & the rest of the field to close up behind.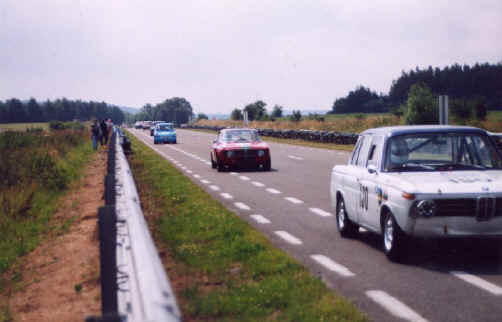 Cars under the safety car at Chimay
As soon as the safety car pulled off & racing recommenced Andrew was able to outbrake the BMW into the last of the four bus stops and then proceeded to pull out an impressive 13 second lead, before easing off to win by 3.5 secs.
Two down & three to go in the GTA Challenge Series. Next race is Donington Park on 1st September and then Spa a fortnight later.
Remember all the parts used on our GTA Replica are available from Alfaholics. Most, including the Sports Suspension are stock items! Feel free to ring and discuss performance options with us at any time. Our 7″ GTA Replica Wheel will be available from the end of August.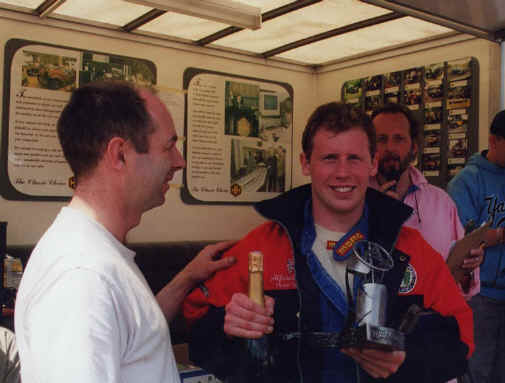 Andrew Banks receives his GTA challenge trophy from Andrew Thorogood with
Julius Thurgood (who organises the GTA Challenge) behind