GTA Challenge Spa Francorchamps – September 2002
The penultimate race of the GTA challenge series was held at the Spa-Francorchamps Circuit over the weekend of 13-15 September 2002 as part of the Spa six hours meeting.
As at Chimay, earlier in the year, all Top Hat Competitors ended up in a single, one hour two driver endurance race i.e. GTA Challenge, 50's Touring Cars and pre'65 Touring Cars.
An impressive entry of 53 cars from Mustang to A40 showed the popularity of racing at Spa and the chance to experience the thrill of Eau Rouge!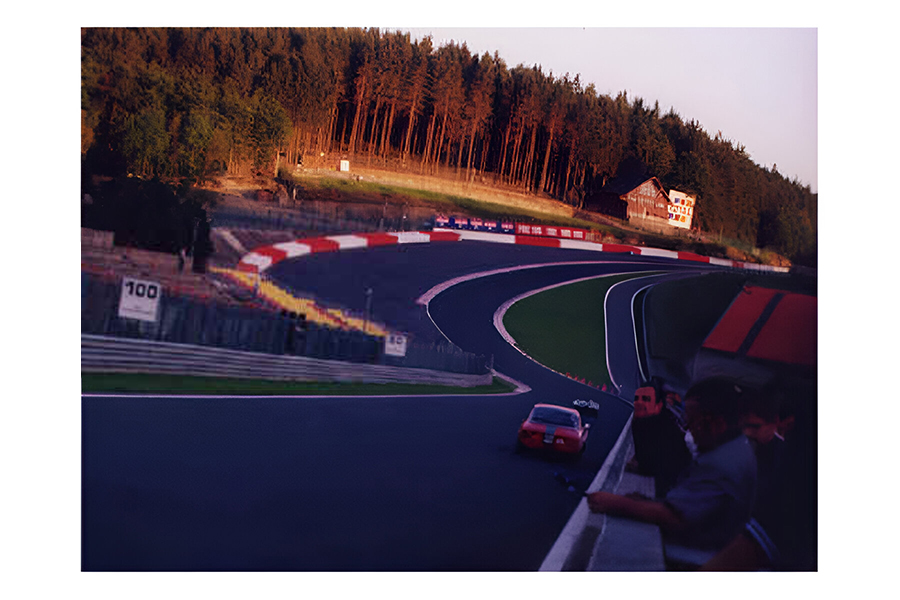 Eau Rouge during practice on Friday
For Alfaholics, the weekend started to go wrong right from the outset when Andrew, on leaving Bristol, had a spark plug blow out of his 75 twin spark and had to go back for the 155 Q4, only just making it in time for the ferry at Dover.
Then, having left the racer and equipment in the paddock at Spa ready for practice the next morning, we were almost at our hotel, when entering a sharp bend in the dark, the 155 slid off into a deep ditch, breaking a wheel, bottom wishbone and cracking the gearbox casing. The lorry immediately in front had evidently overfilled it's tank and deposited an enormous trail of diesel all round the corner. So here we all were, luckily completely unhurt, but 500 miles from home in the pitch dark, with a car that was completely kaput. An extremely helpful Peter Rutt (another GTA Challenge entrant) came out with Simon Whiting of Gran Turismo Engineering, who was our guest driver for the race, and brought us back to the hotel.
The next day a Belgium customer, William Mairesse, son of the legendary Ferrari Formula 1 and sports car driver of the sixties, Willy Mairesse, kindly arranged for the car to be retrieved by the local garage.
We have always prided ourselves on racing our road car. Now it was time to prove it! The 155 would have to go home on the trailer not the GTA replica!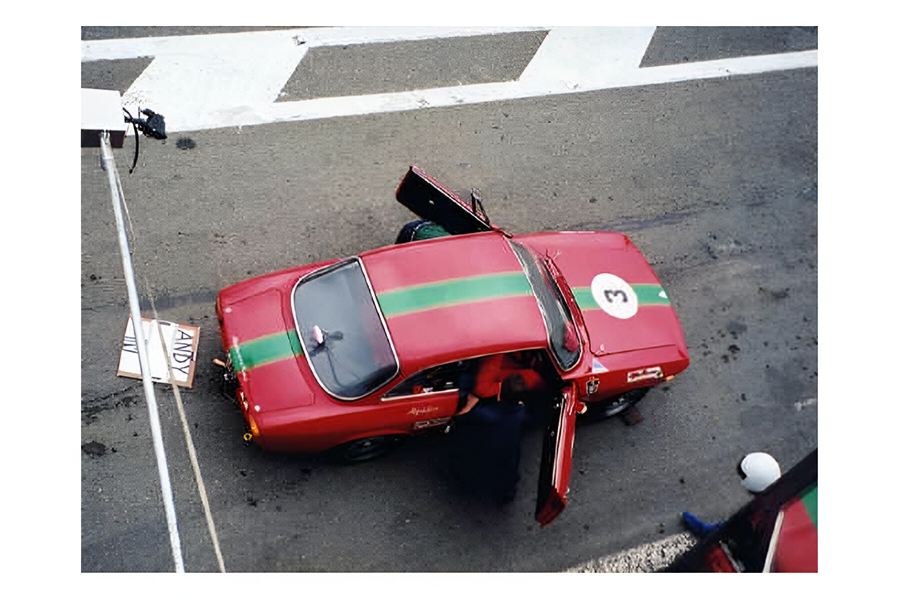 Driver change – Simon Whiting is strapped in for his half-hour
Practice on Friday morning was a mere half hour, representing 4 laps each for Andrew, who had never seen the circuit before, and guest driver Simon, who had never driven the car before, nor driven at Spa for 4 years! Nevertheless, it netted them 12th overall which they improved to 11th in the race and 3rd in the GTA Challenge section. A decent result and importantly NTB (our GTA replica) was in good health for the non-stop overnight run back to Devon.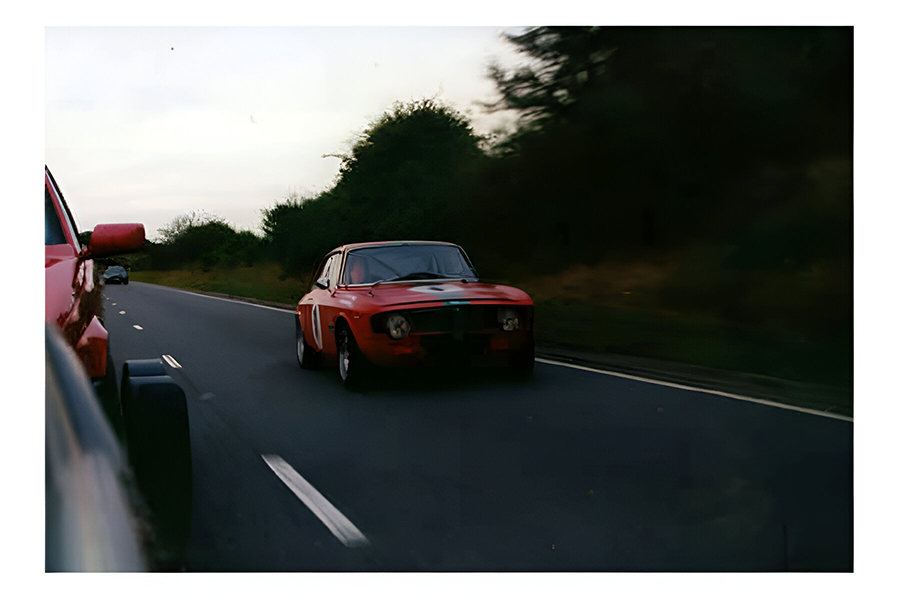 NTB following faithfully. Q4 on the trailer
Not the most relaxing of weekends, but ultimately a satisfying one. Two and a half hours of hammering round Spa and 495 miles on the road, all in a weekend's work for an Alfaholics GTA replica. Mission completed!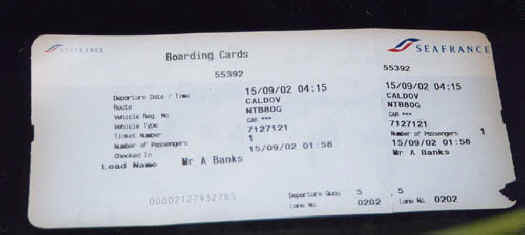 4am ferry sailing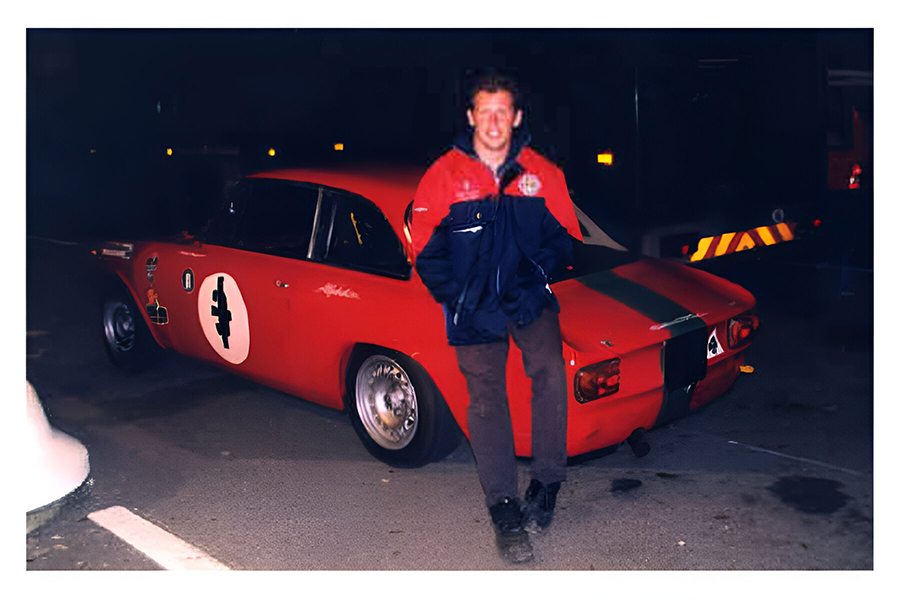 Safe arrival! Andrew & NTB at Calais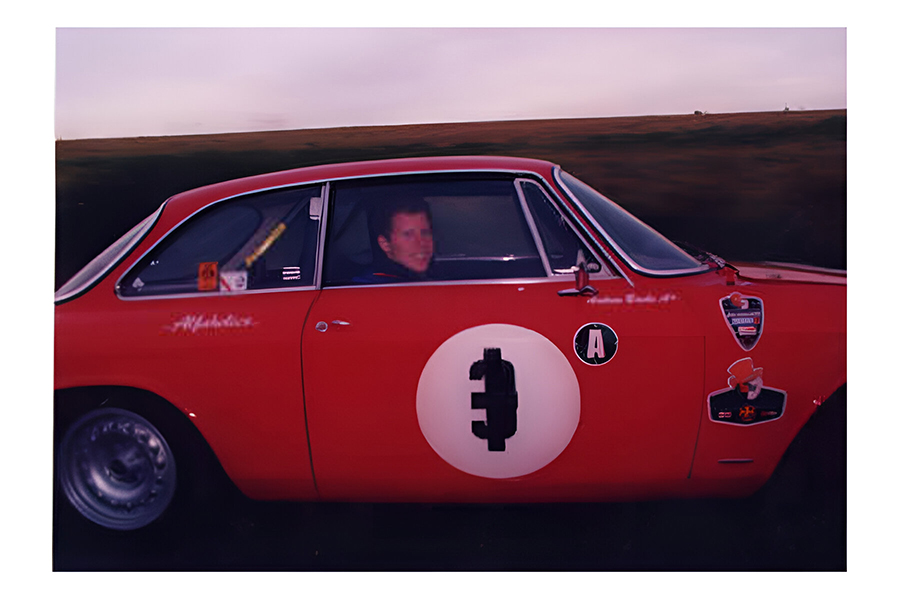 Andrew still happy, despite racing the day before and being up all night