Alfaholics Win U2TC Outright @ Donington Historic Festival 2016
After a fierce battle at our season opener at Goodwood, next stop was the highly acclaimed Donington Historic Festival which is always a fun event. Having finished on the podium 4 years in a row and having won the race outright for the past 2 years, there was much expectation for us to complete the hat trick! However we were under no illusions that this would be a tough feat as U2TC maintains its reputation as the most competitive historic touring car series in Europe. This year, ex BTCC champion Steve Soper joins the series in his super` quick Team Dynamics prepared Lotus Cortina.
With the cars lined up in the assembly area and blue skies over head, qualifying appeared to be a straight-forward shoot out for pole position between the top 4 or 5 cars. However, 3 minutes before the cars were due out on track, the heavens opened and we were subjected to a mix of snow, hale and rain. It was a cold day, but no one anticipated that! With no time to change settings, the cars were waved out on to the water-logged track. At the end of the opening lap, Andrew came drifting out of the chicane without another car in sight; his provisional pole time was 3 seconds faster than any other car – the Alfa was flying! Lap after lap Andrew chipped away at his time, until he pitted while still holding a slim pole advantage. We made some setting changes to better suit the wet conditions and sent him back out to go faster. A quick driver change near the end of the session and Max was out on a drying track but our softer wet set-up was no longer doing us a favour. In the last 2 laps, we tumbled down the order to 7th as cars were finding traction on a drying track that the softer Alfa could not. At this point, the likelihood of a win in the race seemed a very distant prospect!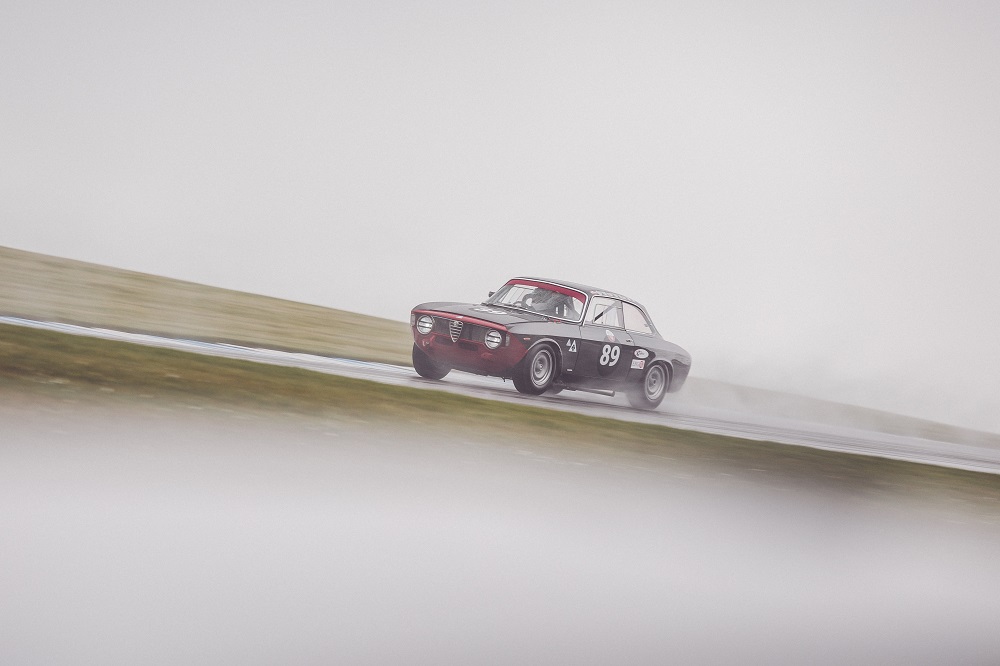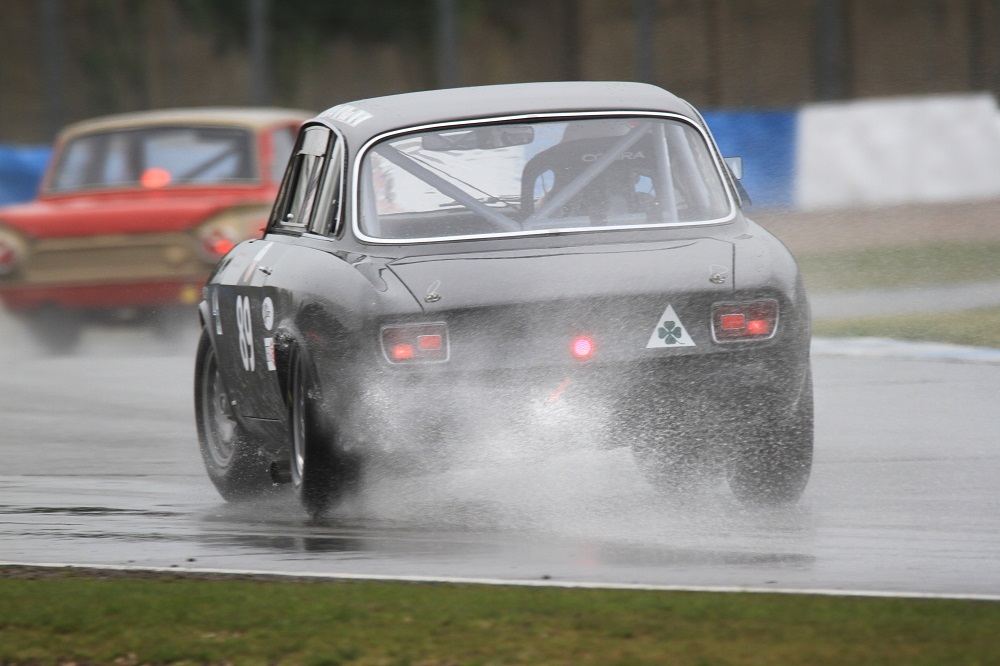 Race day dawned and the weather was just as changeable, raining and then drying out all morning. Starting in 7th, we knew flat-out was our only option to bring ourselves into contention. Andrew got a cracking start and after 5 laps and some robust overtaking manoeuvres on the Cortinas in front, the Alfaholics GTA was in the lead! By setting some superb lap times, Andrew stretched his lead out to 15 seconds by half distance and an efficient driver change allowed Max to re-join the race with a healthy advantage, which we held to the chequered flag. So we managed to achieve that hat trick after all!