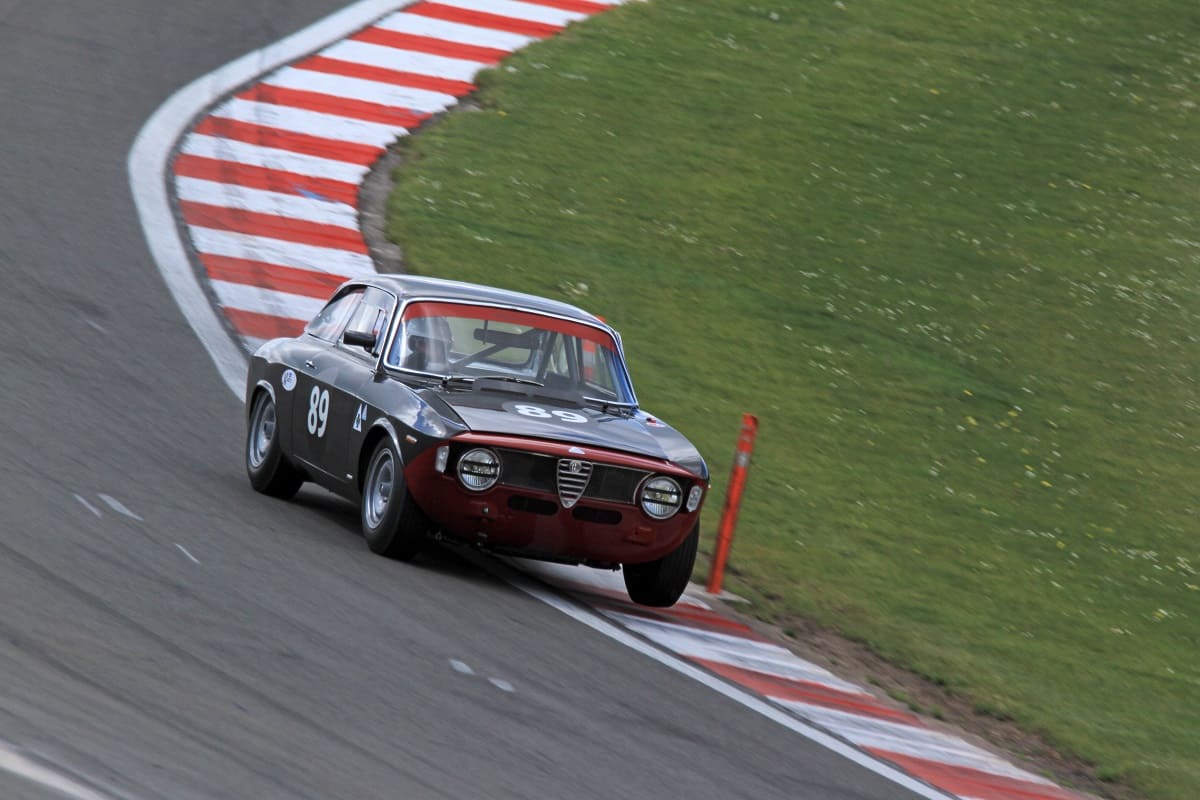 5 victories for Alfaholics in the past 6 years at the Donington Historic Festival!
Grid numbers might have been down for Donington this year, but the competition was no less fierce with British Touring Car champion Andrew Jordan trying his hand in the series driving a JRT prepared Cortina, alongside the sister car of Ambrogio Perfetti and another serious Cortina contender driven by British GT driver Shaun Balfe.
Heavy rain overnight meant that qualifying would play out on a drying track, but the weather was still looking unpredictable and there was a very real likelihood of further rain falling during the session. It would be important to get out the traps quickly and set a benchmark time, in case the weather turned. Andrew went out first in our GTA and, in typical fashion, his first timed lap was already looking extremely competitive – 5 seconds faster than anyone else and quickly followed by a succession of laps that improved that time by a tenth or two. But the Cortinas were coming – slowly improving and getting closer. A red flag interrupted the session and JRT used the opportunity to relay hot-shoe Andrew Jordan into the driver's seat of their Cortina and he made it to the front of the queue in the pitlane. As the track continued to dry he just pipped Andrew's previous time, only for Andrew to get back on top as he crossed the line a few seconds later. This tit for tat went on for several laps until Andrew pitted to change driver to Max. On our in-lap, Jordan again went fastest and as we headed back out the rain started falling again. Max circulated as the fastest car on track, but alas times were slower as track conditions continued to deteriorate, so we ended the session P2. It was a bit frustrating not to claim pole, but the front row of the grid would be a great basis for the race.
As the lights went out, Andrew got an excellent start on the outside of row 1 and challenged for the lead taking the outside line through Redgate and Hollywood, alongside the pole position Cortina. They were side by side as the cars headed down the Craner Curves which gave Andrew the inside line into the left hander and allowed him to make the move stick for the lead. He immediately set about pulling out a gap that could not be challenged. The chasing Cortinas soon became embroiled in a 60 minute long battle, which further helped us to extend our advantage. By the driver change we had a 20 second lead and by the end of the race we had stretched that out to nearly 40 seconds, with Andrew Jordan being the next Cortina on the horizon to be lapped! It was a bit of a lonely race at the front but the dominance we were able to show with the GTA took even us by surprise.