Alfaholics Win U2TC Championship 2017!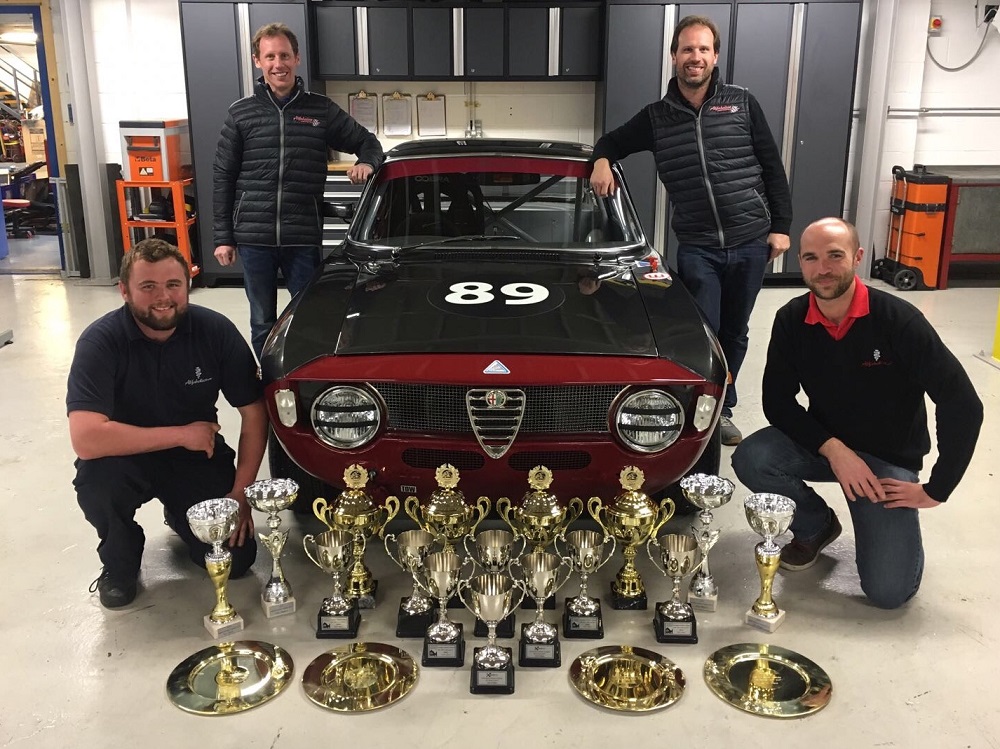 We are proud to announce that we have won the U2TC Championship for FIA specification pre-1966 Touring Cars!
For the last race of the season, we embarked on the long drive to Portugal to the wonderful Autodromo Internacional do Algarve, near Portimao. Having won all 4 of the U2TC races we had entered this year, just a 3rd overall from this double-header would be enough to wrap up the championship. As ever, we anticipated quite a battle with the Lotus Cortinas in the glorious Portuguese sunshine.
The weekend kicked off well with a solid pole position in qualifying, ahead of Steve Soper in his Cortina. Our strategy was to capitalise as much as possible on our pole position by trying to stretch a lead in race 1 and then be able to take a more calculated approach to race 2 to ensure we could safely secure the championship. However, things don't always go as planned so we would just have to see how each race would unfold.
Race one was somewhat chaotic. Andrew and Steve both got a great start and maintained position as they began to pull away from the rest of the field. Then, after just 2 laps, the Safety Car was deployed. No sooner had it returned to the pits and the race restarted, it had to come back out again for another incident! The race was still running under Safety Car as the pit window opened, so Andrew led the field into the pit lane as everyone scrambled to find their own space for the driver change. Having been blocked in during our stop, Max managed to get away at the same time as Steve and both cars continued down the pit lane side by side! At the pit exit, Max just had his nose ahead so managed to retain the lead while still under Safety Car. At the restart, it was racing again and as close as ever with Steve tucked in tight to the boot of the GTA. On one lap, he managed to pass down the pit straight on the approach to turn 1, only for Max to get back past into turn 2. At the chequered flag, Max crossed the line just 0.1 seconds in front to take the win. Part of the plan had worked but there wasn't much of a lead to take into race 2!
The second race on the following day was thankfully incident free. Andrew started from pole and led into the first lap but Steve showed tremendous pace as he reaped the rewards from tweaking the car all weekend. He managed to get past Andrew and was flying. With Steve out of touch, Andrew elected to consolidate 2nd place. After the pit stop, Max had a lonely stint but most importantly brought the car home in a strong 2nd place to clinch the title. What a fantastic season!