Alfaholics Victorious @ Mallory Park
Top Hat End of Season Finals was set for the ultimate showdown at Mallory Park on 10th of October. All the Big Guns were entered to claim the final race win of the year, the Miles Townsend Memorial Trophy. It would be our first meeting since Castle Combe in April with Leo Voyazides' infamous Mustang, with whom we battled last year, as well as Graeme Dodd in his recently acquired HRSR 2.0 Alfa Sprint GT that he would share with James, his son. Jackie Oliver had swapped machinery from Mustang to BMW, sharing Richard Shaw's immaculate blue 2.1 machine. Stormin' Norman Grimshaw was also entered in his mental Mini which, from record can never be counted out of the fight for overall victory! With 30 cars entered, it was to be another very busy circuit due to its short length of 1.35 miles, with lapping traffic likely to play an important role.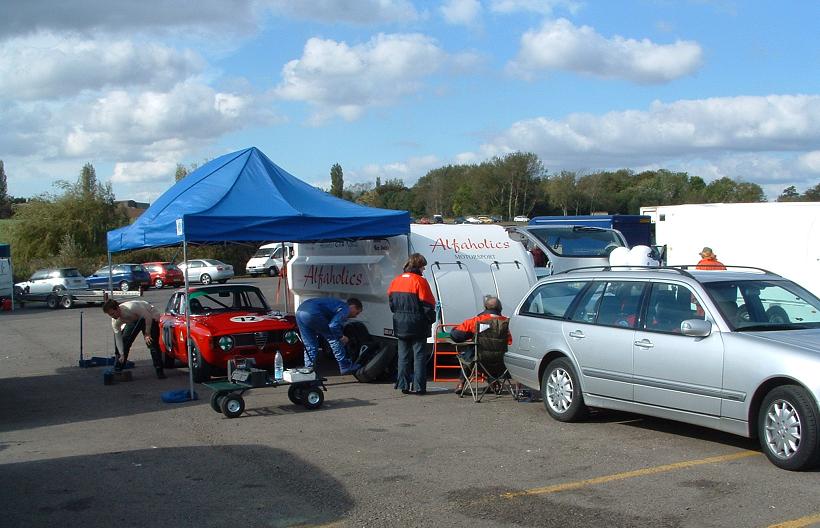 Doubts about the weather were soon dispersed as the clouds cleared just in time for the 25 minute Top Hat qualifying at 9.30 am. Andrew went out first in the Alfaholics GTA Replica, slowly managing to drop the following competitors, but it was immediately clear that we would not enjoy the raw pace advantage we had shown at other circuits in the year! Traffic was causing problems in finding a clear lap but finally Andrew put a string of laps together, moving from low 56 secs, into the mid 55's As the time passed 15 minutes, I donned my balaclava, helmet and gloves and tuned out from the excitement and into my job in hand! Andrew came past the pits for one last time headlights ablaze (to move traffic out of the way!) and pointed towards the pit. My turn! A brisk driver change and 23 secs later I was pedal to metal down to the first corner, Gerards, a long fast 180 degree right hander with entry speed of near 100 mph! I would only get a handful of laps before the chequered flag and there were several stranded cars littered round the track, making yellow flags a problem. Nevertheless, I felt happy. I had learnt the circuit, having not got to race the previous year; comfortably dropping down through the 56's as the flag was put out,
At 11 am Andrew and Diana disappeared off to the Control Tower to pick up the time sheets, and reappeared 5 minutes later with big grins. Obviously we had done the job! Yes, we were on pole! Not by much but any advantage is enough for pole, 0.084 to be precise. But we were all surprised by what car would share the front row with the Alfaholics GTA Replica… can you guess? It was Stormin' Norman in his Mini! Then the gaps opened up with Jackie Oliver 3rd in the BMW, 0.3 secs behind and sharing the second row with Voyazides' Mustang, 0.7 secs off pole. The Dodds had managed 6th on the grid, 0.97 secs off the pace, but the car looked fast so they were not to be counted out of the fight. It was going to be one hell of a race!
Andrew pushes on through Devil's Elbow in qualifying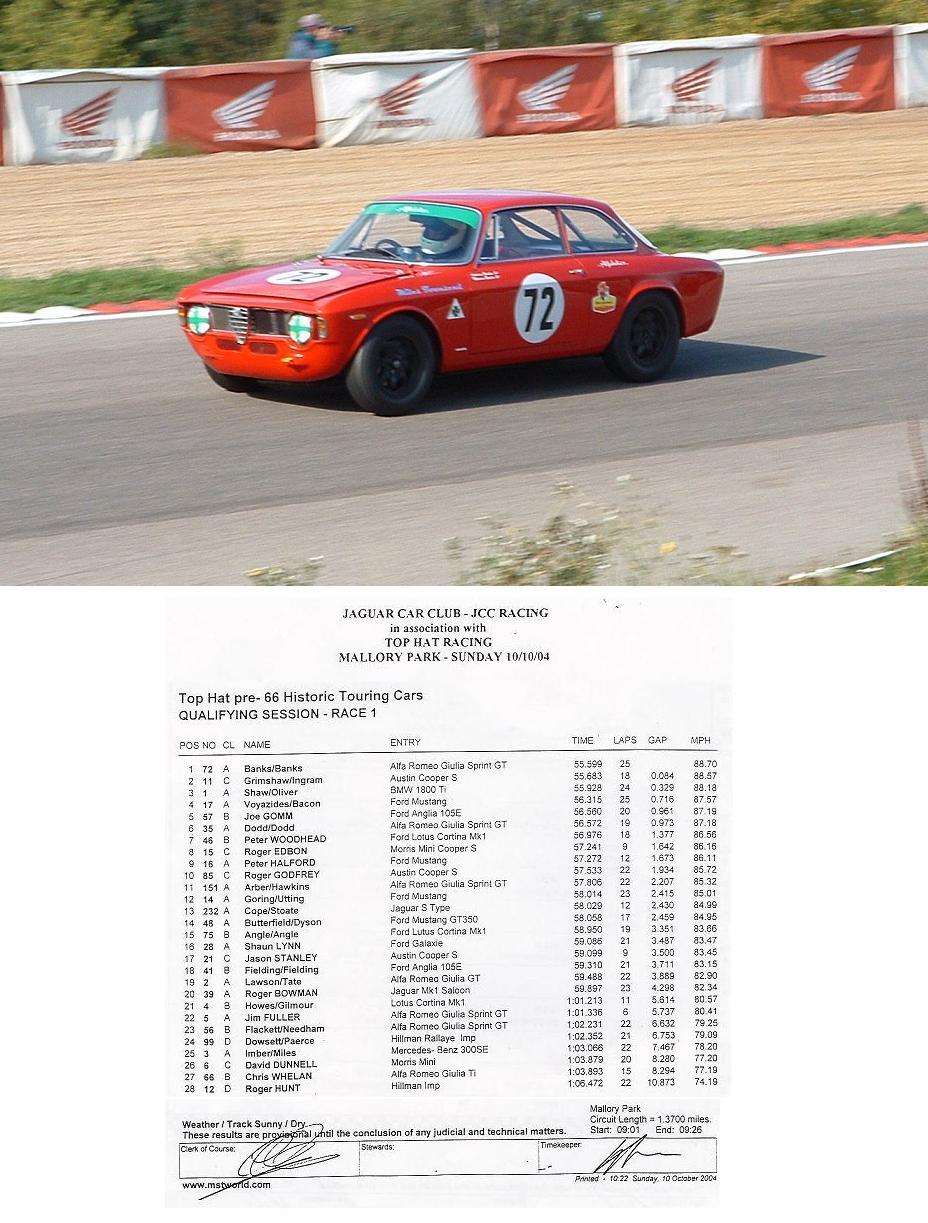 A quick check of the car was completed over lunch, whilst chatting to several Alfaholics customers who had come to watch, thrilled to see us right at the sharp end! It was particulary nice to meet Philip Simmie and his wife from Toowoomba, Queensland, Australia. Philip races and rallies a Sprint GT back home.
Andrew was to start the race and it was quickly established that Jackie Oliver and Norman Grimshaw were also starting. However, Graeme Dodd was doing the second leg, as was Andy Bacon the quicker driver in the Voyazides Mustang. My leg of the race was set to be as tough as the first, with some seriously experienced racers saving themselves till the end!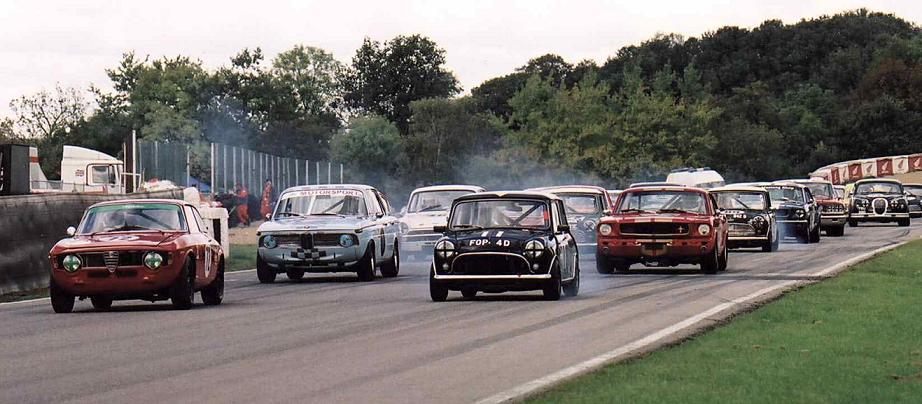 Andrew made his usual dream start leaving the Mini for dead as he headed towards Gerards. Another fantastic start was made by James Dodd from the third row, and it was the two Alfas that led into the first corner followed by Grimshaw, Oliver and Voyazides. A minute later Andrew came sliding through Devil's Elbow with Dodd securely fastened to his bootlid; likewise the Mini was bonded to James' boot and the trio looked like they meant serious business, hungry for their first outright Top Hat win of the season! Lap after lap passed with Andrew drifting on three wheels though the last corner, the following pair as close as ever with Jackie Oliver slowly reeling them all in! As they disappeared out of sight round Gerards every lap, all the leading pit crews and 2nd drivers would charge to the other end of the pit to catch a glimpse of the progress their car had made, but it was Andrew who looked unshakeable, leading lap after lap.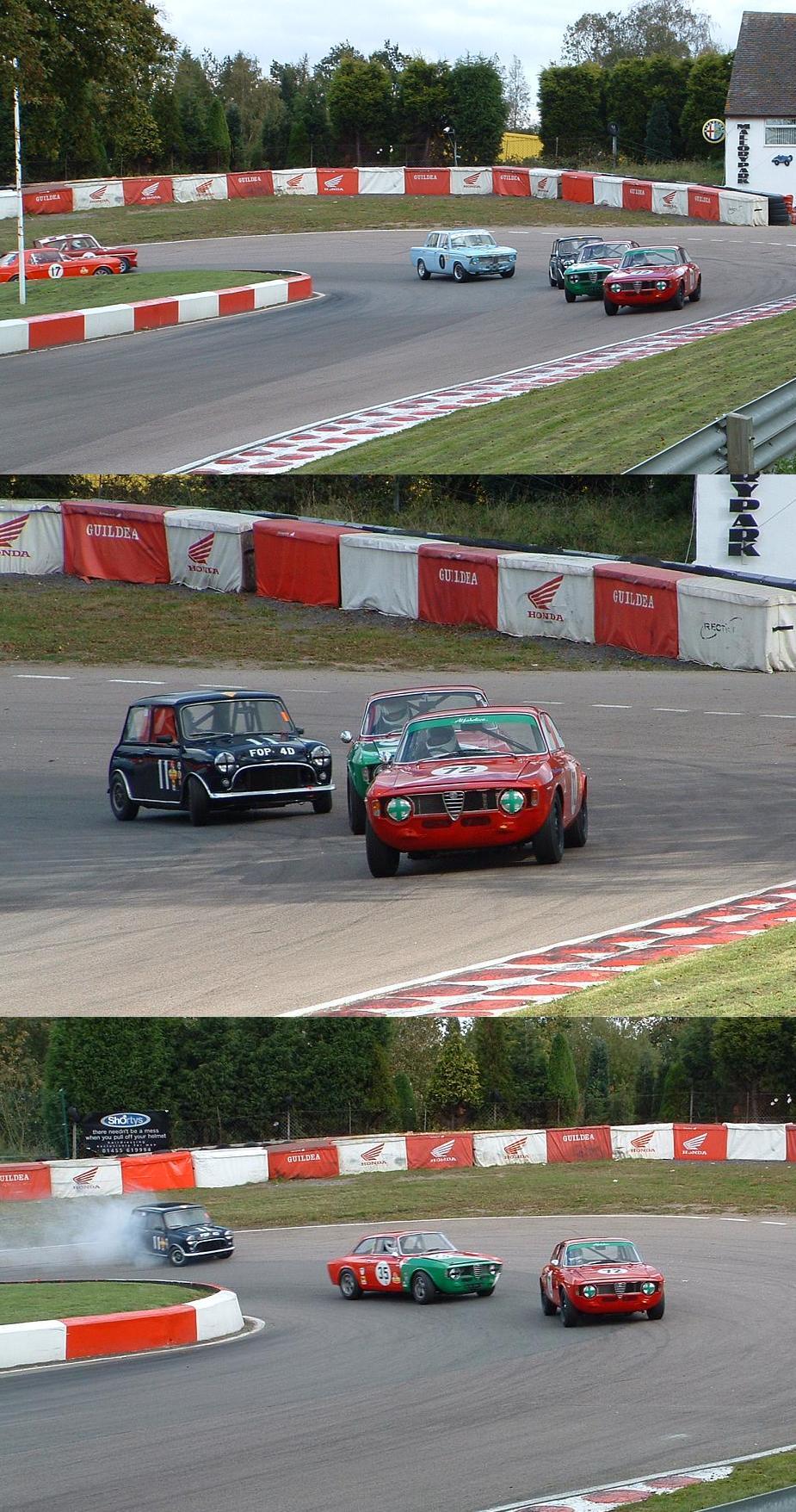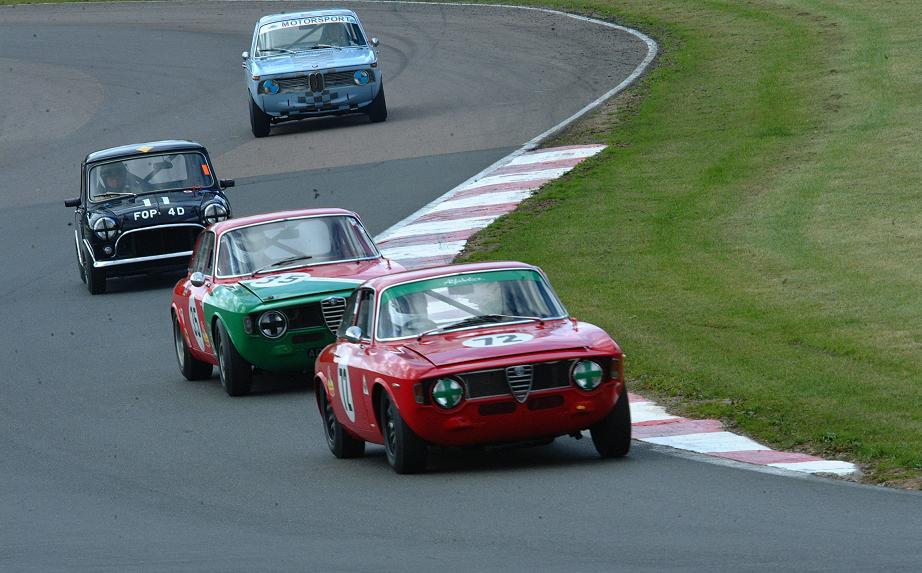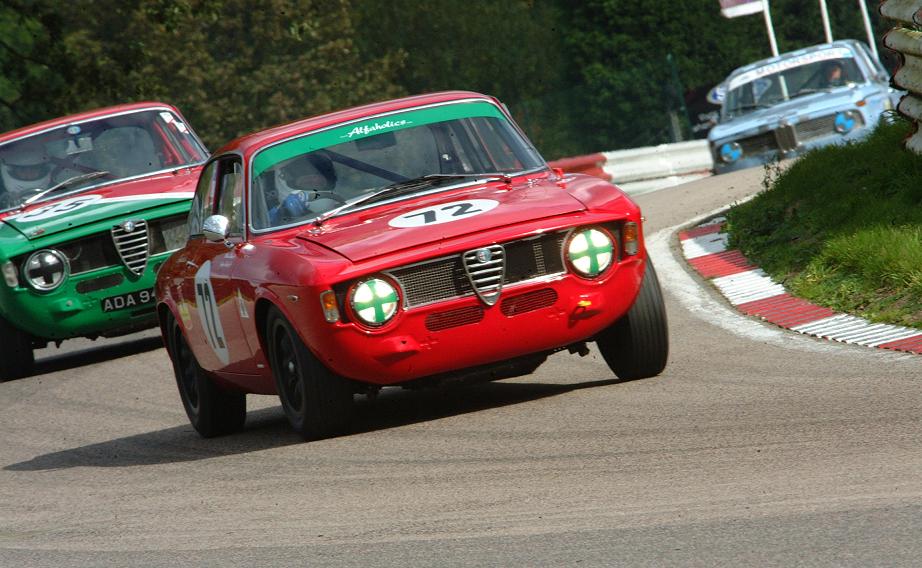 Graeme Dodd was looking more and more nervous each lap and kept on putting on his poker face and grinning at me as the cars passed. If only he knew how I was feeling as my insides were turning themselves inside out!!! Graeme Dodd has got to be one of the last people you want just behind you in seemingly evenly matched cars! Then two laps in succession the Mini and the BMW dropped out. It was down to a two horse race.
Then there were two!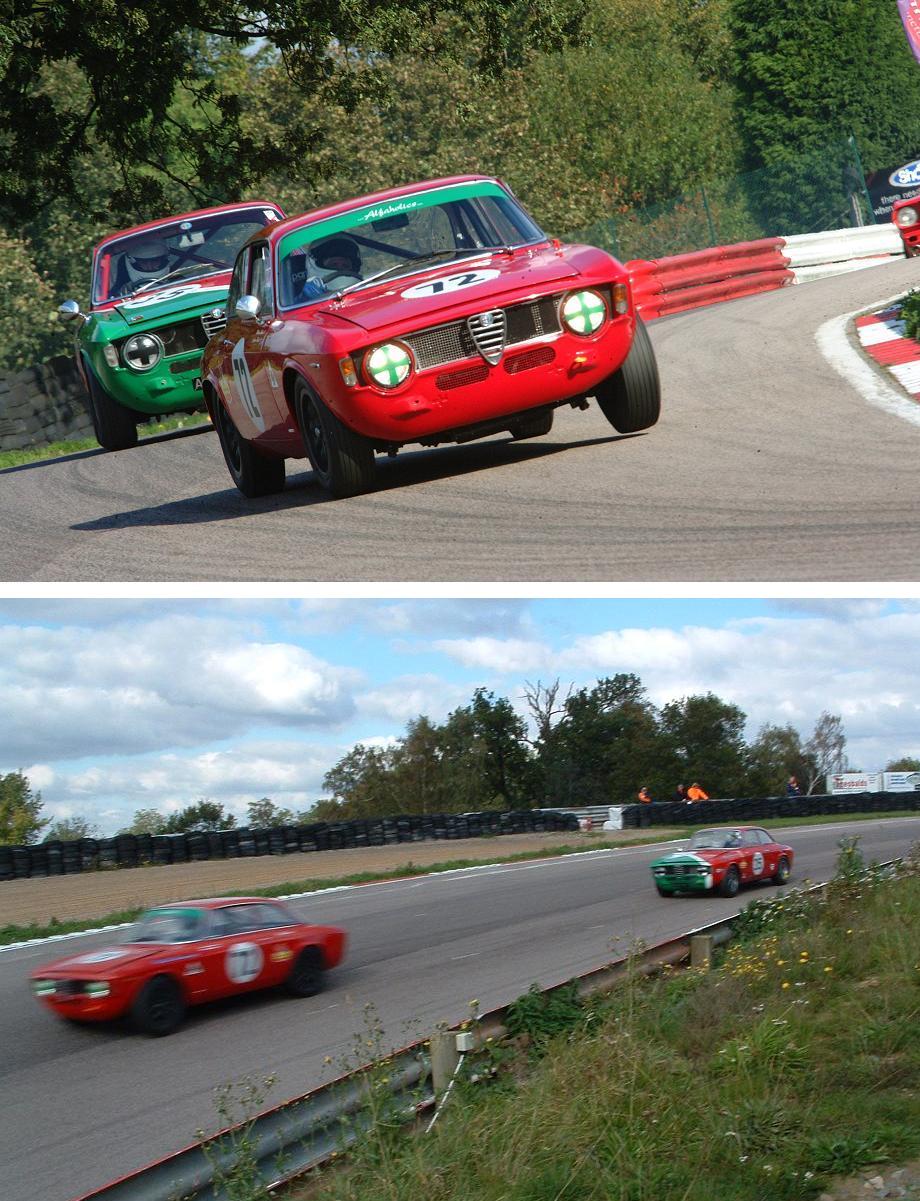 Voyazides pitted right at the start of the 15 minute driver change window to hand over to Bacon. Maybe he could apply some pressure, American muscle style, to the Alfas who were running way with the show. Bacon exited the pits right behind the Alfas, one lap down, so we would soon see if he could keep with them, but within a few laps, he dropped back, so it became apparent that it was to be a Latin victory!
Then 20 minutes into the race Andrew came past the pits, but without Dodd. We all craned our necks up the pit straight to see when he would come past. Had he made a mistake and dropped back? He was soon confirmed as a retirement, and the once close 4 car race for the lead had been quickly whittled down to one! All my butterflies disappeared as I realized the pressure was off me as far as Graeme Dodd was concerned, but it actually came as a bit of an anti-climax as I was really pumped up for the battle! Andrew came in to swap over and our pit stop was slick, 17 secs stationary, our best all year!
Max and Richard get ready for the pit stop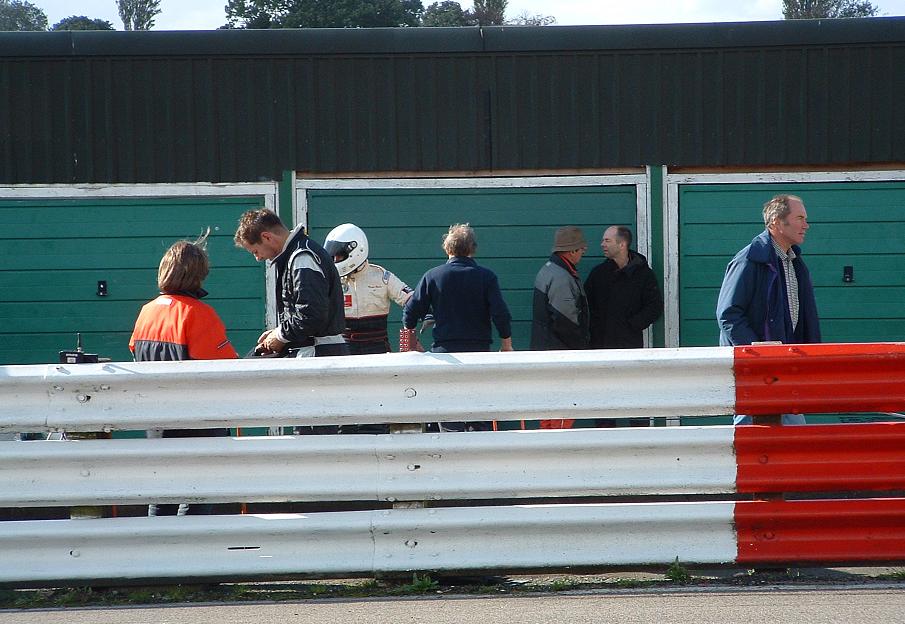 As I left the pit and turned in to Gerards I could instantly tell Andrew had been trying really hard to fend off Dodd in that epic battle. The tyres were worse than I have ever experienced, having the consistency of poorly set jelly! As the laps ticked by I was shown a board of 40 secs, surely that couldn't be my lead? As I pushed on the next lap, my board read 41 secs. Ok that was my lead then, no need to keep pushing the car as hard as those jelly tyres would allow, time to conserve the car and drive train a little. To finish first, first you have to finish! As the timer rolled on towards 40 minutes I wondered if I would have preferred a bit of a fight to the line, my heart saying yes, my head strongly disagreeing. Bugger the fight! I was going to win the race, my first ever outright win, I have plenty of years of racing battles in me! The rest of the race passed uneventfully as I slowed down considerably on the last two laps, then the chequered flag; what a feeling! All the hard work had finally been paid back ten fold. As I completed my victory lap the crowds were on their feet applauding, of course I soaked it up, but knew the majority was for Andrews' efforts early on! I gave them something back with some big power slides, laying thick black lines in my wake: I was one happy bunny!
Max finishes the job off for the Alfaholics Team!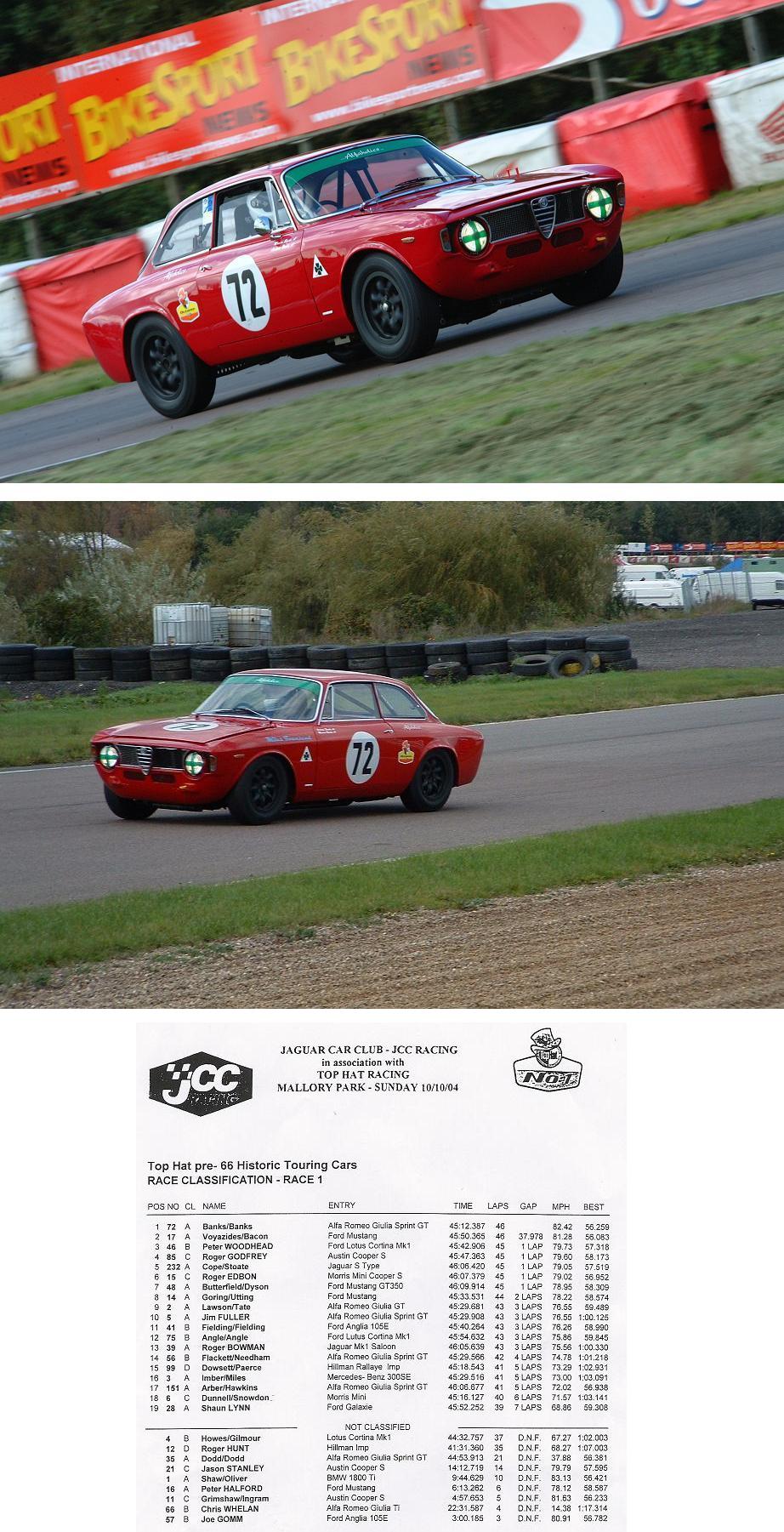 Returning to the pits, it had not really sunk in: something that would only really happen at the end of the day when Andrew and I went up to receive the fantastic trophy and garland!
Andrew on left, Max on right – Cheesy grins all round!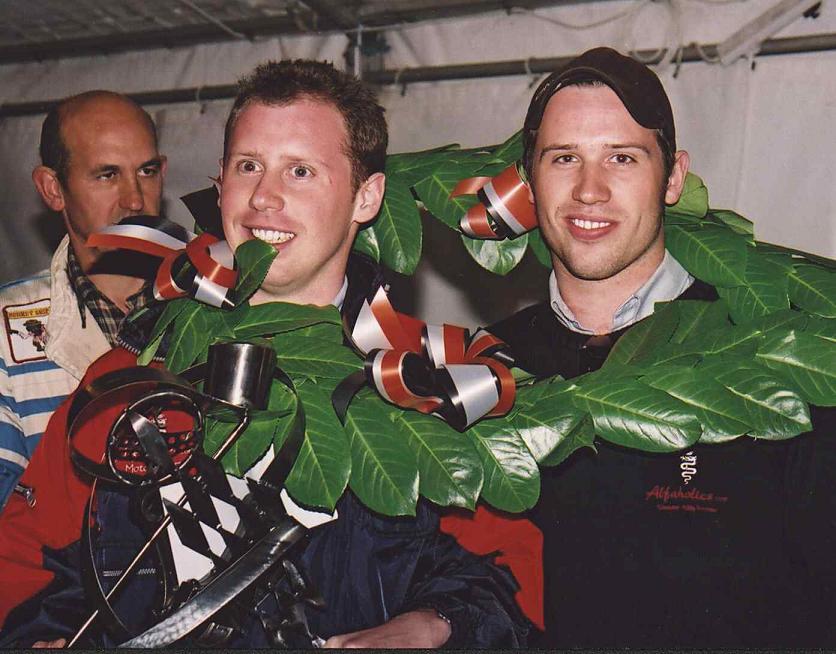 So to conclude the season, lots of ups and downs for the Alfaholics team! The highlights being pole at each race entered with the Alfaholics GTA leading every race from the start with 1 class win and 1 outright win from 4 Top Hat endurance races entered. However, we will not rest on our late season laurels. The car must be stripped back down to a shell and weight lost where we can, most notably from the front suspension. This will also give me an opportunity to CAD draw the watts link set up and 2 1/4″ front spring kit, which in the rush at the beginning of the season when fabricating was never done. This will allow us to offer all our race winning mods to our customers! Watch out for these parts on the 'Racing Parts' section.
Photos by Ian Wilson of AutoGraph & Steve Kingett