Alfaholics Victorious at Donington Historic Festival 2015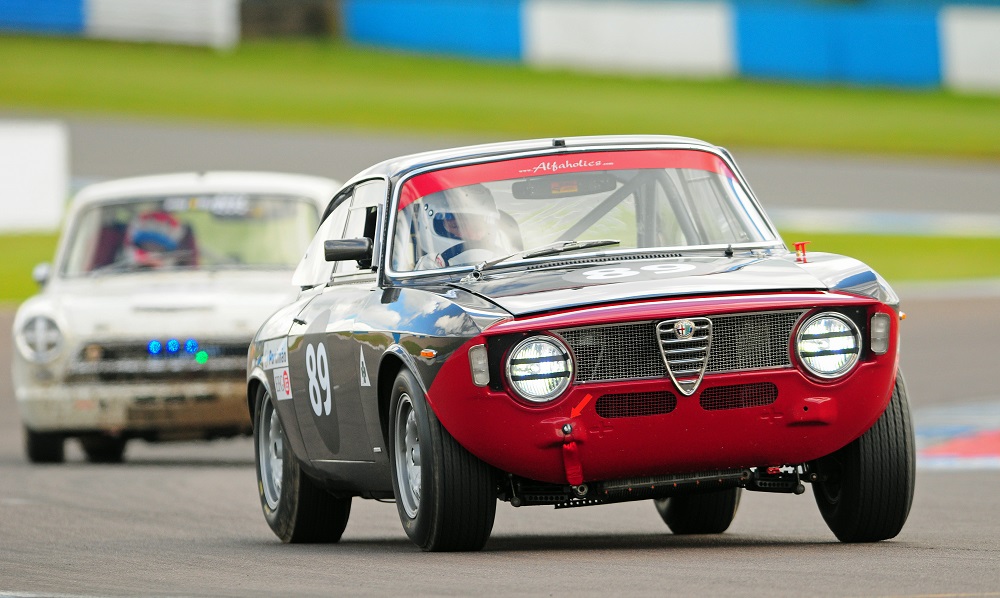 The cream of the U2TC grid assembled for the 2015 season opener at Donington, with all the fastest FIA cars present. Having won the race in 2014, all eyes were on Alfaholics to see how we would fare this year. Qualifying was due to be a tricky session, as it had rained overnight and showery conditions in the morning were preventing the track from drying fully. As the cars came round to start their first flying lap, Andrew was visibly the fastest car, setting provisional pole on his first flying lap. Andrew chipped away at his pole time, improving his time by around 0.05 seconds lap by lap and retaining pole position. However, it was very close between the top 3 cars, so it could go either way. On the very last lap, we were shuffled back to 3rd behind works Audi R8LM driver Frank Stippler in another GTA and ex-F1 star Jackie Oliver in the BMW 1800 TiSa.
Race day was sunny and the overnight rain had cleared in time for our race. Andrew got a cracking start from the inside of row 2, but found himself boxed in behind Frank Stippler and alongside the BMW with nowhere to go. At the end of the first lap, we were still third but catching the BMW and by the end of lap 3, Andrew had Jackie lined up nicely down the main straight for a move into Redgate. By the time we were past the BMW, Frank had pulled out a comfortable lead that proved too tough to close. Our driver change at half distance was an efficient 16 seconds stationary and once all the pit stops had been made, we had managed to close the gap slightly. However, within 2 laps of pitting, the lead GTA retired which handed Max a comfortable 20 second lead over the chasing BMW to give us another hard earned victory in this ultra-competitive series.