Alfaholics Victorious at the Donington Historic Festival 2014!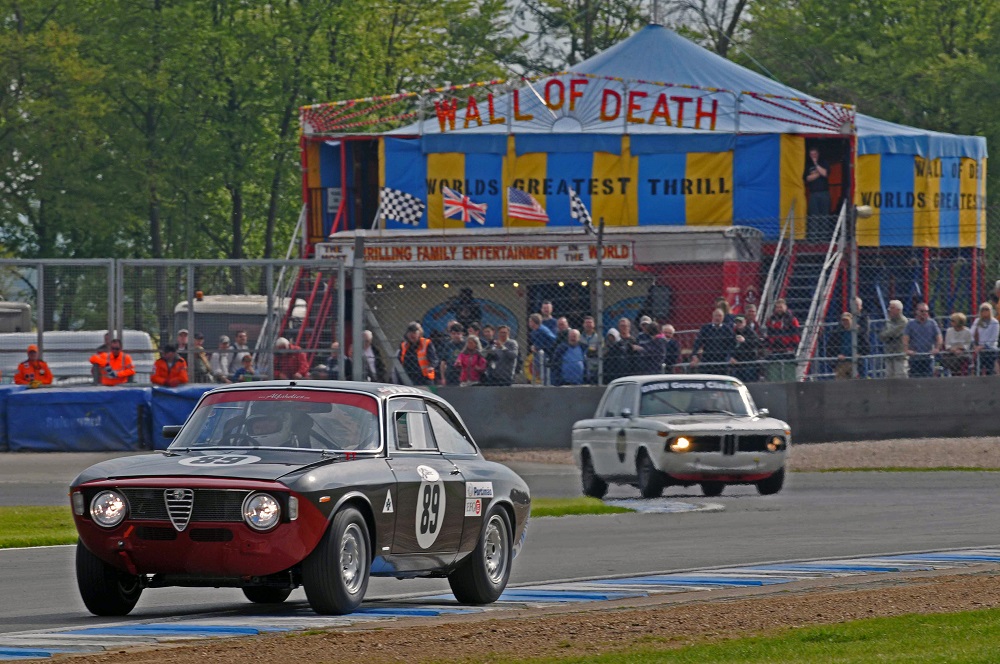 We are very proud to report that we took outright victory in the U2TC race at the Donington Historic Festival! U2TC is widely regarded as Europe's toughest and most competitive series for pre-1966 touring cars, so it was a wonderful result to beat all the Lotus Cortinas and BMW 1800s!
Qualifying was always going to be closely fought and Andrew managed to set a superb time early in the session to put our GTA on provisional pole. We hung on to pole position for most of the session, before being shuffled back to 3rd in the dying minutes. The time sheets later showed how close the session had been – only a second covering the top 9 cars on the grid! It was set up for a fantastic race!
We chose to follow our usual format with Andrew starting and then handing over to Max at 30 minutes to complete the 1 hour race. Andrew was lined up 3rd on the grid, behind the pole sitting BMW TiSA which was being started by ex-F1 driver and CanAm champion Jackie Oliver. The next 10 grid slots were all held by Lotus Cortinas!
Andrew got a great start and was tucked up behind Jackie on the run down to Redgate, managing to take the inside line, and slipped into second place as the pack headed down the Craner Curves. Over the first few laps, the leading 4 cars were all nose to tail, Jackie leading in the BMW, Andrew second in our GTA, closely followed by a pair of Cortinas, all battling hard for position. On the 5th lap, Andrew got a good run out of the Old Hairpin and managed to dive up the inside of the BMW into McLeans to take the lead. In clear air, he managed to capitalise and stretching his lead to 6 seconds by the time the BMW pitted for the driver change. The BMW was stationary for a mere 15 seconds before it way on its way in the hands of Richard Shaw. On the following lap, Andrew came in to hand over to Max and, as the GTA accelerated out of the pitlane, the gap was back down to 2 seconds. With a handful of quick laps and ensuring lapped traffic did not compromise lap times too badly, Max built the lead back up to 4 seconds and monitored the gap to take the chequered flag with a winning margin of 6 seconds! In taking the victory, we also set a new lap record for U2TC at Donington by 0.5 seconds. A thrilling result to start our 2014 season!