ALFAHOLICS RACING YEAR 2003
After a very successful year in 2002 when Andrew Banks contested the GTA Challenge in our 2 litre 75 Twin/Spark powered GTA Replica, this year's objective was to contest enough English Club races to enable younger son Maxim to obtain his 'A' licence in time for the 'Banks Brothers' to contest the one hour, two driver Top Hat race together at Spa Francorchamps in September.
In order to do this, we needed to rejig the car with 1600cc single plug engine, shorten the gearing and put the car on a serious diet!
Maxim made his racing debut on Easter Monday at Castle Combe, covering himself in glory by finishing 7th overall and first in class against the more modern Alfas contesting the Alfa Romeo Championship Association Series. (ARCA)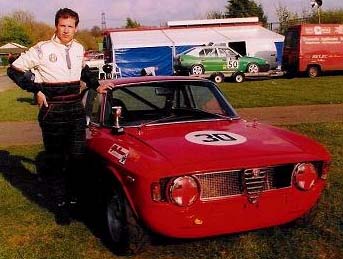 Two good 3rd places at Snetterton followed before the car was unceremoniously smashed up the back by a Mk2 Jaguar whilst stationary at the side of the track during the Superprix meeting at Brands Hatch. The damage was so serious that it took over two months to repair and our dream of Spa was over.
Maxim was kindly lent a 2 litre Sprint GT which we hastily re-engineered for Donington Park in August. Result 6th overall and an excellent class win. This car became part of Alfaholics Motorsport when long time client Simon Arber (2000 GTV) decided he'd like to start racing a classic Alfa and would we look after it for him!
Simon's race debut came at Mallory Park in October. Sharing the car with Andrew Banks in the one hour 2 driver Top Hat Touring Car Race, they finished 4th overall behind 3 Mustangs, with Andrew setting a new lap record.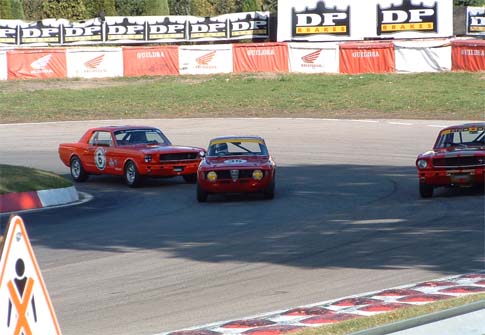 Andrew contesting the lead – Mustangs everywhere and no one else in sight!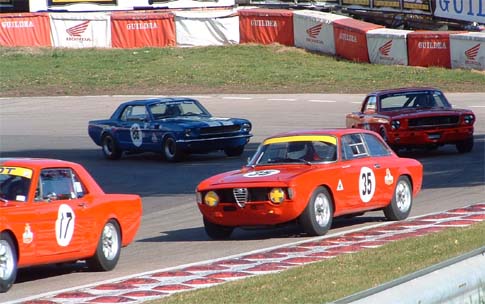 An hour later Simon was out again in the GTA Challenge race, starting from 6th position but winding up a sensational 2nd after a great scrap with Jonathan Griffin's 2 litre Giulia Super.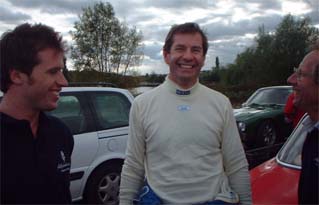 Maxim, Simon and Richard obviously happy with the race result!
A month later, Simon shared his car with Maxim at a rain drenched 45 minute 2 driver race at Brands Hatch. 3rd in class was a sensible result against more modern opposition in quite atrocious conditions.
Richard Banks
ALFAHOLICS MOTORSPORT 2004
Alfaholics Motorsport, under the expert guidance of Bob Dove, will be running two Sprint GTs in 2004 Top Hat Series races.
Andrew Banks and Simon Arber will contest the 2 driver one hour Top Hat races, whilst Maxim Banks will contest the GTA Challenge Series.
RESULTS OBTAINED BY ALFAHOLICS' CUSTOMERS
We would like to be kept up to date on the competition activities of our many customers around the world who use our suspension packs, wheels, exhaust systems etc., for many different types of sporting events.
We hope to make this a feature of our 2004 Motorsport News.