Alfaholics Podium Finish in Masters Pre-66 Race @ Spa-Francorchamps 2016!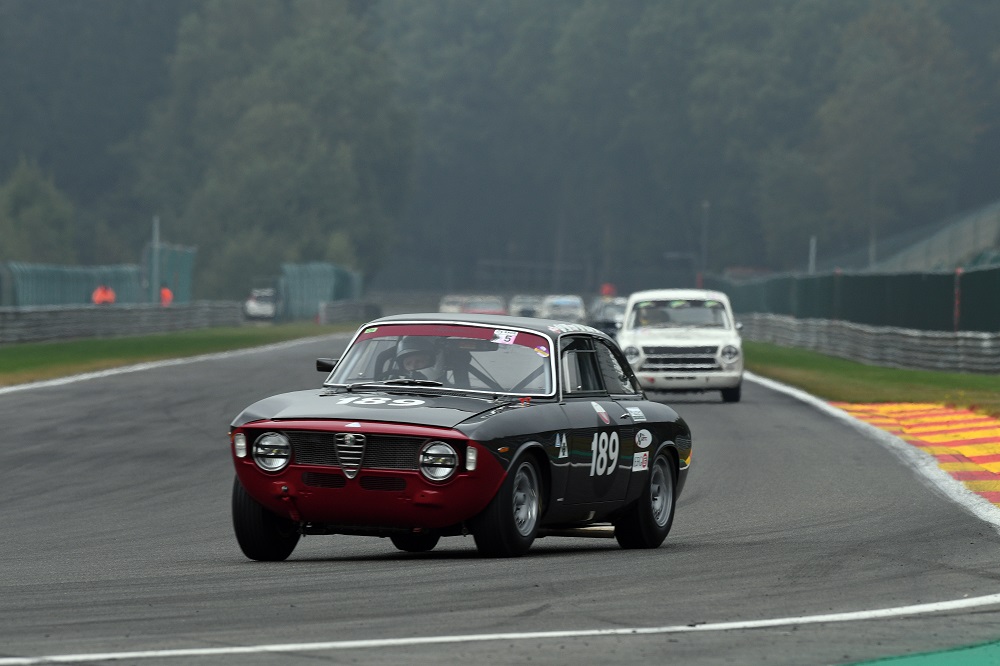 For our last race of the season we headed to Spa-Francorchamps, deep in the Belgian Ardennes forest. This time we chose to run with Masters, which would put our GTA wheel to wheel with the big American V8s, namely the Ford Mustangs and Falcons, as well as the usual array of Cortinas. Qualifying proved to be a very tight battle, as we traded fractions of a second with Furiani's GTA and Wolfe's Cortina. In the end, the V8s prevailed on this fast track while the quickest 4 cylinder cars lined up 4th, 5th and 6th on the grid, separated by just 0.2 secs.
We knew the race would be tough with the V8s able to stretch their legs on the straights but then hold us up in the corners; however some light drizzle just before the race was certainly going to add to the fun! Off the line a couple of V8s blasted by and Andrew set off in close pursuit of Furiani's GTA, as we both stretched away from the Cortinas. After 4 laps, some more light rain appeared and Andrew's overtaking spree began, first a couple of Mustangs and then Furiani's GTA. This raised us to 3rd overall behind two Mustangs, as the pit stops began. We executed an excellent driver change, before Furiani pitted a lap later. As Max rounded La Source, Furiani was just exiting the pits in front and the cars headed down to Eau Rouge nose to tail. A close battle ensued, but was sadly disrupted by an extended Safety Car period before battle recommenced for the final 3 laps. At the chequered flag, we were separated by 2 seconds and the GTAs were the first 4 cylinder cars home in 3rd and 4th place – a great result overall!