Alfaholics 1600 GTA Races at Goodwood Members Meeting 2016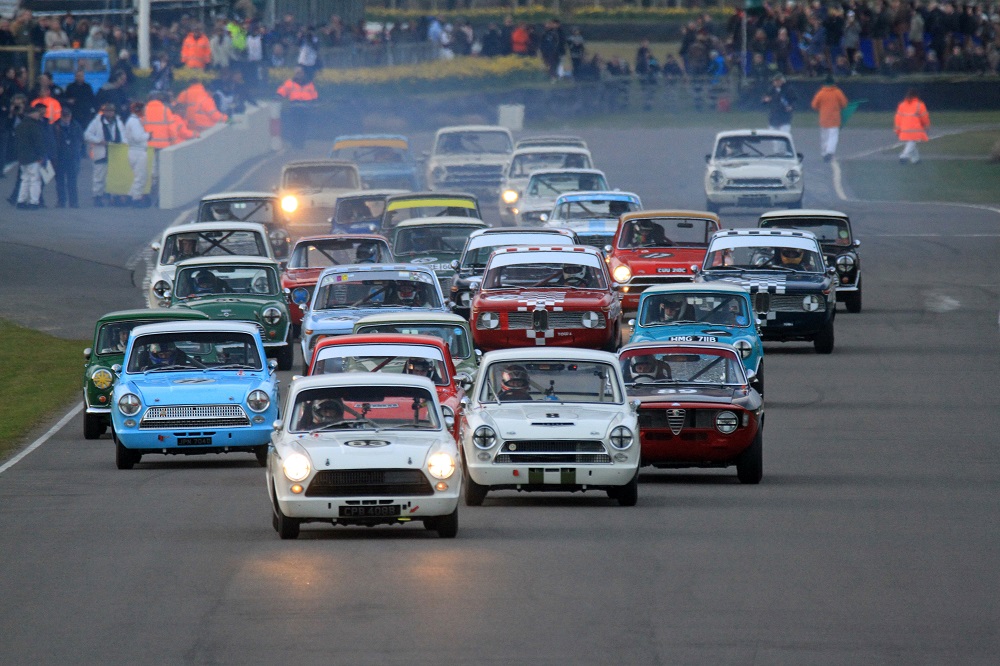 An invitation to race at the 74th Goodwood Members' Meeting was a fantastic opportunity to kick off our 2016 race season. Now in its third year and proving to be a huge success, the Members' Meeting was conceived by Lord March to recreate the wonderful atmosphere of the original BARC Members' Meetings of the 1950s and 1960s. There was to be a spectacular line-up of races this year, ranging from the fearsome Edwardian racers of the early 20th Century to a GT40 only race to the Group 1 touring cars of the 1970s, as well as a number of high speed demonstrations.
Our 1600 GTA was entered in the Whitmore Cup for pre-1966 under 2 litre touring cars, a race in which we would do battle with Lotus Cortinas, BMW 1800 Tisas and Minis. The competition looked fierce with the likes of Steve Soper and Dickie Meaden in Cortinas and Nick Swift and Rob Huff in some extraordinarily quick Minis. UK race meetings in March can often be decidedly wintry and sure enough there was little sign of Spring in the air as we arrived at a bitterly cold Goodwood. Fortunately, it would stay dry for the duration of the weekend so it was just a case of wrapping up warm and enjoying the atmosphere.
Qualifying was scheduled for late afternoon on Saturday and Andrew managed to get out early and set about putting in some quick laps. Having spent the session trading times with Mark Sumpter in a similarly paced Cortina, Andrew finally prevailed and qualified 3rd on the front row of the grid alongside Dickie and Steve Soper. With some more quick Cortinas just behind, it would make for a very exciting race the following day!
Sunday's timetable was jam-packed, not only with races but also a series of high speed demonstrations, the highlight being the Group 5 Sports Cars of the early 70s, featuring a number of Porsche 917s and Ferrari 512s – an incredible sight and noise! Unfortunately, several bad accidents throughout the day served to delay the schedule and our race was shortened to just 10 mins. After a busy first lap, Andrew spent the race locked in a titanic battle with John Young's Cortina and Nick Swift's Mini. The pace of the Cortina on the straights combined with some good positioning thwarted Andrew's attempts to pass, as he simultaneously fought to fend off the Mini which hardly seemed to brake for some of the corners! At the chequered flag we just missed out on a podium position, finishing 4th overall.
Race Photos